Data-led Insights on Passenger Flow and Gate Utilization Leveraging Flight Schedules and Flight Activity
When it comes to responsive tactics to navigate shifts in passenger supply and demand at airports, understanding and maximizing gate utilization plays an essential role for both the operational efficiency and profitability of airports and their ability to deliver a first-class traveler experience.
Effective gate utilization is synonymous with fast and efficient passenger flow and aircraft turns, but the fact is many service development planners are flying partially blind. So, what's blocking the way? How can data help?
Worldwide, most airports employ Common Use Gates approach which allows them to utilize gates and passenger holdrooms across multiple airlines. This offers far more flexibility: if one gate is busy, the airport can switch an airline's flight to another gate to leverage airport resources and maximize passenger flow more efficiently. For airports, when we talk about effective gate utilization, the focus is on helping them to gain the data and insights they need to effectively respond to passenger traffic and volume. This enables the airport to ensure a better passenger experience, minimize delays through the use of available gate assets and even maximize food and beverage and retail sales revenue by controlling and directing passenger flow.
That being said, a lack of comprehensive real-time and historical data can negatively impact airport operations in all markets worldwide.
What are the pain points for airports?
A lack of reliable data creates blind spots across multiple areas of operations, hampering an airport's ability to maximize use of gate assets and maximize revenue potential by controlling passenger flow to profit generating areas of the airport such as duty-free shops and restaurants.
It impacts all staffing – the ability to efficiently assign resources to match the peaks and valleys of passenger flow in the airports
Delayed, inaccurate or incomplete reported flight information can impact accurate billing and reconciliation of landing and other airport fees
Ground handling operations are inefficient – deep, real-time insights on what gates are being used and by what aircraft type is vital for planning for the right ground staff to be in the right place at the right time
Not understanding where your passengers are/when they're coming through results in poor passenger experience
For U.S. airports: When negotiating gate lease rates for airlines, they lack insights on the real value of the asset to the airline
They can't plan the layout of their airport to maximize flow of passengers for retail and food & beverage revenue
How does better data results in better outcomes?
Timely, comprehensive data on flight schedules, seat capacity, aircraft types and configurations, and flights enable the relevant insights to identify and manage issues impacting airport operational reliability associated with gate utilization.
This helps airports with operational planning:
Allocate the right numbers of staff to the busiest gates for smoother operations
Direct airlines to the right gates to avoid/alleviate bottlenecks
Ensure they offer parking facilities that are closest to the gates/reduce walking distance to gates
Plan the position of retail and F&B outlets/types of goods sold and resourcing in line with passenger volume and anticipated expenditure (e.g. passengers taking international flights spend more than those taking domestic/short haul flights)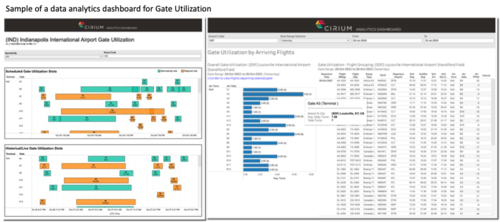 The right data analytics to maximize airport gate utilization
Attributes of good airport data analytics includes:
Data must be timely. In the post-pandemic era planning activities are fast moving and dynamic. Where flight schedules in the past were planned out months in advance, ; today airlines are adjust schedules weekly and in some cases in days.
Data must be historical and near real-time. Historical data enables strategic planning to help recognize patterns and create contingency plans on how to respond. Real-time data enable more effective and decisive tactical decisions on the day of operation
Data analytics must be comprehensive and tell a meaningful story that enables better data-driven decisions. Accurate information about schedules, flight activity, passengers and the actual aircraft is critical to not just make decisions, but to make the RIGHT decisions
Airports must take a wholistic approach to data analytics to better position themselves now and in the future.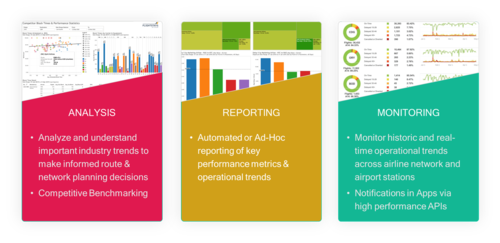 This article was provided by a third party. The views expressed in the article do not represent or reflect the views of ACI Asia-Pacific. Inclusion of any link to other external sites does not imply endorsement by ACI Asia-Pacific of those sites and ACI Asia-Pacific shall not be held responsible or liable for any content, advertising, products or other materials on or available from such external resources and sites.
CATEGORY
COUNTRY / AREA

Hong Kong SAR
AUTHOR

Jim Hetzel, Product Marketing Director

Cirium