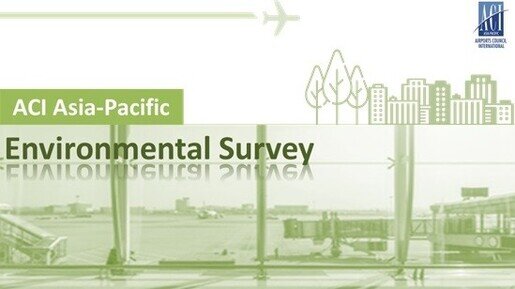 The biennial Environmental Survey, an initiative of the Regional Environment Committee, serves to develop an environmental activity database of airport members and help environmental managers by learning from the experience of other airports.
The aggregated survey results are published in the Environmental Survey Report Summary and used for advocacy initiatives, promotional activities and best practice sharing.

Environmental Survey 2021
The next Environmental Survey will be launched in the fourth quarter of 2021.
Ten Environmental Aspects
The survey questions relate to ten environment aspects airports need to manage on a daily basis.
Environmental Policy and Management (Environmental Commitment)
Noise (Aircraft Noise Management)
Air Quality (Local Air Quality Control)
Waste (Solid Waste Management)
Water (Water Conservation and Management)
Energy (Energy Management)
Carbon (Carbon Dioxide and Greenhouse Gas Emissions Reduction)
Biodiversity (Biodiversity Preservation)
Ground Transportation (Public Transport Promotion)
Land and Water Contamination (Environmental Contamination Prevention)
Publications
Environmental Survey Report Summary 2019
Environmental Survey Report Summary 2017
Environmental Survey Report Summary 2015