Regional Environment Committee
The ACI Asia-Pacific Regional Environment Committee identifies and promotes best practices on airport environmental issues, represents airport members in Asia-Pacific and the Middle East on environment-related issues, liaises with the ACI World Environment Standing Committee and communicates on environment-related issues with the region's members at large and other regional organizations.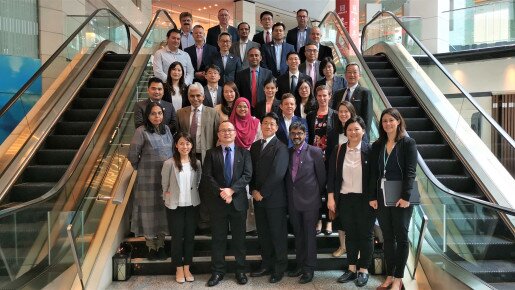 Chair
Dr. M. Muthukrishnan, Delhi International Airport Ltd.
Vice Chair
Mr. Gerald Ng, Changi Airport Group (Singapore) Pte Ltd.
Members
Mr. Ammar Sabir Al-Mdni, Dammam Airports Company (DACO)
Ms. Dana Ismaeel, Bahrain Airport Company SPC
Mr. Dong-Hyeon Ryou, Incheon International Airport Corp.
Mr. Hung-Pin Sun, Taoyuan International Airport Corp. Ltd.
Mr. Husain Saeed Saleh Alawlaqi, Abu Dhabi Airports
Mr. Jakrapop Charatsri, Airports of Thailand PLC.
Ms. Jane Rotsey, Sydney Airport
Mr. Jayesh Kumar Gehlot, Mumbai International Airport Pvt. Ltd.
Ms. Jina Yoo, Korea Airports Corp.
Mr. Jon Broadhead, Maldives Airports Company Limited
Mr. Jose Mendes, Yangon Aerodrome Company Ltd.
Ms. Kristy Tan, Airport Authority of Hong Kong
Mr. Lakshminarayanan Sankaran, Bangalore International Airport Ltd.
Mr. Leigh Gapp, Adelaide Airports Ltd.
Mr. Mahmoud Saeed Al Ghamdi, General Authority of Civil Aviation Saudi Arabia
Mr. Minh Son, Airports Corporation of Vietnam

Ir.

Mohd Hakimi Uda Ahmad

,

Malaysia Airports Holdings Berhad
Mr. Mohsin Al Shaikh, Hamad International Airport
Mr. Musab Saif Ahmed Al- Rawahy, Oman Airports Management Company
Mr. Noel I. De Gracia, Dubai Airports
Mr. Rashid Kizhakkayil, Sharjah Airport Authority
Ms. Reena Rai, Airports Authority of India
Mr. Rhys Boswell, Christchurch International Airport Ltd.
Ms. Rula Dawood, Airport International Group
Mr. Sandro Kou, Macau International Airport Co. Ltd.
Mr. Sho Kataoka, Narita International Airport Corp.
Ms. Steffi Hsu, Kaohsiung International Airport, CAA
Ms. Wendy Weir, Brisbane Airport Corporation Pty Ltd.
Mr. Widodo, PT Angkasa Pura I (Persero)
Mr. Yoshihiro Kanno, Central Japan International Airport Co. Ltd.
Ms. Yuka Takeuchi, Kansai Airports
Mr. ZhiYong Li, Beijing Capital International Airport Co. Ltd.
Past Chairs
2019 - 2020 | Ir. Khairiah Salleh, Malaysia Airports Holdings Berhad
2017 - 2018 | Mr. Jakrapop Charatsri, Airports of Thailand PLC.
2015 - 2016 | Mr. Mike Kilburn, Airport Authority Hong Kong
2013 - 2014 | Mr. Narendra H. Hosabettu, Mumbai International Airport Ltd.
Please contact us for further information.