The Green Airports Recognition aims to promote environmental best practices to minimise aviation's impact on the environment and recognise airport members who have outstanding accomplishments in their environmental projects.
By participating in this initiative, airports can share their environmental projects with other airports in the region and have the chance to be recognised for their achievements. Platinum, Gold or Silver recognition will be awarded in various airport size categories. The top submissions will be captured in the Green Airports Recognition publication.
---
Green Airports Recognition 2023 - Elimination of Single Use Plastic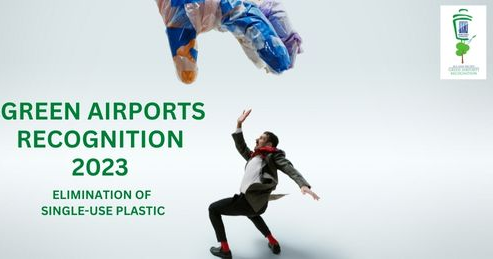 Green Airports Recognition has successfully entered its seventh year, promoting environmental best practices while recognising ACI Asia-Pacific airport members who have outstanding accomplishments in their sustainability projects.
Our industry has grown exponentially over the past decades and will continue to do so in the years to come. As air transport continues to grow, a substantial volume of waste is expected to be generated at airports. One such issue we've identified is the increasing worldwide concern about the impact of single-use plastic pollution, especially within the aviation industry.
To mitigate the environmental impact of waste and to comply with regulatory requirements, airports are increasingly implementing sustainable waste management policies. The Green Airports Recognition 2023 is an opportunity for airports from Asia-Pacific and the Middle East to share their best practices in eliminating single-use plastic.
The application for GREEN AIRPORTS RECOGNITION 2023 is now open!
We encourage our airport members to submit their best practices in eliminating single-use plastics at their premises, ranging from supply chain management, plastic waste recycling and circularity by 23 December 2022.
Outstanding airports will be awarded Platinum, Gold or Silver recognition according to set criteria and then duly recognised and celebrated via ACI Asia-Pacific's media or event platforms.
Click Here to download the application.
Should you have any questions, please feel free to contact Mr. Ken Lau, Senior Manager, Environment and Airport Information Technology at green_airports@aci-asiapac.aero.

We look forward to receiving your applications!
Green Airports Recognition 2022 - Carbon Management
We have witnessed many more forward-looking countries and airports in 2021 voluntarily pledge Net-Zero Carbon Emissions by 2050 in response to climate change challenges. As the voice of airport operators and in alignment with ACI's long-term carbon goal, ACI Asia-Pacific has selected Carbon Management as the theme for Green Airports Recognition 2022 to accentuate its importance in best practices sharing among airports along the decarbonization journey, in particular Scope 1 and Scope 2 carbon emission reduction.

Recognised Airports
Green Airports Recognition 2022, recognising twelve airports in Asia-Pacific and the Middle East for their outstanding achievements in carbon management. Participating airports (adjudicated according to the size of the airport) all demonstrated exceptional best practices in their respective decarbonization journeys, specifically in Scope 1 and Scope 2 carbon emission reductions.
The recognised airports are: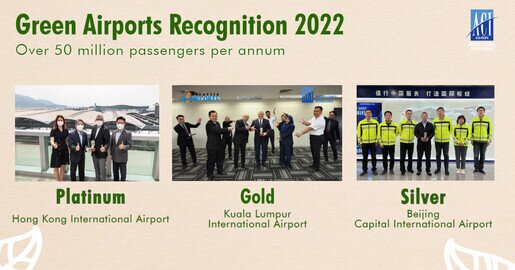 Over 50 million passengers per annum:
Platinum – Hong Kong International Airport
- Weather Forecast for Air-conditioning Control System (Weather FACTS) Project
Gold – Kuala Lumpur International Airport
- Embracing Green Energy of Ground Power Unit (GPU) for Sustainable Carbon Management
Silver – Beijing Capital International Airport
- Green Prefabricated Building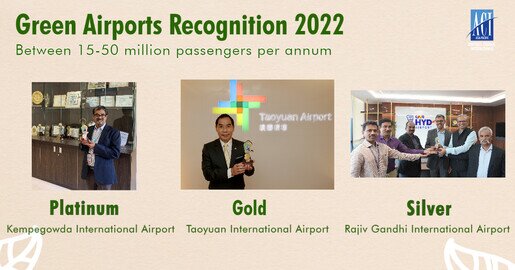 Between 15-50 million passengers per annum:
Platinum – Kempegowda International Airport
- ZERO Scope 2 Emissions at BIAL
Gold – Taoyuan International Airport
- Lean Power Consumption and Carbon Reduction Project
Silver – Rajiv Gandhi International Airport
- Sustainable Airport Operations for Efficient Carbon Management and Effective Reduction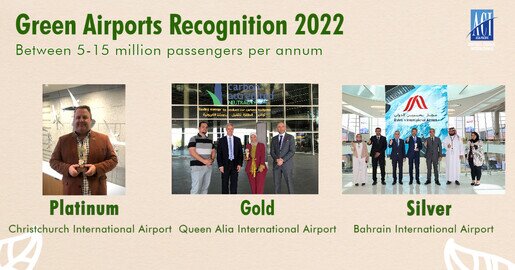 Between 5-15 million passengers per annum:
Platinum – Christchurch International Airport
- Innovation and Aquifers
Gold – Queen Alia International Airport
- Heating, Cooling Systems Improvement
Silver – Bahrain International Airport
- New Passenger Terminal Building Project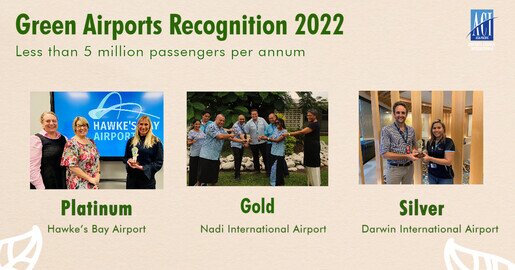 Less than 5 million passengers per annum:
Platinum – Hawke's Bay Airport
- 100% Renewable Carbon Zero Electricity
Gold – Nadi International Airport
- Terminal Modernization Project - Carbon Emission Reduction Initiative
Silver – Darwin International Airport
- Aerobridge and Apron Upgrades
A full list of submitted projects from honourees, please read here.
Environmental Aspects
Each year, a different theme is chosen from the following environmental aspects:

Environmental Policy and Management (including green procurement)
Noise
Air quality
Waste
Water (including both municipal water usage and wastewater discharge)
Energy
Carbon
Biodiversity
Ground transportation
Land & water contamination
Others
The Green Airports Recognition run by ACI Asia-Pacific is an excellent initiative helping airports share best practice initiatives across the region and providing recognition for those taking action to improve their environmental performance
---
Publications
Green Airports Recognition 2022 - Carbon Management
Green Airports Recognition 2021 - Air Quality Management
Green Airports Recognition 2020 - Water Management
Green Airports Recognition 2019 - Green Airport Infrastructure
Green Airports Recognition 2018 - Waste Minimization
Green Airports Recognition 2017 - Energy Management
For inquiries, please contact us for further information.