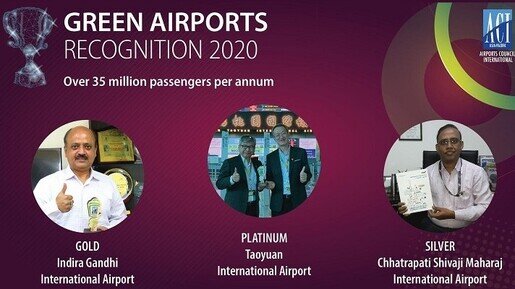 The Green Airports Recognition aims to promote environmental best practices to minimize aviation's impact on the environment and to recognize airport members who have outstanding accomplishments in their environmental projects.

By participating in this initiative, airports can share their environmental projects with other airports in the region and have the chance to be recognized for their achievements.

Platinum, Gold or Silver recognition will be awarded in three airport size categories. The top nine submissions will be captured in the Green Airports Recognition publication.
Green Airports Recognition 2021
Applications for Green Airports Recognition 2021 are now closed.
The next programme theme will be announced soon.
Environmental Aspects
Each year, a different theme is chosen from the following environmental aspects:

Environmental Policy and Management (including green procurement)
Noise
Air quality
Waste
Water (including both municipal water usage and wastewater discharge)
Energy
Carbon
Biodiversity
Ground transportation
Land & water contamination
Others
The Green Airports Recognition run by ACI Asia-Pacific is an excellent initiative helping airports share best practice initiatives across the region and providing recognition for those taking action to improve their environmental performance
Publications
Green Airports Recognition 2020 - Water Management
Green Airports Recognition 2019 - Green Airport Infrastructure
Green Airports Recognition 2018 - Waste Minimization
Green Airports Recognition 2017 - Energy Management
For inquiries, please contact us for further information.