Vikas Gupta, CEO of GrayMatter Software, shares insights on how airports can maximise dwell time and increase their ancillary revenues through a digital airport solution.
Global air travel is expected to grow over the next few months. According to ICAO, the United Nations body to support diplomacy and cooperation in air transport, there has been a steady rise in RPK (Revenue Passenger Kilometers), over the last few months. With the pandemic tapering off, supposedly, and travel restrictions being eased globally, these numbers are only going to rise.
In 2019, 4.5 billion passengers flew for either business or pleasure, passing through the numerous airports located throughout the world's cities. The global recovery to 2019 levels was projected to take a few years more.
However, Heathrow Airport cap of 100,000 departing passengers between July 12-Sept 11 2022 is a perfect example of potential challenges airports will encounter when there is unanticipated spike in passenger traffic despite measures to mitigate it, as stated by London Heathrow Airport (LHR), CEO John Holland-Kaye: "The global aviation industry is recovering from the pandemic, but the legacy of COVID-19 continues to pose challenges for the entire sector as it rebuilds capacity. At Heathrow, we have seen 40 years of passenger growth in just four months. Despite this, we managed to get the vast majority of passengers away smoothly on their journeys through the Easter and half term peaks. This was only possible because of close collaboration and planning with our airport partners including airlines, airline ground handlers and Border Force. However, there are some critical functions in the airport which are still significantly under resourced, in particular ground handlers, who are contracted by airlines to provide check-in staff, load and unload bags and turnaround aircraft. They are doing the very best they can with the resources available and we are giving them as much support possible, but this is a significant constraint to the airport's overall capacity."
As demand rebounds, operational concerns (as in the case of Heathrow Airport) and revenue generation are back in play and a priority for airports across the world. Renewing investments in airport infrastructure, a pathway to revenue enhancement, has become overly critical. One of the avenues is to concurrently invest in dramatically upgrading the passenger experience to make the airport a destination and not just a transit point, as evidenced in the Heathrow Airport case.
The opportunity for scaling revenues largely lies in the ancillary revenue streams on the airside and the landside of retail, car park and airport property development. If these revenue streams have to garner a larger share of customer wallet, than it is currently generating, then one of the factors that will aid the growth, is the concept of 'dwell time'.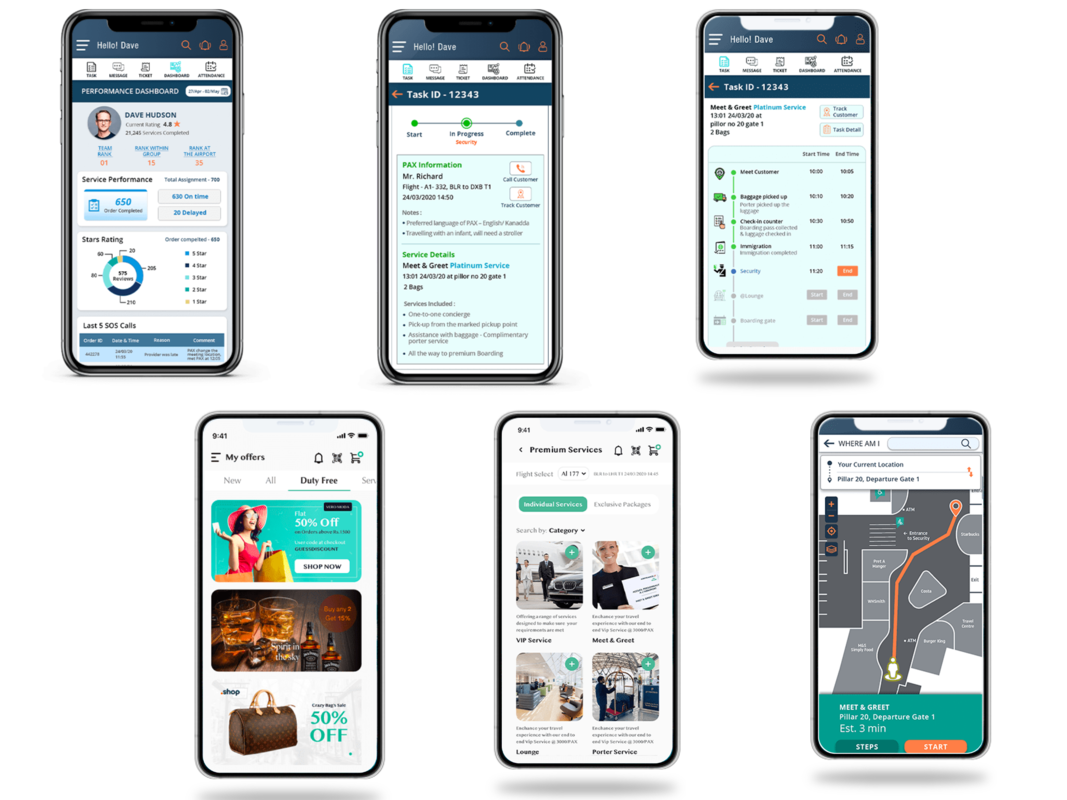 Airports need to look beyond improving stores and restaurants and consider revamping the entire travel experience – less wait times at check-ins, security, border control, and more time at the airport retail stores, Food & Beverages (F&B), lounges, and service outlets with AI-driven navigational aids providing faster access to these points to fulfill the traveler's dining, shopping, relaxation, and entertainment needs and wants.

Why and How is Dwell Time an Opportunity for Revenue for Airports?
According to the Airports Commercial International (ACI) economics report, ancillary revenues account for an average of 40.4% of worldwide airport revenues. The most significant sources of income from these are typically duty-free and travel retail.

However, one of the biggest impacts on airport retail revenue are traveler experiences with the basic processes. Extended waiting periods to get inside, queuing at multiple touch points, terminal check-in delays, and many such time-consuming procedures can make passengers restless and anxious about making the flight with enough time to spare for the necessities. In the process, 'dwell time' and its productive application is nowhere on the traveler's radar, with direct implication for ancillary revenue growth and higher share of customer wallet.

The DKMA report, DKMA is one of the world's leading airport market research consultancies) suggests that passengers who spend more than 60 minutes at the airport at Duty Free are 33% more likely to buy F&B, 27% more likely to buy retail, and 13% more likely to purchase duty-free than passengers who spend fewer than 60 minutes at the airport. Therefore, streamlining the travel experience can help improve the passenger experience, increase dwell time, and boost revenues at the same time.
A survey conducted by ICLP, (Rebranded as Collinson, they are a leading consultancy in airport research) says that airports are increasingly becoming aware that understanding the passenger to deliver experiences that have genuine appeal is the key to generating more commercial revenues. This suggests that there is plenty of scope for airports to invest in strategies and techniques that focus on creating a seamless digital travel experience for passengers.

How to Increase Dwell Time?
Airports must invest in new technologies that use passenger flow data, airline data, and airport operations to support more flexible business and retail models. Here are a few ways airports can improve passenger experience and boost non-aeronautical revenue, leading to increased profits and more satisfied customers.
1. Understand Customer Preference via Data
According to ACI, retail concessions remain the leading source of ancillary revenue for airports. However, with increasing business complexity, the key here is to unlock the growing volumes of data that resides in disparate systems across the airport.

Going forward, airports need to have a better understanding of passenger spending choices and patterns to target the best returns on investment for ancillary revenue maximization. This is possible by gathering data and using it to streamline operations. It can include allocating the most profitable flights to gates closer to shops and informing commercial decisions by highlighting more profitable airlines.

Additionally, to increase retail sales, airports and airport retailers across the globe must continue to form creative business alliances and generate new revenue streams that meet rising consumer demands.

To do this, airports must embrace digitalization, including the phygital. A phygital experience in-stores and other customer touch points will create a better customer experience, and hence, improved dwell times.

An excellent illustration of this is London Stansted Airport, which used retail sales to pay for its new terminal infrastructure.
2. Create a Single-Window Dedicated Airport Application For Passengers
Like any other industry, mobile devices have become airports' essential digital gateway. Passengers now prefer to navigate and shop through airports on the go to make those tight connections. With emerging technology, finding what they're looking for is no longer the guessing game it once was.

Therefore, it's vital to design an engaging shopping experience at the airport that takes advantage of every opportunity. Having a single window airport application can make that happen.

As the movement accelerates to mobile-first mode, the airport ecosystem stakeholders must urgently embrace connected technologies for a smoother, more efficient, and infinitely more effective management of their operations and commercial results and outcomes. A platform that allows them to seamlessly move through services at the airport, helps add to the frictionless experience across travel necessities, relaxation, retail choices, dining or entertainment.

A dedicated airport application can help customers with:
Contactless Shopping
Secure travel documents with e-locker
Pre-book car park
Book airport services
Auto-baggage tracking.
Digital and easy check-in
Hassle-free Indoor Navigation
These applications make them less stressed or worried about whether their gates have changed if their flights are on time, how far it is to the closest restroom, or if there are better food options near their gates. Furthermore, being informed allows the passenger to dwell longer in the concessions area, which generates higher revenue for the airport while providing greater customer service.

3. Provide Frictionless Travel Facilities and Experiences
Today, passengers have a choice when it comes to choosing airports, connecting destinations and even airports within larger cities. When all else compares, it eventually boils down to the passenger experience.
Make it a frictionless process for passengers to board a plane, and with the created 'dwell time' the potential for scaling ancillary revenues proportionately increases. Passenger Experience creation and management must be at the at the center of an airport's ancillary revenue growth strategy.

Forward-thinking airports are focused on upgrading the airport experience as a top priority. Airports like Changi, Singapore, have understood that the key to creating a good passenger experience is by placing them the passenger at the heart of everything they do. The airport offers a wide array of facilities such as a rooftop swimming pool, cinemas, at least one garden in every terminal, the world's tallest airport slide, complimentary internet access and even a Free Singapore Tour. Moreover, passengers are given plenty of options to spend their time during long layovers.

Another great example of this is Copenhagen's security screening. With a flow management system, the airport can now handle queues more skillfully and shorten wait times.
Analytics and Insights Are Key to Capitalize on Dwell Time
Today, most airports are moving towards advanced systems that can enhance their revenue and cost management strategies to optimize yields and profitability. Airport data analytics can unleash critical information and knowledge that will help address many key areas where airports face challenges.

For instance, Airport Revenue Managers would be in a better position to negotiate rates with both airlines and concessionaires, if they get a detailed understanding of their performance figures, and inventory movement. This can be made possible almost in real-time through the use of technology.

Furthermore, with the help of predictive analysis, sentiment analysis, and travel journey analysis, the airport can keep its customers up-to-date in real-time, promoting special offers based on their needs, habits, and unique experiences.

Conclusion
Improving the overall passenger experience is paramount and closely linked to revenue generation. Using new-age technology and data analytics can help airports leverage existing assets and spaces. Airports can also provide an end-to-end digital airport solution that can help capitalize on dwell time and increase their ancillary revenues. Leveraging digital airport platforms can provide airports with the ability to mesh physical and digital airport assets into a holistic system. Such platforms can help airports create frictionless travel experiences for passengers, encourage involvement, and give them reasons to dwell for more time in a manner that is always revenue positive.
For Business Partnerships, please reach Mathew Anthony, Chief Marketing Officer, GrayMatter Software, mathew.anthony@graymatter.co.in/ + 919740080263
This article was provided by a third party. The views expressed in the article do not represent or reflect the views of ACI Asia-Pacific. Inclusion of any link to other external sites does not imply endorsement by ACI Asia-Pacific of those sites and ACI Asia-Pacific shall not be held responsible or liable for any content, advertising, products or other materials on or available from such external resources and sites.
CATEGORY
COUNTRY / AREA

Bangalore, India
AUTHOR

Mr. Vikas Gupta, CEO of GrayMatter Software

GrayMatter Software, Bangalore, India