ACI Asia-Pacific Releases Airport Solar PV Implementation Guidance Document for Asia-Pacific and Middle East Airports
Solar is one of the most convenient source of renewable energy for Airports. The plain topography, presence of flat building roofs and nature of Airport operational requirements favors solar Photovoltaic (PV) as compared to other sources of renewable energy. Solar PV projects are also a visible means to demonstrate the implementation of environmental policies.
PV systems are one of the top applicable renewable energy opportunities for Airports, which have been installed at well over 100 airports worldwide and are well-suited for many existing airports designs due to the vast horizontal surfaces on which they can be installed. They can be mounted on terminal buildings or placed on unused or otherwise unproductive airport properties and lands. For many airports, PV systems constitute an economically and technically feasible way to increase the share of renewables in the energy supply and save costs.
However, for many airports, developing solar PV also leads to challenges in terms of planning and implementation due to lack of adequate knowledge and guidance. Developing PV systems in airports also requires special considerations and studies to be carried out to address some of the unique aviation challenges such as solar glare, compliance to operational requirements, safety implications etc. This guidance document intends to help airports in the region to determine technical & economic feasibility and smooth implementation of solar PV projects within their airport.
This guidance document lays out the project development process as a series of tasks namely; demand estimation, site selection, technology evaluation and plant design, financial viability assessment, selection of developer/supplier, plant construction, plant commissioning and operation & maintenance. Some project development activities may happen in parallel. It is up to the individual airports to oversee the activities and ensure they are coordinated and synchronised appropriately to achieve the desired outcome.
Few examples of airports solar installation case studies and parameters are featured at the end chapters.
ACI Asia-Pacific would like to express its gratitude to the ACI Asia-Pacific Regional Environment Committee, for their time and efforts in drafting the guidance document amid their busy daily work schedule at their respective airports.
Special thanks to Delhi International Airport Ltd and Malaysia Airports Holdings Berhad for leading and steering the development of this guidance document.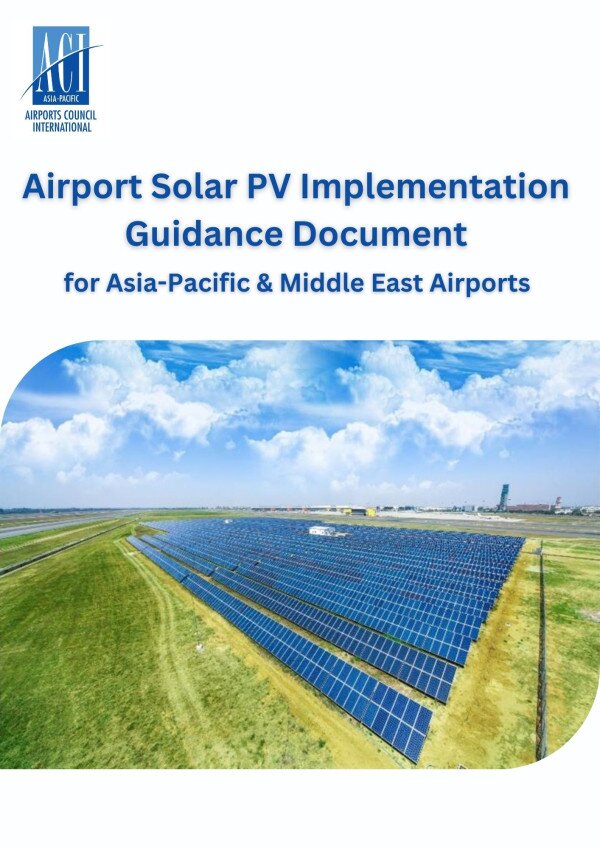 CLICK HERE TO DOWNLOAD.
CATEGORY
COUNTRY / AREA

Hong Kong SAR
AUTHOR

ACI Asia-Pacific