The Moodie Davitt Report, The Leading Provider of Business Intelligence for The Travel Retail and Airport Commercial Revenue Sectors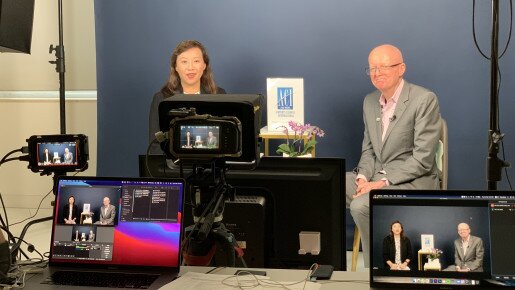 Martin Moodie is the founder and chairman of The Moodie Davitt Report (TMDR), the leading provider of business intelligence for the travel retail and airport commercial revenue sectors. A long-time ACI partner and event co-organizer, TMDR further solidified the relationship and became a World Business Partner with ACI Asia-Pacific. Martin was one of the moderators in the recent @ACIAPAC Online virtual series. While quarantined at a hotel in Hong Kong this past August, he caught up with Jeannie Wong, ACI Asia-Pacific's Head of Communications and Events.
JW: It's been about a year since you transitioned from the UK to base in Asia, Hong Kong to be specific. You recently took a trip back to the UK. What was the travel experience like at the various airports?

MM: A mixed bag! From May to August I travelled through Hong Kong International (HKIA), Heathrow, Hamad International and Incheon International airports. Very different experiences.
So far I have been tested 12 times in the past few weeks, with another 2 to come before I am a free man of Hong Kong! For the Hong Kong and UK legs I used the Collinson testing services and they were brilliant. Hamad International and HKIA also offered swiftly diagnosed PCR testing – it's very impressive how swiftly our industry has adapted to providing services none of us could have imagined would form part of the 21st-century travel experience.

I've always loved the drama HKIA conveys, thanks to its magnificent architecture, vast internal and external panoramas. One of the world's best airport shopping and dining offers. To see HKIA so quiet when I flew out and barely a store open was sobering. I was one of just 59,000 passengers that month – 99% lower than May 2019.

But Airport Authority Hong Kong has put the crisis to good use, investing imaginatively in the shopping and dining zones. The new Louis Vuitton duplex store will stop everyone in their tracks. The luxury zone has undergone a beautiful transformation. Even the toilets are now a talking point – you'll have to visit to see what I mean!

Flying into Heathrow was a marked contrast. More passengers (though June traffic was still just 13% of June 2019) and less of a ghost town vibe thanks to fewer restrictions on inbound travel. The first thing I noticed, alas, was how sloppy immigration staff and various airport personnel in the baggage zone were about mask-wearing.

It beggars belief the officer who checked my passport – and who would check countless more that day – was mask-less. The casualness about his own and others' health was unpardonable.
Heathrow retail boss Fraser Brown and his team have done a sterling job in constantly adapting to bewilderingly constant regulatory changes. It was good to see the majority of stores and F&B outlets open on departure. But the stop-start nature of the government's travel rules has really hit Heathrow.

Hamad International had a real buzz, not just because there were plenty of passengers but because so much investment has been poured into the retail offer. Lots of brilliant new stores, from high-end luxury to a nicely reimagined duty-free offer. The airport expansion opens in 2022 and work is well advanced. Very exciting. Airport owner Qatar Airways just kept flying throughout the pandemic and that same spirit of persistence and ambition is mirrored at the airport.

At Incheon, the scene on arrival was eerie and desolate. Traffic has been crippled by tough government travel measures to stem the pandemic and arriving there frankly is not a lot of fun. There's good reason for that – the authorities are trying to protect the people – but there's just so much paperwork and checking. It's very stressful. I purchased in the duty-free arrivals shop but I was the only customer. You really feel for the retailers. The scene was brighter on departure. Most stores are open and Incheon International Airport Corporation and its partners have done an admirable job creating an air of normality. But to see this marvellous airport so bereft of passengers was sad.

The final stop was HKIA in the early hours. Everything is superbly well-organised and the staff were extraordinarily gracious considering the pressure they are under. Even for an experienced traveller, it's daunting to enter such an extensive military-style operation, undergo several documentation checks, take a nucleic acid test and await your result.

It was another stark reminder of how COVID has reshaped our world and industry.
JW: Despite COVID raging on, there are varying degrees of business activities resuming in different parts of the region. What have been some of the more innovative or surprising initiatives observed among our Trinity Forum* partners?

MM: The key change is the acceleration of digital activity, in both communication and commerce. 'Phygital' is an ugly word but an important concept. You can see how creatively airports such as Changi, Hong Kong, Heathrow and Auckland have stepped up their online presence. The way they marry that with the in-store offer of the future will be critical.

Many predicted the pandemic would drive an increasingly contactless in-store experience with virtual ways of testing products or paying for them. Hudson in the US adopted Amazon's Just Walk Out technology. With the tap of a credit or debit card on entry, travellers can pick up their products and exit, avoiding checkout lines.

Beauty houses are innovating to overcome the inability to try products such as lipsticks. Lancôme Travel Retail Asia Pacific and Lotte Duty-Free recently unveiled a brilliant Smart Store Concept in Seoul using the power of digital to offer beauty items with contactless elements such as augmented reality and artificial intelligence.
JW: We often asked our airport CEOs what they would do if they had a magic wand in their airport business context. Besides obviously wanting the pandemic to disappear, what would you want if you had a magic wand?

Given that a previous magician has made the pandemic disappear and the passengers reappear, I would wave my wand to create real differentiation and localisation in airport shopping and dining. If we are really serious about retail as part of the whole travel experience then it needs to be less templated, more exciting and a place where you can discover things and experience them in a way you cannot online.

In an industry overflowing with acronyms, the best I have come across is from Dubai International Airport Executive Vice President Commercial Eugene Barry – WACD. It stands for 'What Amazon Can't Do – and it's about creating a unique experience at the airport. Every airport should have a WACD zone!
JW: What are the top 3 places you wish to go to once more borders re-open and we can return to some semblance of travel?

Given my Kiwi origins, my first stop will be my beautiful home town, Christchurch.

Number two is Symi, my all-time favourite Greek island, a place of wonderful warmth in every sense, weather and people. Chilled Retsina, grilled octopus straight from the sea. I can taste it already!

Number three would have to be somewhere I haven't visited, as travel is all about discovery. So it's Guilin, China. Whenever I look at the tourist images, I want to jump on a plane and discover Guilin's exquisite countryside and take a slow, meandering ride along the Li River on a bamboo punt. As I'll be in China, I'll then hop on a domestic flight to Hainan, a tropical paradise that has just about single-handedly kept the duty free industry going since the pandemic began. I owe it some thanks!
*The Trinity Forum is where airports, concessionaires and brands gathered to dialogue and deliberate with the aim of enhancing the travelling consumer's experience. Co-organized by The Moodie Davitt Report, ACI Asia-Pacific and ACI World, the last event was in Doha, Qatar in October 2019. Since the COVID-19 outbreak, the physical in-person event has had to take a pause. While exchanges continue in the virtual realm, the organizers are closely monitoring and endeavouring to return to a physical, in-person gathering.