Post-COVID Air Travel Recovery Can Be Led By Checkpoint Transformation

Smiths Detection's Head of Solutions Desmond Lian describes how reviving and sustaining air travel will mean coupling mandatory safety procedures with checkpoint technologies for optimising the screening process and safeguarding passenger wellbeing.
COVID-19 has shocked the aviation industry more than any previous pandemic. The International Civil Aviation Organization (ICAO) published data showing that world passenger traffic has declined by up to 62% — a collapse of a degree never seen before. The Asia-Pacific region suffered passenger revenue losses totalling around USD$126 billion, making it the hardest-hit region.
History shows that the impact of health crises on air travel has been temporary; for instance, aviation industry recovered in six months after the 2003 SARS outbreak.4 Already air travel is bouncing back, as shown by Thailand's reopening to leisure travellers from China, Japan and Taiwan, 5 and the travel bubble between Singapore and China that was established in June.
Gearing up for the 'new normal'
Besides global guidelines, such as ICAO's recommendation to reopen air travel in phases,6 and mandatory measures such as mask wearing and temperature screening, airports should do more to ensure passenger safety. With the right solutions, doing more to protect passengers does not mean creating more hassle for them.
The "new normal" will include more contactless check-ins and security-screening processes that leverage existing and emerging technology to enable social distancing.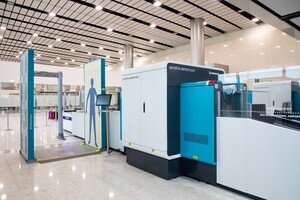 Fortunately, many airports in Asia are ahead of the curve. Airports in Japan, Korea, Singapore and China are among the fastest in their digital-transformation journey and are well placed to adapt quickly to new safety requirements.
Narita Airport (Japan) has installed walk-through body scanners, reducing physical pat-downs while increasing social distancing and screening speed. Airports across India are looking to do the same.
Melbourne Airport (Australia) and Kansai International Airport (Japan) are minimising checkpoint bottlenecks and contact points with computed tomography (CT) and automated tray-return systems (SMART lanes). With CT's 3D imaging and its consequent elimination of the need to remove electronics and liquids from carry-on bags, increased efficiency translates into reduced screening time and shorter queuing times for passengers.
The BioMed Central Infectious Diseases journal discovered in 2018 that checkpoint trays present the highest risk of transmitting respiratory viruses. Seven airports outside Asia, such as Gatwick Airport (UK), are piloting the integration of ultraviolet (UV) technology that kills up to 99.9% of microorganisms into tray-return systems.
Another approach, adopted by Jeju International Airport (South Korea) is remote screening, where operators have no direct contact with passengers and remote analysts are able to process images at a faster rate.
Globally and regionally harmonised measures, with public health and safety at their heart, will be vital in restarting and sustaining air travel. The aviation industry will need to adapt and adopt existing and emerging technologies effectively if we wish to see more flights in the sky with a peace of mind.