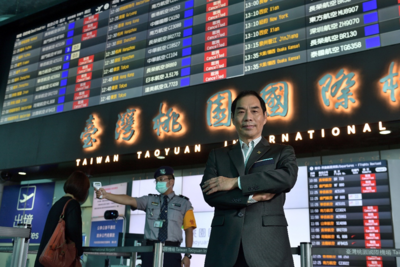 The 'Meet the Regional Board' series is back! We are featuring and introducing current and newly-elected members of the ACI Asia-Pacific Regional Board. We will get to know them better by learning about their leadership style, their thoughts on the next generation of leaders, how they are adapting to climate change and, unavoidably, the impact of the pandemic. 
Kicking off the 2021 edition is new Board Director Jerry Dann, President and CEO of Taoyuan International Airport Corporation, Chinese Taipei. Spending 17 years at the start of his aviation career at the Civil Aeronautics Administration (the region's civil aviation authority), he switched to the airport side in 2006. Moving quickly through the ranks, Mr. Dann now leads the airport with broad experience and expertise.
Which leadership skills have served you most in your career?
I think 'trust' is the most important leadership skill and also the way of doing things. When you lead your colleagues in dealing with business, your trust in them will unleash talents and even inspire their potential. Similarly, if your boss or the Board trust you, they will give you more resources and space to realize your ambition. A practical way is to stand with your colleagues at difficult or crucial times, facing challenges together with them, and letting them directly feel your trust in them. In this process, they will feel that they are trusted by you.
What are you most proud of at your airport?
Since the global spread of COVID-19 in February 2020, border control became one of the most important epidemic prevention measures in every country. International airports, as the front line that bears the mission, fully felt the heavy pressure. At Taoyuan Airport, we mobilized all stakeholders to create a defensive front, including arranging a proper traffic flow, practicing deep and intensive disinfection measures, and enforcing proper personal protection measures.
Given the grim situation, Taoyuan Airport received more than 20 charter flights, and completed all COVID-prevention measures at the border. I am proud to say that in the pandemic, we still offer passengers, the public, and airport staff a clean and safe environment: not a single airport colleague has been infected with COVID-19.
What is your advice to young people in the aviation business?
The aviation business combines novelty and cutting-edge technologies. It is also borderless in character and incredibly wide-ranging, from theories to design to products, from procedure protocols to actual management, technology to marketing, manufacturing to operation and maintenance, air service to ground support, and meteorology to flight. I highly encourage young people to join the aviation industry, which is full of novelty and surprises waiting to be explored.
But the precondition is that you need to have the courage to accept challenges and develop your creativity. Your efforts will give you abundant achievements.
CATEGORY
COUNTRY / AREA

Chinese Taipei
AUTHOR

Communications

Taouyan International Airport