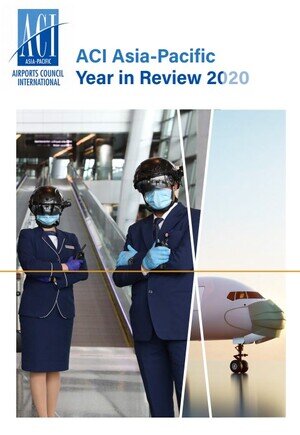 The 2020 edition of ACI Asia-Pacific's Year in Review has been released. While many would prefer to leave the tumultuous events of 2020 in the past, this annual publication provides the opportunity to look back on the work of ACI Asia-Pacific and reflect on the activities and accomplishments in support of its members' interests.
The Year in Review 2020 includes a special section on the association's response to COVID-19 and documents the work in the priority areas of economics, environment, human resources, safety and security. Member airport images are prominently featured throughout the publication painting the picture of the devastating impact of the pandemic on our sector as the year unfolded.
"These times of crisis are when the value of associations has become more evident. ACI Asia-Pacific promptly stepped-up pertinent communications and advocacy efforts with regulators and relevant parties on a range of operational and business issues, including frontline facilitation responses at your airports, financial, economic impacts, slot waivers, COVID-testing and vaccines," said Mr. Seow Hiang Lee, President of ACI Asia-Pacific.
The association closed 2020 with:
27 health accredited airports
31 members receiving ASQ awards
59 carbon accredited airports
84 ASQ awards presented
94 attended ICAO meetings
95 World Business Partners
117 members