Updated COVID-19 Survey Reveals Prospect of International Travel and Operational Considerations
A recent COVID-19 survey [link], conducted among 34 member airports from 24 countries, set out to understand the impacts of COVID variants on travel restrictions, testing and quarantine regimes applied by states and the operational considerations and challenges for airports on vaccine logistics and onsite COVID-19 testing.
Prospects for international travel
Investigating the prospects of international travel in 2021, the survey identified a few deterrents to international travel:
71% of respondents said travel restrictions have become more stringent due to discovery of new COVID variants since the beginning of the year
88% are either banning non-residents for entry or applying stringent conditions for entry
79% said that passengers are required to take tests both at departure and arrival
82% said that quarantine is applied even if the passenger is tested negative
82% said that passengers are required to pay for the cost of quarantine, in addition to the cost of multiple tests if required.
Looking at how international travel is being stimulated, 94% said their countries have started or will start vaccination for the general public by April 2021 and 70% said airport workers are given priority for vaccination. Priority vaccination for airport workers was heavily advocated for by ACI Asia-Pacific.
Operational considerations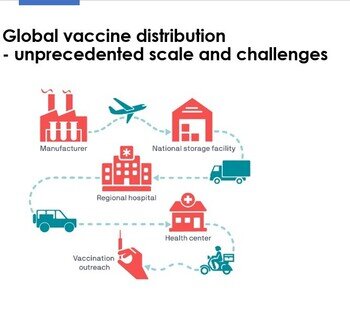 On the operational considerations for airports, the survey showed aviation logistics of vaccine distribution is handled mostly by national authorities. Forty-four percent are led by public health authority and 22% led by national inter-ministerial Task Force. Only 33% of airports have made direct additional investment for vaccine logistics, such as upgrade of temperature-controlled storage, cool dollies or additional staffing.
Compared to the fourth quarter of 2020, more counties are now requiring passengers to take a pre-departure test before travel, predominately within 72 hours prior to departure. As a result, more airports are now providing complementary testing services for outbound passengers, up from only 12% in November 2020 to 50% in March 2021.
With regards to arrival testing, 82% of survey respondents said all inbound passengers are required to undergo a test upon arrival, and over 60% indicate that the arrival test is conducted at the airport. PCR is still the most common type of test used at arrival, but most passengers are not required to wait at the airport for the result. Sixty-five percent say that their maximum arrival testing capacity is below 6,000 per day.
The results of the survey were presented at the last ACI Asia-Pacific Regional Board meeting and the Regional Assembly meeting held in late March 2021.
COVID-19 Task Force
The ACI Asia-Pacific COVID-19 Task Force, established back in early 2020, continues to play an important role in facilitating the exchange of information on the latest regulatory directives and international travel restrictions in the region.
The Task Force will continue to monitor the latest development on vaccination progress and travel restrictions by updating the survey in the second half of the year.