New Study on Capital Expenditure Needs for Recovery, Long-term and Sustainable Growth
In June 2020, ACI World released The Global Outlook of Airport Capital Expenditure, a new study on the needs of capital expenditure in developing new airports and in expanding and upgrading existing airport infrastructure.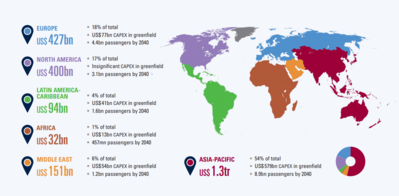 The outlook attempts to determine the need not only to accommodate the growth in air travel demand in the next twenty years, but also in addressing, minimizing, and mitigating the environmental impacts of aviation.
The study forecasts that a US$1.3 trillion investment is required for airports in Asia-Pacific, accounting for 54% of the global requirement. Of this, 44% (US$579 billion) is estimated to be allocated to building greenfield airports. The Middle East, on the other hand, will need US$151 billion in capital expenditure, equivalent to approximately 6% of the global total. Of this, 36%, or US$54 billion, is expected to be spent on greenfield airports.
Airports that are embarking on the ambitious target of achieving net zero carbon emissions by 2050, the advocated long-term carbon goal of ACI member airports, might require further capital expenditures including investments in energy-efficient infrastructure, electric vehicles, and onsite and offsite renewable energy facilities.