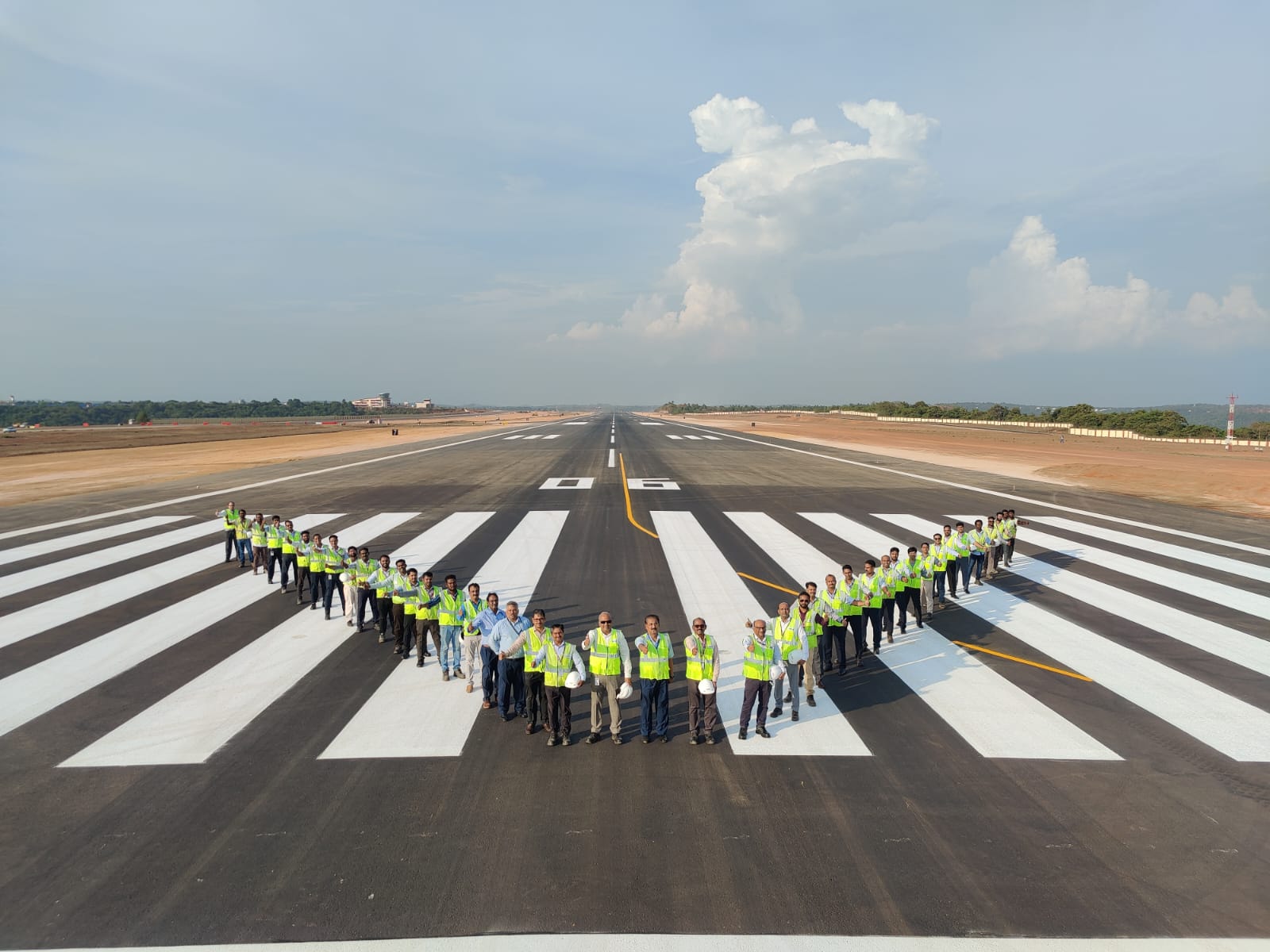 Flexible overlay of asphalt on rigid runway is specialty of the runway recarpeting work executed at Mangaluru International Airport
Mangaluru International Airport in a milestone moment completed recarpeting work on its 2.45-kilometre-long runway 06-24 on May 28. The unique aspect of the project, aimed at meeting compliance norms laid down by aviation safety regulator and completed in 75-working days from March 10, is the flexible overlay of asphalt on rigid runway, which is the first of its kind in India. The airport initiated the preliminary survey work about the project on January 27.

Mangaluru International Airport is the second busiest airport in Karnataka handling around 36 aircraft movements every day. The airport used 8-1/2 hours NOTAM (Notice to Airmen) from 9.30am to 6pm each day to recarpet the runway without impacting operations of scheduled flights. During the 75 days and 529 hours it took to complete the project, MIA kept the runway open daily for 18 domestic and international flights on an average during the remaining 14.5 hours of the day.

In keeping with the brand's continued endeavor to improve operational efficiency and reduce inconvenience to passengers, the airport extended the NOTAM to Sunday as well from March 19. This helped the airport complete the work in above mentioned hours involving 2.51-lakh safe manhours in seventy-five working days against eighty days from March 10 to May 28. The project saw the use of 81696 tonnes of asphalt equivalent to laying 82-kms of road, using eighty sophisticated pieces of equipment.

Meticulous planning executed with clockwork precision meant that the dumper trucks transported the asphalt to the runway where pavers, road compactors and laborers waited to get the day's work underway as per schedule. After thorough cleaning of the runway, trucks sprinkled an even tack coat of tar. Dumpers in turn poured the asphalt into the pavers that spread it evenly on the rigid surface, after which the compactors took over to improve the surface quality.

Keeping in mind safety of future operations, MIA has made provision for installation of runway center lighting. "The airport executive leadership has lauded the airport team for completing the project ahead of schedule. The leadership has also thanked the people of the region and the administration for their unwavering support and understanding for coping with the altered travel timings to make MIA the safest tabletop airport in India," the airport spokesperson said.
CATEGORY
COUNTRY / AREA

India
AUTHOR

Mangaluru International Airport