Kansai Airports Enacts Environmental Standards for its Business Partners
Kansai Airports today announced that it will establish new regulations on environmental standards for airport business partners with an aim to promote environmentally-friendly business practices across the airports.
Kansai Airports Group has been carrying out various activities to reduce its carbon footprint based on the four visions laid out in its environmental plan — One Eco-Airport Plan — developed in April 2018: response to climate change; resource usage; environmental harmony; and environmental management. In March 2021, the group set a long-term goal of achieving net zero greenhouse gas emissions and has been working on reducing energy consumption and other environmental impacts.

Furthermore, it has established the Airport Environmental Promotion Council, comprising onairport business operators, to cooperatively drive initiatives to reduce environmental load at the three airports it operates. In line with these efforts, the new Environmental standards Regulations will set out the matters to be observed in pursuing eco-friendly business practices and clearly state the group's commitment to social responsibility as an airport operator. Going forward, contracts with tenants will also be renewed in phases to include clauses on environmental standards.

Kansai Airports Group will continue to work with airport business operators to promote groupwide environmental initiatives and thereby develop eco-friendly airports in harmony with local communities.
Cocnept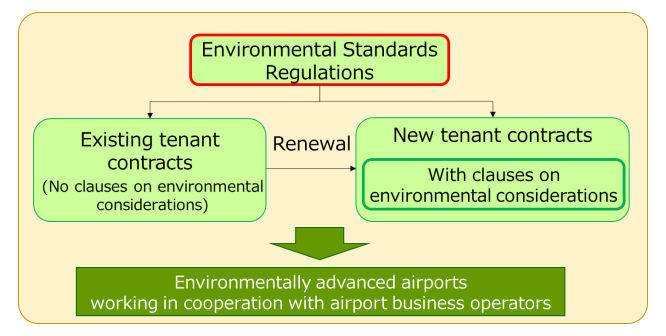 One Eco-Airport Plan
http://www.kansai-airports.co.jp/efforts/environment/efforts/file/OneEco-AirportPlan_en.pdf
Kansai Airports Environmental Statement
http://www.kansai-airports.co.jp/en/efforts/environment/efforts/file/statement.pdf