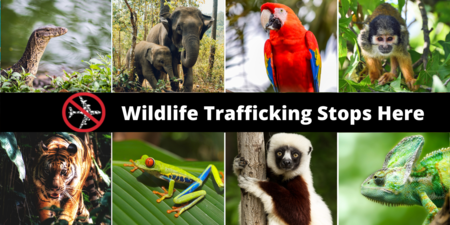 Illegal wildlife trafficking is the world's fourth highest-ranked international crime, estimated to be worth between US$7-US$23 billion a year. It involves importing, exporting and reexporting wild animals and plant resources. Wildlife trafficking creates risks to the aviation industry and society, including health and safety to passengers and airport staff, negative press and economic loss for nature-based tourism. As illegal wildlife trafficking directly affects the global transportation system, it requires concerted efforts from all aviation stakeholders to mitigate.
On this World Wildlife Day, ACI Asia-Pacific is taking the opportunity to remind members of the damaging impact of wildlife trafficking and available resources.
Wildlife trafficking awareness statistics
More than 7,000 species are affected by illegal wildlife trade (source: UNODC)
More than 5.5 million animals and animal products have been seized in air transport in the last ten years (Source: ROUTES Dashboard)
Approximately 55 elephants are poached every day (source: WWF)
In 2019, pangolin seizures reached an all-time high, amounting to more than 116 tonnes of pangolin scales and meat (Source: C4ADS)
Aproximately 110 tigers a year enter the illegal trade chain in Asia (Source: TRAFFIC)
Training videos
As part of the efforts to raise airport stakeholders' awareness, ACI has joined forces with TRAFFIC, a leading NGO working globally on trade in wild animals and plants, to publish two videos for training airport staff on wildlife trafficking issues. With the support from the ACI Asia-Pacific Regional Environment Committee, the videos are also available with Chinese and Arabic subtitles.