International days are occasions to educate the public on issues of concern, to mobilize political will and resources to address global problems, and to celebrate and reinforce achievements of humanity.
30 July is the United Nations' World Day against International Trafficking, a day that should not go by unnoticed.
A United Nations' Office on Drugs and Crime (UNODC) report released earlier this year reveals that in 2018, about 50,000 human trafficking victims were detected globally, as reported by 148 countries. Sadly, the number of children among detected trafficking victims has tripled over the past 15 years.
As air transport is a commonly misused mode of transport for traffickers, airports have a responsibility to assist, both through the training of staff in recognizing and dealing with trafficking situations, and by providing information to the public to raise awareness.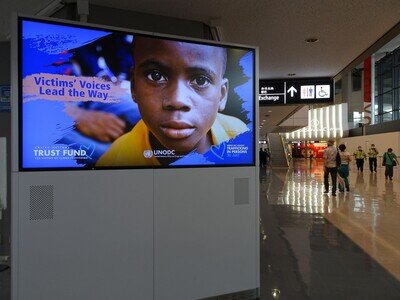 Eradicating human trafficking at Narita Airport
This year, Japan's Narita Airport continues its efforts to raise awareness among passengers and airport staff to prevent human trafficking, with the aim of fostering an environment where human trafficking no longer occurs. The company is supporting and cooperating with international organizations efforts to fight against this international crime.
Narita Airport has asked airlines, airport organizations and business partners to wear the UNODC's Blue Heart lapel pins. By wearing the Blue Heart, people can show their solidarity with the victims. The Blue Heart campaign, long supported by ACI, is a global awareness-raising initiative to fight human trafficking and its impact on society.
At the same time as the world's Olympians gather in Japan, Narita Airport has been cooperating with the 'It's a Penalty Tokyo Campaign'. The campaign uses the power of sports and world-famous athletes to promote the eradication of the social and global problem and encourage people to report crimes. Narita Airport has been displaying videos and digital posters with messages from athletes on digital signage boards in the passenger terminals.
ACI resources
ACI Asia-Pacific encourages all members and the broader aviation community to make use of available information and resources to raise awareness, educate and train staff in the ongoing efforts to combat human trafficking.
Publications
Training
External Information