ACI Asia-Pacific Promotes Security Culture at a Webinar Hosted by the Japanese Authority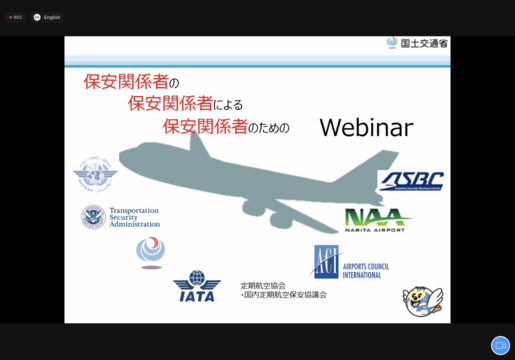 ACI Asia-Pacific had the privilege of being invited to an "Aviation Security – Raising Security Awareness" webinar on 10 February 2022. The webinar was organized by the Japan Civil Aviation Bureau (JCAB) for the benefit of aviation stakeholders in Japan and fostering the environment of sharing best practices in developing effective security culture from the perspectives of security regulators, airlines and airports.

Key industry partners and institutions also participating in the event include ICAO, IATA and TSA representatives for Japan/ South Korea, Japanese airlines, airport operators and security service providers. The webinar was well-attended by over 900 participants, many of whom were security personnel and screeners from Japan.

During the webinar, ACI Asia-Pacific's Manager, Security and Facilitation - Gary Leung, shared initiatives and efforts in enhancing airport security awareness. Specifically, he emphasized the importance and benefits of developing a strong security culture, as human beings are still indispensable in aviation and simply not replaceable yet. Security culture is a key priority both at the global and regional levels. He also provided practical actions for the Japanese airports to consider on the promotion and assessment of security culture, including sharing examples of initiatives or practices at other airports in the region. More so, Mr. Leung shared examples of how to assess security culture, as well as other resources made available by ACI, including handbooks, videos, short online courses, etc.