Qatar's Hamad International Airport Redesigns Security Experience through Innovation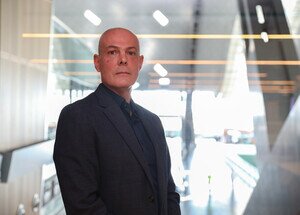 During the month of September, ACI Asia-Pacific is highlighting one of the top priorities in airport operations: security. Over the past decades, the landscape of aviation security has constantly changed with new security threats emerging and new, additional security measures being introduced. The initiative coincides with ICAO's designation of 2021 as the Year of Security Culture.
As Assistant Vice President Airport Security at Hamad International Airport, Philip Bamber is a driving force behind the airport's Smart Security Programme. He is the current Chair of ACI Asia-Pacific's Regional Aviation Security Committee and member of both the ACI World Security Committee and Smart Security Management Group.
Airport security screening processes have long been shaped by key operational and spatial drivers. Over the past 20 years, we have seen security checkpoints evolve from conventional x-ray and walk-through metal detector systems to automated lanes and scanners for baggage and passengers respectively. With the COVID-19 pandemic accelerating pre-existing passenger trends towards automation and self-service, the security checkpoints of today are required to balance security and health concerns with safety and efficiency.
As passengers return to the skies, airports around the world are witnessing an increase in passenger queues at security checkpoints. Qatar's Hamad International Airport (HIA) circumvents these issues with the help of its robust and non-invasive security systems and processes, which focuses on customer service and screens 99% of its passengers in under five minutes.
HIA's security strategy is implemented through its Smart Security Programme, which introduces streamlined, innovative, and efficient screening technologies to improve the passenger journey across the airport campus.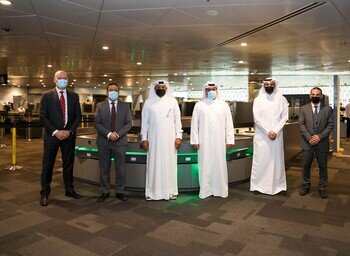 Recently, Qatar's airport introduced an innovative screening system in combination with millimeter wave body scanners which provide a safe and customer-centric security process. HIA partnered with Smiths Detection to unveil a new screening lane that facilitates up to six passengers preparing at the same time. The computed tomography and 3D system that drives it enables HIA's passengers to conveniently keep liquids and electronics in their baggage, while allowing them to pass through the security checkpoint without removing their footwear. Footwear can be screened if required without the need for our passengers to remove them in approximately 10 seconds. The new screening lane has been installed at HIA's transfers' hall and will be part of HIA's expansion.
Keeping passenger peace of mind at the heart of its strategy, the system is equipped with UV-C technology that eliminates microorganisms from baggage trays between each use, a key function for safe travel during the ongoing COVID-19 pandemic. This security system is being expedited at HIA as the airport will be among the initial global airports to offer the technology at all of its departures and transfers screening lanes.
HIA has also installed security screening software and advanced algorithms to support security personnel to detect explosive materials and prohibited items such as firearms and sharps in densely-packed bags and bust trays. The technology can be found at the airport's transfers security checkpoints, and offers transferring passengers the similar convenience of moving through the checkpoints without removing any belongings from their baggage. Along with elevating airport security and boosting passenger throughput, this technology has presented HIA the opportunity to meet internationally-recognized explosives detection system standards.
As the best airport in the world, HIA is continually striving towards adopting advanced screening technologies that deliver operational excellence and a convenient passenger experience. Qatar's airport is often the first airport in the region or the world to introduce vital and innovative smart solutions to elevate the airport environment, which has solidified HIA's leading position as a global travel hub.
In light of the pandemic, these technologies also aid in limiting human contact at security checkpoints, which create safer and more efficient screening processes for both airport staff and passengers. Such technological innovations can be found at every step of the passenger experience at HIA, from self-check-in kiosks to contactless payment options at all retail and dining outlets. Altogether, these technological adoptions focus on passenger safety and convenience, and contribute to HIA's safe, secure and seamless airport experience.
Technological innovations can be found at every step of the passenger experience at HIA.
CATEGORY
COUNTRY / AREA

Qatar
AUTHOR

Philip Bamber

Hamad International Airport