A 10+ year veteran of 110-year-old company KONE, Mr. Calin Hera is the Business Development Manager for Public Transport and Airports. In a conversation with Jeannie Wong, our head of communications and events, he shares how KONE has been faring amid the COVID-19 pandemic.
JW: Have you observed any significant changes in clients' plans, such as delayed or cancelled projects and installations?
For sure, there have been a fair share of delays, either in the decision-making process, or in the delivery schedules, and even cancelations of projects. However, by and large, we have managed to keep quite a good momentum in our activities.
In the first half of 2020, we launched the KONE Health and Well-being suite of solutions, which have been very well received by the markets. These solutions are developed to provide safety, as well as peace of mind, to people using our equipment; they consist of elements such as escalator and autowalk handrail sanitizer, elevator air purifier, anti-bacterial surfaces etc. The feedback we received from our customers has been excellent.
Many have said that, even when the pandemic passes, they will keep these features permanently. Airport terminals, for example, know very well that an increased sense of safety for the guests translates in higher satisfaction amongst passengers.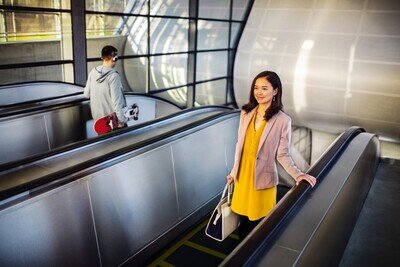 JW: How have you adapted your interactions with clients amid the pandemic?
By the time it was declared global pandemic, we had already experienced and learned quite a lot from facing it first-hand in China. Many of the practices were easily replicated in the rest of the world. Wherever possible, we obviously moved to digital channels to substitute the in-person interactions. However, as is the nature of our business, in many cases our service technicians needed to be at the actual site to replace or repair items before they led to a critical failure.
Our customers benefited greatly from our KONE 24/7 Connected Services solutions through which we gain real-time understanding of the equipment. Our elevators and escalators are connected through the cloud and, with the help of artificial intelligence, any significant variations in operating parameters are analyzed and possible failures identified and fixed before they actually happen. If we think, for example, of the essential services of societies, like hospitals and public transport, our teams worked closely with the customers to make sure the equipment is fully functional.
We actually refer internally to some of our colleagues as the "KONE heroes" who took to the field to do their hands-on work and offered piece of mind to the customers and end-users. In some cases, like hospitals, this could literally mean the difference between life and death.
JW: Have you noticed any differences in how the KONE teams across the regions have coped with the pandemic?
No, not really. For us at KONE safety is of top priority and thus we have very clearly defined and well implemented policies in place globally. We pleasantly noticed that the pandemic has somehow contributed to uniting our teams around the world, who have shared best practices with each-other, and stepped in to support the overall operations when other units couldn't keep up with their normal volume of work or production. This great collaboration across functions and borders has always been a strength for us and it is often times praised by our customers, too, who themselves often operate in international or even global environments.
JW: KONE reached the tremendous milestone of its 110th anniversary in 2020 amid a year unlike any other. What was KONE's biggest challenge?
Indeed, a beautiful age for us to celebrate, but a very unusual year for everyone.
Priority number one for us, from the early phases of COVID-19 epidemic in China, was to ensure the safety of all of our stakeholders: our personnel, in particular our field technicians, our clients, as well as their customers, ultimately the users of the elevators and escalators in buildings, the passengers in stations, or guests at airport terminals etc.
Another very important aspect for us was to mitigate the impact the pandemic had on our supply chain, to find solutions so that deliveries of our equipment would not become bottlenecks in our customers' schedules. And I must say that my colleagues from China, the first country hit by COVID-19 and lock-downs, and where we have large production and R&D facilities, together with other global teams and our network of production sites around the world, managed to pull together an amazing taskforce to ensure deliveries to our customers worldwide continued as uninterrupted as possible.
World Business Partner KONE specializes in the flow of urban life with its customers and partners, through solutions such as elevators, escalators, autowalks and automated building doors.