Queen Alia International Airport Renews Level 2 of Airport Customer Experience Accreditation Until November 2022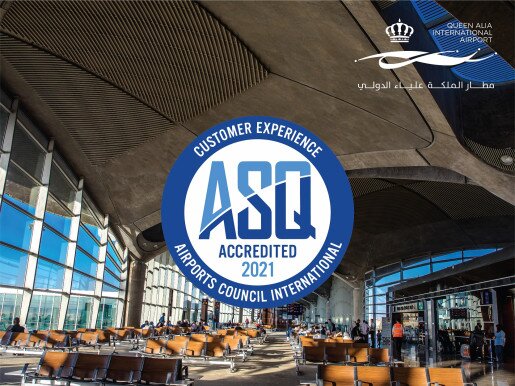 Airport International Group announced that Queen Alia International Airport (QAIA) has recently renewed Level 2 of the Airport Customer Experience Accreditation (ACEA) issued by Airports Council International (ACI) World until November 2022. QAIA initially obtained this accreditation in 2020 in acknowledgement of its efforts to promote service excellence and customer satisfaction, consequently positioning it as one of only five airports in the Middle East and 46 globally to have received an ACEA.
The five-level program is the first of its kind worldwide, designed specifically for the airport industry and dedicated to ACI World members. The holistic program is structured around a set of practices aimed at guiding airports in their short and long-term approaches to placing customer experience at the forefront of priorities.
Accreditation at each level serves as a powerful tool for airports to engage stakeholders in improving the customer experience and showcasing that commitment to passengers, partners and the communities served. The robust model implemented helps airports establish common goals based on eight key domains: Customer Understanding, Strategy, Measurement, Operational Improvement, Governance, Airport Culture, Service Design/Innovation and Airport Community Collaboration.
"Building on our successful track record, we are very pleased to have renewed Level 2 of the Airport Customer Experience Accreditation, which reaffirms our longstanding commitment towards shaping a positive passenger-centric experience at Jordan's prime gateway to the world. We proudly share this latest feat with the entire airport community, whom we sincerely thank for their unwavering dedication to bridging passenger expectations and extended services - despite the ongoing uncertainties circling the global air travel industry," commented Airport International Group CEO, Nicolas Claude.