ICAO Amends Security Guidance to Raise Role of Airports in One-stop Security
In the ICAO regulatory context, airports have had a very limited role in initiating or influencing One-stop Security (OSS) decisions. To rectify this situation, ACI has been working with policy makers to increase the influence of airports in the decision to adopt OSS between states.
The ACI Asia-Pacific Regional Aviation Security Committee (RASC) submitted an advocacy paper in 2019 to the respective annual security meetings hosted by the ICAO Asia and Pacific office and the ICAO Middle East office, encouraging states to consider inputs provided by airports to facilitate states' decision-making process pertaining to OSS adoption. The proposal was subsequently taken up by ACI World at the global level for further advocacy.
Amendments
As a result of these advocacy efforts at regional and global level, some important amendments to the ICAO Doc 8973 - Aviation Security Manuel favourable to airports have been successfully championed. A number of recommendations in Doc 8973 have now been added into chapter 11.10 "recognition of equivalence of security measures – one-stop security". In a nutshell, these new recommendations:
Recognise that airports have a valuable role to play in the initial identification of potential candidates for OSS due to their knowledge of operational data information related to the application of security measures across the globe

Encourage states to consider recommendations from airports when identifying potential OSS candidates

Allow airports to share their observations of the security measures implemented by other states' airports with the relevant authorities for the purpose of identifying potential OSS candidates.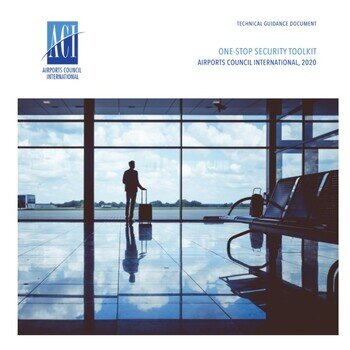 One-stop Security explained
One-stop Security is a concept that principally aims to expedite the flow of transfer passengers and baggage to their onward destinations by eliminating the unnecessary duplication of security controls at the transfer airport. OSS arrangement is a state-to-state bilateral or multilateral decision. The removal of transfer security screening could reduce flight connection times and minimise the possibility of missed connections of baggage. Not only would this improve the passenger experience and facilitation, but also enhance the overall efficiency and competitiveness of the air transport hub-and –spoke networks.
In view of the potential benefits, industry stakeholders including airports and airlines are generally in support of a wider adoption of OSS in accordance with the ICAO regulations. However, despite OSS being in the limelight for discussion for many years, the implementation of it is still very limited worldwide, especially in the Asia-Pacific and Middle East regions.
Next steps
Airport members are encouraged to take note of these new amendments and assess if they could be of help in advancing the development of OSS at national level. Members are encouraged to download the free-of-charge One-stop Security Toolkit, which was recently developed by ACI World to assist airports on the implementation of OSS.