Airports Vanuatu Ltd (AVL) provides an update on February operations.

AVL maintains operations across three airports despite a year of border closures
AVL reflects that Vanuatu's international borders have officially been closed for a full year, following the State of Emergency declared by the National Disaster Management Office (NDMO) on 26 March 2020, in response to the threat posed by Covid-19 entering our nation. Throughout this period AVL has maintained operations at our three airports in challenging circumstances.
Domestic services restarted following the initial shut down, and have gained since December, with the return to service of Air Vanuatu's ATR aircraft.
International services have also expanded, from initial humanitarian relief in the form of cargo flights, to flights operated mostly for the repatriation of Vanuatu residents from overseas and more recently charters for Vanuatu residents departing to work in Australia and New Zealand as seasonal workers.
Jason Rakau, CEO of AVL commented, "This period has been enormously challenging to AVL, to maintain safe and complaint operations under reduced circumstances. As international flying has declined 93% year on year, our revenue has also suffered. Sadly, we made the decision to reduce the workforce and in January and bid farewell to 65 staff. The future pathway is there, with work continuing on the trial Tamtam Travel Bubble and the Covid-19 vaccine programme, however at this point the exact timeframes for vaccinations is not known. AVL as an organization remains cautiously optimistic as we face the future. Our staff will be among those on the front line who will be vaccinated first. We commit to working co-operatively with all our aviation, tourism, government and border force agency partners, to ensure the Tamtam Travel Bubble policies and procedures are enacted every day. In all our actions we first and foremost consider the health of our staff and the nation as our highest priority".

February 2021's passenger results
Domestic passenger movements for February are down 37% on the same month last year. On average over the past quarter, domestic passenger movements have stabilised at -37%, since the welcome return of Air Vanuatu's ATR aircraft to the fleet.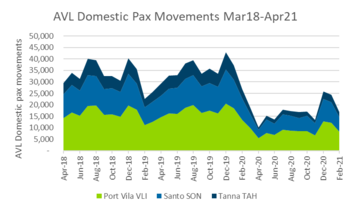 In the past year AVL airports processed a total of 207,200 domestic passengers, which is 49% down on the record year ending February 2020.
International air travel continues to operate in a limited capacity under the direction of the NDMO. International passenger movements for February are down 92% on the same month last year.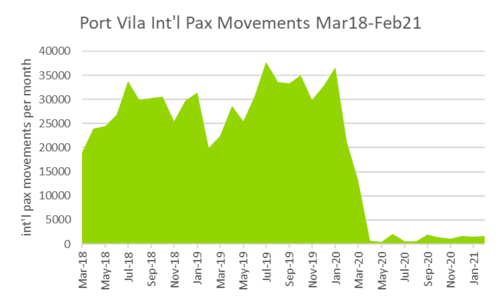 In the past year AVL airports processed a total of 26,700 international passengers, which is 93% down on the record year ending February 2020.

Rowland Kalsong, Group Head of Operations commented, "It is an interesting time of reflection, as we mark the passing of a full year since our borders closed. A year ago, we achieved record passenger throughput for February 2020 but we watched the rising threat of Covid-19 and supported the declaration of the State of Emergency, to protect our nation's health. Over the past year, AVL's airports have facilitated the movement of 233,900 passengers across domestic and international operations, which is 69% down on a year ago. It may take us a number of years to recover to that record level recorded in February 2020. Our business plan throughout has been to focus on ensuring our infrastructure and facilities remain complaint and our operations are safe. We will continue that focus as we move forward cautiously with our frontline worker vaccination programme and the pilot programme under the Tamtam Travel Bubble".
Marking the centenary of aviation in Australia
Next week the Royal Australian Air Force (RAAF) celebrates its centenary, which was a landmark Qantas achieved in January. Jason Rakau commented, "As we reflect on the negative aspects of our border closure over the past year, it is heartening to have a positive story, to reflect that the aviation industry is long-lived and its people are resilient. Both the RAAF and Qantas have been welcome visitors to Vanuatu over the years, providing support to our nation in good times and bad and we thank them for their support".
The RAAF have most recently brought emergency humanitarian relief to Vanuatu in the aftermath of TC Harold, providing basic materials to immediately support people who suffered the loss of their homes, such as tents, tarpaulins, and hygiene and kitchen kits.
Qantas is a global leader in aviation and is recognized for the strength of its safety culture. It makes a significant contribution to our region through its direct flights and codeshare partnerships with many carriers, including Air Vanuatu.