Angela Gittens to Participate in ACI Asia-Pacific Regional Assembly, Conference & Exhibition
ACI Asia-Pacific is pleased to announce that Ms. Angela Gittens will be joining our 18th ACI Asia-Pacific Regional Assembly, Conference & Exhibition that will take place in Kobe, Japan from May 16-18, 2023.

Ms. Gittens is one of the most-respected executives in the airports industry, having served as the CEO of Atlanta-Hartsfield International Airport and Miami International Airport followed by decade-long stint with ACI World as the Director General where she continued to advocate for excellence in airport management until her retirement in 2020.

Ms. Gittens will moderate a session: 'Can Small & Regional Airports Recover in an Economically Sustainable Manner?'. Ms. Gittens is well known for her pro-active drive, striving for continuous improvement of the aviation industry. She worked tirelessly to ensure that the world's airports had the financial and regulatory support to not only survive this pandemic but emerge even stronger and thrive in a sustainable way.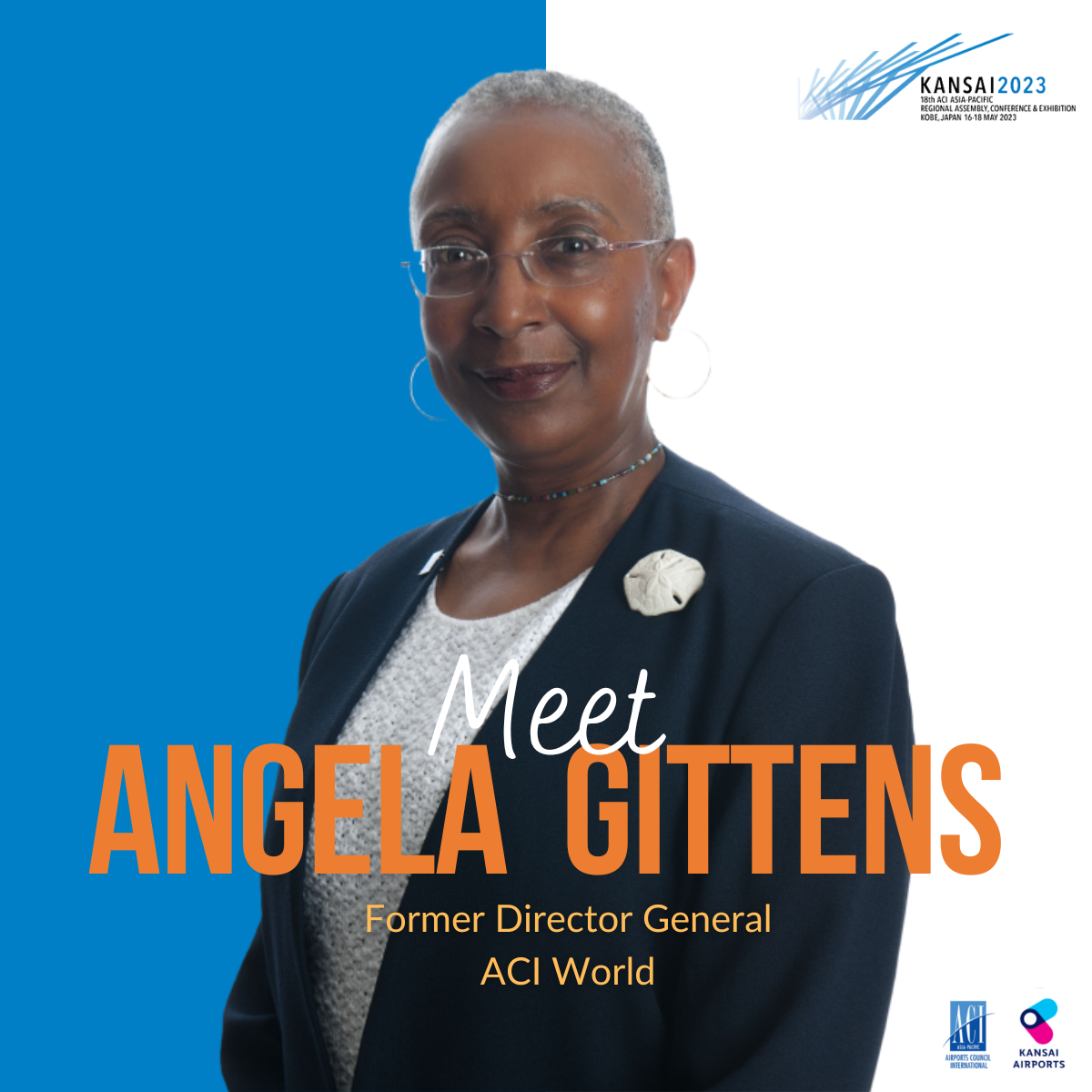 Ms. Gittens has served on numerous aviation industry boards and committees including the FAA Management Advisory Committee and the Board of Directors of JetBlue Airways. Since her retirement, she serves as Chair of the board of Schiphol USA which governs the operator of Terminal 4 at JFK Airport (JFK International Air Terminal).

In 2021, she was honoured with the Downes Award, the highest honor given by ACI-NA and she is a 2023 inductee into the U.S. National Aviation Hall of Fame, the first airport professional to be so recognised.

In this panel, you will hear from some of the small and regional airports on how they have managed through the crisis over the past three years, and their recovery strategies in restoring air connectivity and competitiveness in an economically sustainable manner.

Over the years, the ACI Asia-Pacific Regional Assembly, Conference & Exhibition has attracted high-level representation from airports, business partners and from the aviation ecosystem, addressing the most pressing topics.

The conference, with the theme Asia Pacific and Middle East Take-off: From recovery to global leadership aims to serve as a platform for brainstorming and exchanging knowledge and ideas about current developments in global aviation.

Don't miss this chance to hear from experts.
ACI Asia-Pacific Regional Assembly, Conference & Exhibition
Date: 16-18 May 2023
Venue: Kobe Portopia Hotel, Kobe, Japan
Registration: Early bird rate available until 17 March
Enquiry: events@aci-asiapac.aero
More details, please visit here.
CATEGORY
COUNTRY / AREA

Hong Kong SAR
AUTHOR

ACI Asia-Pacific