Members of the ACI Asia-Pacific Regional Environment Committee and environmental sustainability experts from airports industry shared insights at a webinar on 'Airports going beyond green building - trends towards nature & ecology'.
Hosted by ACI Asia-Pacific, on January 31, 2023, the webinar aimed at promoting environmental best practices to minimise airports' impacts on the environment and gain insights to build resilient and sustainable airports for future.

Mr. Gerald Ng, Vice President, Environment and Sustainability, Regulatory and Economic Affairs, Changi Airport Group (CAG) and Mr. S Lakshminarayanan, Senior Vice President - Engineering & Maintenance, E&M - Bangalore International Airport Limited (BIAL) were the keynote speakers.

Moderated by Mr. Ken Lau, Senior Manager – Environment and Airport IT, ACI Asia-Pacific, the speakers shared their best practices in management perspective, concept to commissioning, maintenance and operational challenges and long-term plans.

The experts acknowledged that airports have limited scope for adopting sustainable methods that lead to green airport transformation. In spite of these limitations, airports of all sizes, locations, and topographies are adopting multiple methods to retain their sustainable elements. It has also been acknowledged that green initiatives have their own disadvantages and that they need to be implemented in a right manner if they are to be successful in being sustainable.

Mr. Gerald Ng, who is also the chair of the ACI Asia-Pacific Regional Environment Committee, presented Changi Airport's efforts to incorporate the blend of nature and ecology into its buildings.

He said the Changi Airport buildings and facilities are designed, operated and maintained based on environmental priorities, with an aim to reduce carbon emissions, water conservation, waste management and climate resilience.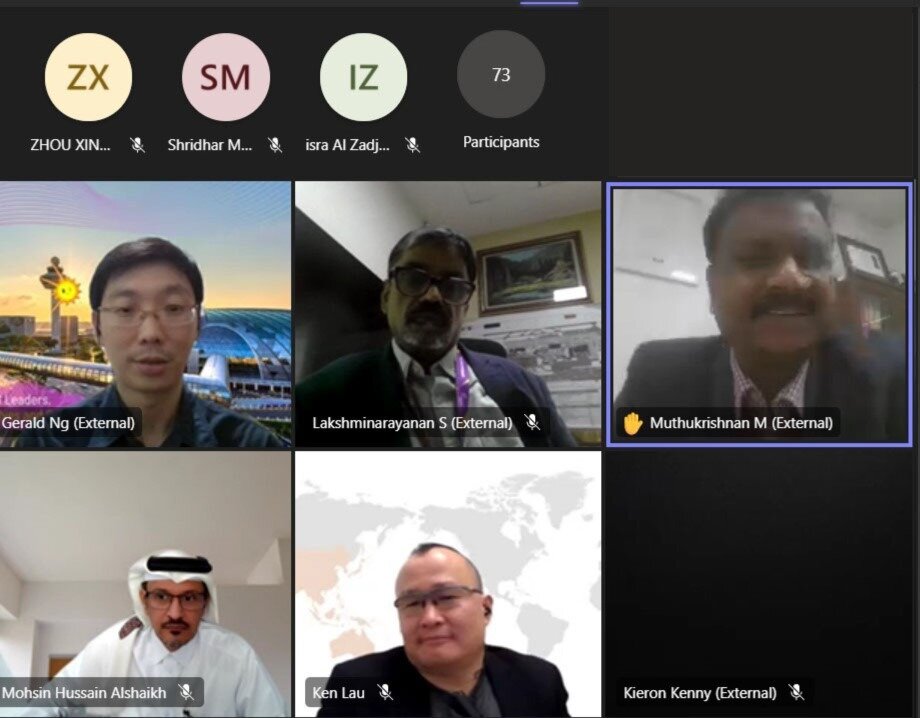 Mr. Gerald Ng elaborated on how Changi Airport is designed to relax and enhance people's positive relationship with nature, even inside a crowded terminal. He said a three-tiered environmental design strategy was used such as architectural design for passive energy efficiency; integrated cooling strategies and the use of sustainable building materials.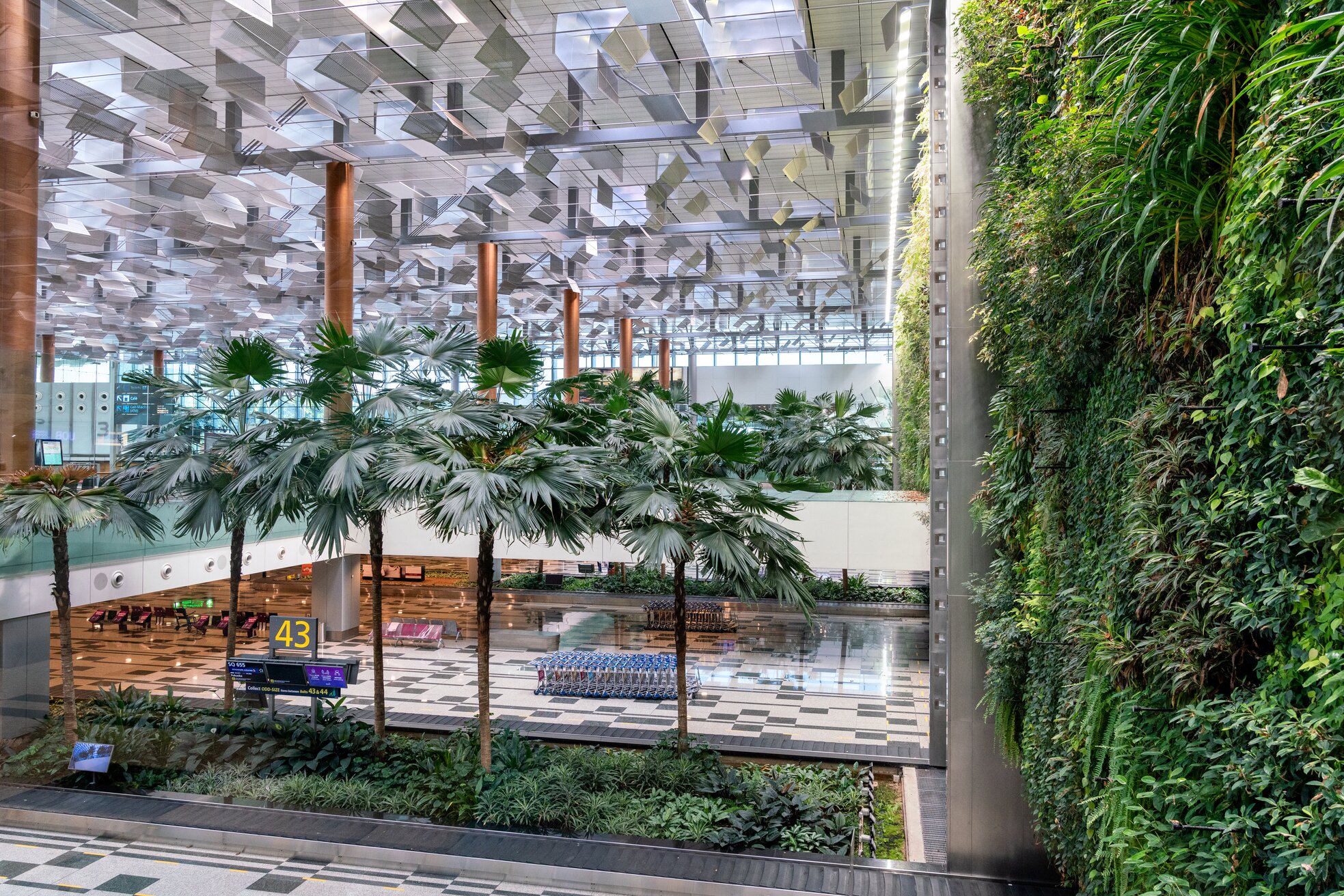 Changi Airport - Green Wall
According to Gerald, Changi Airport has more than 2,000 trees and palms, along with over 100,000 shrubs, some of them sourced from outside Singapore. Some of the benches at Jewel Changi Airport are made from the trunks of trees that once grew in the carpark that Jewel Changi Airport was built on.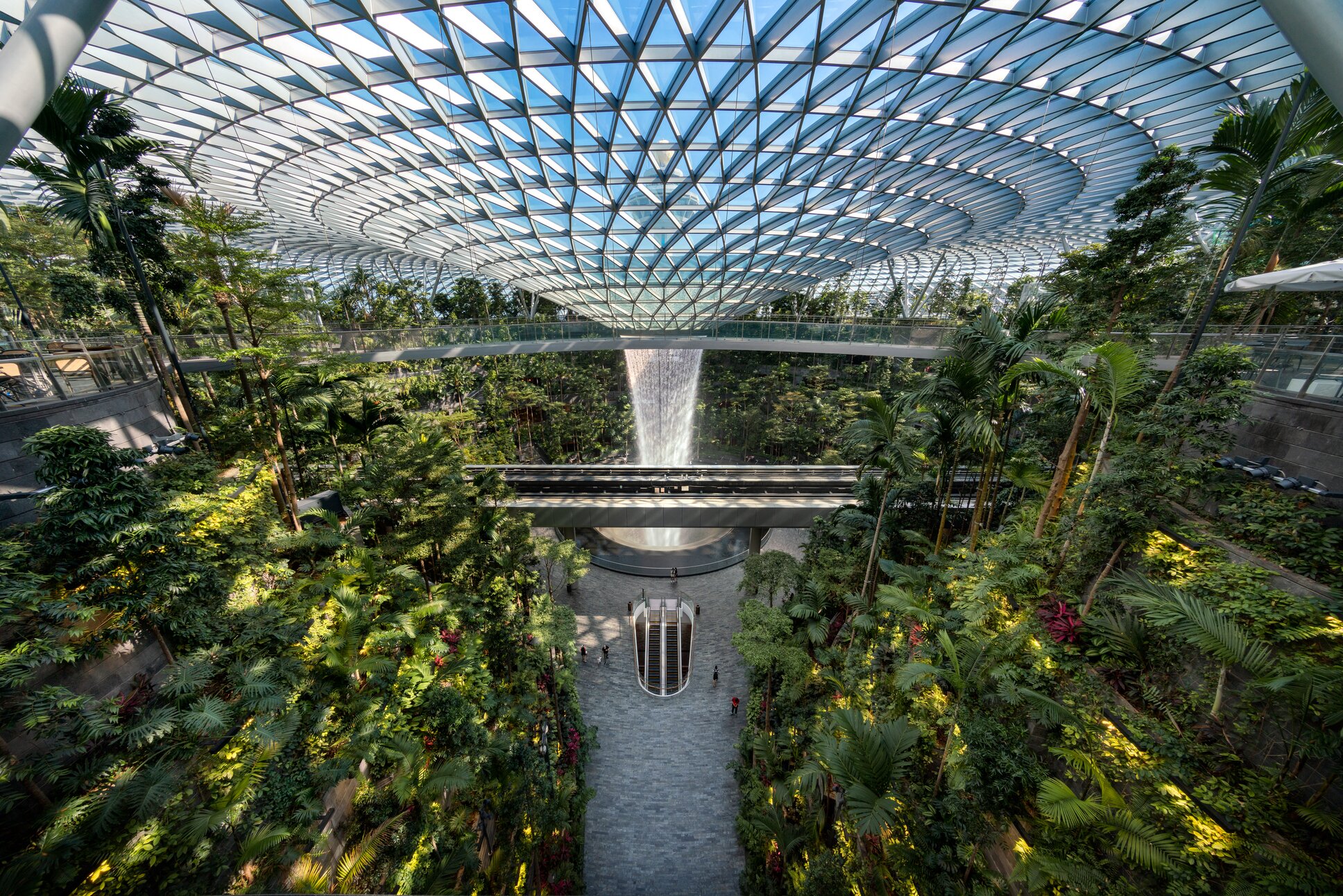 Changi Airport - Jewel
Mr. Lakshminarayanan, a member of the ACI Regional Environment Committee, spoke about BIAL's Sustainability Vision 2030, objectives of its landscape initiative, concept, execution, challenges & long-term plan. Besides, Mr. Lakshminarayanan provided the participants with interesting insights into Bengaluru Airport's newly-operationalised Terminal 2, designed with a unique concept of Terminal in a Garden.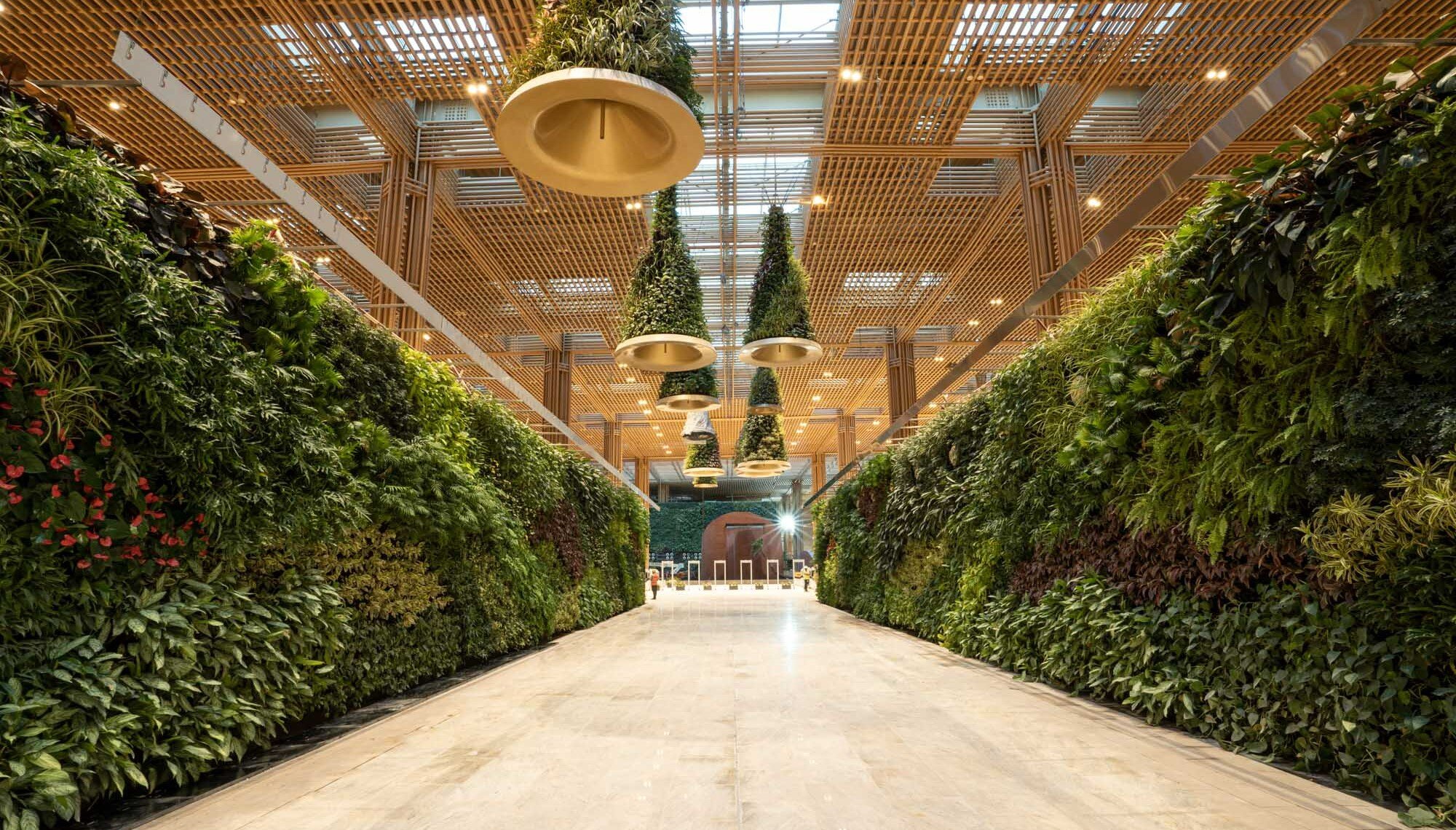 Terminal 2 of Kempegowda International Airport, Bengaluru
Mr. Lakshminarayanan said T2 reflects all that Bengaluru as a city stands for – a green, modern, innovative, sustainable, and culturally rich city. He said passengers travel through over 10,000 sq. m of green walls, hanging gardens and outdoor gardens, which were made in India using indigenous technology. Apart from that, the terminal embraced technology, art & sustainable elements in its structure and utilities.

Hanging gardens at the Kempegowda International Airport's Terminal 2
Sharing BIAL's Vision and Sustainability Road Map 2030, Mr. Lakshminarayanan elaborated on the six strategic pillars of sustainability that includes Water Stewardship, Net Zero Carbon Emissions, Community Aligned Noise Management, Circular Economy, Sustainable Procurement and Sustainable Mobility.

For more information regarding this webinar or technical webinar series in 2023, please contact Ken Lau, Senior Manager, Environment and Airport Information Technology, ACI Asia-Pacific at ken@aci-asiapac.aero.
CATEGORY
COUNTRY / AREA

Hong Kong SAR
AUTHOR

ACI Asia-Pacific