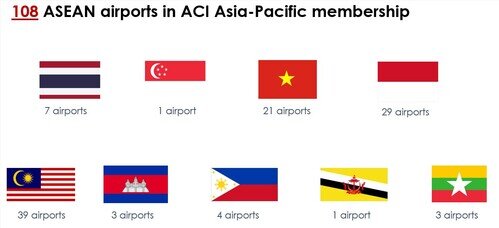 To deepen ACI Asia-Pacific's engagement with states in the region, we approached the Association of Southeast Asian Nations, better known as ASEAN. They gladly welcomed ACI Asia-Pacific into their Air Transport Working Group. This Working Group carries out various programmes, projects and activities according to the Kuala Lumpur Transport Strategic Plan 2016-2025. The Strategic Plan aims to support the realisation of the vision of the ASEAN Economic Community (AEC) 2025 which calls for a deeply integrated region that will contribute towards a highly-cohesive ASEAN economy.
This engagement between ASEAN and ACI Asia-Pacific will allow the association to consistently and strategically share our position with national air transport experts. One hundred and eight ACI Asia-Pacific member airport are located in ASEAN states.
IT capabilities
In May, ACI Asia-Pacific participated in the Working Group's 43rd meeting to demonstrate how ACI Asia-Pacific's priorities matched ASEAN's Strategic Plan. The association presented on the topics of smart airport and digital transformation, illustrating ACI's and airports' work and applications in cybersecurity, touchless solution, biometric, artificial intelligence, robotics and airport digital twin.