People Matter – Attracting, Retaining and Developing Industry Professionals Must Be a Priority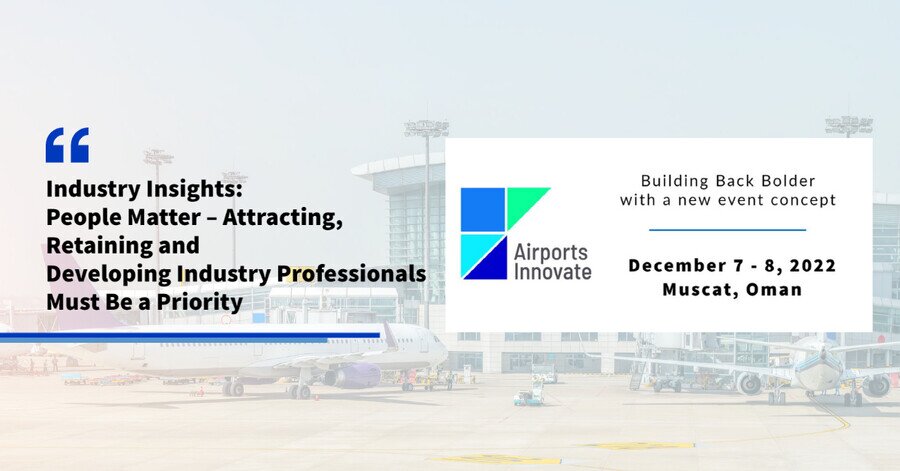 Aviation industry workforce will be one of the hot topics of discussion when our brand new event-- Airports Innovate -- gets under way in Muscat, Oman on December 7 & 8.
A difficult summer travel experience
As COVID-19 related travel restrictions are eased, fully and partially, in many parts of the world, some of us get to enjoy the privilege of travelling across borders.
The current traffic trend indicates a strong pent-up demand for air travel. Particularly, leisure travel such as visiting friends and relatives and postponed holidays will continue to buoy the industry's recovery.
Nonetheless, the pent-up demand for air travel seems to pose significant challenges to airport operations. Long waits for check-in and baggage reclaim, lost luggage and extended layovers are common sights along with flight display screens, decorated with cancellations and delays, have only worsened the airport experience.
One cannot help but notice that some airports are experiencing manpower shortages, unable to handle the surge in passenger traffic and as a result causing disruptions in the network.
The labour crisis is not just limited to airports but to the entire aviation ecosystem that includes airlines, government agencies, ground handlers, security service providers etc. at a time when demand for travel was reaching the summer peak.
How it used to be before COVID-19
Before the COVID-19 pandemic, airports were known as stable and predictable entities in the aviation ecosystem, being able to efficiently manage its resources against given traffic volumes.
On a global scale, 87.7 million jobs were supported by air transport, but about 60% of these jobs were concentrated on airport sites. The airport sector was an indispensable node of aviation employment. In fact, a typical airport hub would have around 40,000 employees working on site.
The economic contributions of the aviation industry were estimated to be 4.1% of the global GDP under "normal" circumstances, and air transport related jobs, on average, were 4.3 times more productive compared with other sectors.
Then the pandemic hit
The COVID-19 pandemic and the associated decline in traffic have led to the severe financial challenges on airport operators and many other stakeholders in the aviation ecosystem, including those provide basic functions of airports such as security, baggage handling, passenger processing etc.
The deterioration of the financial health of the industry had led to industry stakeholders to resort to painful personnel reductions and payroll cuts just to stay financially afloat.
Airports had to leave behind thousands of aviation professionals as the immediate financial considerations overshadowed the longer-term human capital related requirements to sustain airport operations.
Two years of COVID-19 pandemic reshaped the global economy, resulting in relocation of workforce and human resources. Aviation jobs often require physical presence, long commutes and unsocial working patterns. Given the uncertain outlook brought about by the ongoing pandemic, perhaps it was not a surprise that professionals with transferable skills were the first to leave the industry to pursue career opportunities elsewhere.
As the world begins to turns its page to the post COVID-era, ground handlers, security service providers and concessionaires that shed thousands of staff are now coming out of the pandemic with depleted human resources. It is observed that some sectors in the industry are struggling to accommodate the increase in demand for air travel.
Our advocacy to address the problem
No doubt that in order to attract human capital to remain in or (re) join the industry, it is important to ensure the workplace, development opportunities and the longer-term career prospects are attractive enough to the workforce. Nonetheless, safeguarding sufficient levels of recruitment and retention of staff within the aviation industry will require significant efforts by all stakeholders and the States, in particular given the challenging conditions the industry is still facing. Hence, it is crucial to leverage collaborative decision-making principles to ensure the efficient utilization of existing human and physical capital.
Although the manpower shortage phenomenon has not led to significant safety or security concerns, it is recommended to conduct risk and vulnerability assessments and identify appropriate mitigation measures. Ensuring operation supervision of daily activities can support the implementation of standards and respond to potentially challenging situations.
Additionally, in order for our professionals to perform at an optimal level, we must not overlook their wellbeing, which includes mental health, morale, esteem and confidence. It is important to monitor staff's health and conditions and take actions to alleviate impacts arise from manpower shortages. Measures to improve the staff's wellbeing, motivation and engagement should be high on the agenda of aviation stakeholders.
Looking beyond recovery
ACI forecast that passenger traffic will recover by 2025 at the latest. Beyond recovery, it is estimated that passenger traffic will grow at a pace of +8.7% per year for the next two decades. The cliché of "knowledge is power" signifies the importance of human capital. The industry shall possess the vision to work to support professional development, technical onboarding and communication programmes for generations to come. Collaborations between industry stakeholders and education institutes in developing training and accreditation programmes would facilitate future recruitment of adequate aviation professionals and narrowing potential future skill gaps.
The evolution of technology and the implementation of automation equipment have brought about benefits in terms of cost savings, efficiency enhancements and productivity improvements. Most of the airports have been transforming their operations by utilizing advanced technological solutions even before the pandemic. Such a trend shall place reskilling and upskilling of workforce one of the top priorities among airport operators and aviation stakeholders to enable their workforce to adapt to the process of digitalization and technological advancement.
Let's discuss face-to-face
Discussions on workforce can go on and on, and we would love to hear from you. ACI Asia-Pacific, ACI EUROPE and ACI World warmly invite you to join us at the inaugural Airports Innovate event in Muscat, Oman between December 7 & 8 and share your thoughts with us.
For registration, please visit Airports Innovate.
CATEGORY
COUNTRY / AREA

Hong Kong SAR
AUTHOR

Mr. Philip Kwok, Economic Research Analyst

ACI Asia-Pacific