In the 'Meet the Board' series, we are featuring and introducing the members of the ACI Asia-Pacific Regional Board. We will get to know them better by learning about their leadership style, their thoughts on the next generation of leaders and, unavoidably, the impact of the pandemic.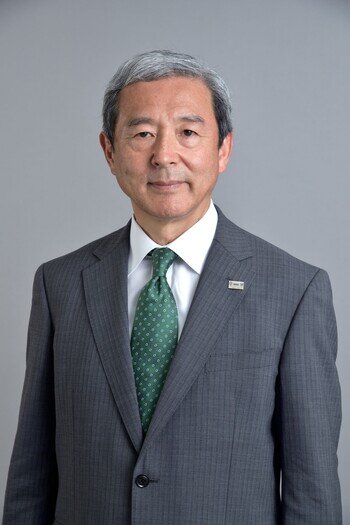 Mr. Akihiko Tamura, President and CEO of Narita International Airport Corporation (NAA) served at the Ministry of Land, Infrastructure, Transport and Tourism (the former Ministry of Transport) for around 40 years in positions related to aviation, railways, ports, and tourism. Positions have included Director General of the Civil Aviation Bureau and Commissioner of the Japan Tourism Agency.
After engaging in a wide variety of work, including that related to Narita Airport, he assumed the presidency of Narita International Airport Corporation in 2019. Mr. Tamura was appointed to the ACI Asia-Pacific Regional Board in 2019 and was recently appointed as ACI World Governing Board member.
What is the most inspiring experience in your aviation career?
I have two stories to illustrate my experience. The first one is taking part in the Japan-US bilateral air talks during my assignment at the Embassy of Japan in Washington DC (USA). At the time the Open Skies Policy was being introduced all around the world, and I engaged in discussions with the US government, Congress, aviation industry, and lobbyists, aiming to achieve the expansion of Japan-US aviation markets. This experience gave me a great opportunity to think about global aviation markets and policies with a future perspective and learn how to approach and build international consensus.
The second one is the introduction of the airport concession system during my assignment as Director General of the Civil Aviation Bureau. The system opened doors for private sectors to participate in the operation and management of airports in Japan. My team drew up the required legislative bills and worked hard to have them passed by the Diet (the national legislature of Japan), after which I even took part in negotiating the concession contracts that offered operation and management rights for both airside and landside. The experience as the selling party allowed me to see the airport business from diverse angles, and at the same time I came to know the real attractiveness of challenging its depth and complexity.
What are you most proud of at your airport?
One of the strong points of Narita Airport is its geographical settings, serving as a gateway airport in the Tokyo metropolitan area to a population of 40 million, and located between North America and Asia.
Narita Airport has developed a relationship of mutual trust with the local community through constant efforts, after experiencing and learning from difficult times dealing with various disputes related to the opening of the airport in the early days. Although we must continue efforts in this direction, we now have a relationship in which Narita Airport is cheered on by residents in the areas surrounding the airport.
Narita Airport has operated airside and landside services in an integrated manner for over 40 years. This means that Narita Airport has the basis for considering how to secure safety and security of airport users, paying attention to the entire spectrum of airport services, especially during times of hardship triggered by force majeure incidents; natural disasters and the ongoing pandemic.
What have you had to do differently in terms of leading your team during the pandemic?
The current circumstance has led me to re-recognize the role and responsibility that airports should play and fulfill as a public infrastructure. This is the very point that I wanted to raise awareness within NAA.
"What should Narita Airport be and what should it aim for over the mid-to-long term?" have been crucial issues for NAA. However, we were pressed with work at hand and unable to spare enough time to think about these issues as our business was achieving solid performance and constant growth. During this pandemic, I have focused on leading my team with a mid-to-long term perspective.
This pandemic situation also reminds me of the importance of cooperation beyond the country to establish the global standard. Since airports are used for travel by people around the world, it is essential to take various infection prevention measures in order to protect the safety and health of travelers and airport staff. Such measures, however, will not be optimized unless countries move in lock step with each other.
To achieve demand recovery, it is also necessary to make an effort to lower the barriers against international travel, and this must be promoted based on medical and epidemiological knowledge. Countries and airports should work in concert toward the development of international standards for infection prevention measures, reasonable travel procedures, border control measures, and management of inbound tourists.
This pandemic situation also reminds me of the importance of cooperation beyond the country to establish the global standard.
What is your advice to young people in the aviation business?
The aviation industry is confronting the biggest crisis in the post-Second World War period. However, people's desire to travel and visit places they have never been to is fundamental and rooted deeply in us all. Until now, the aviation industry grew as the lives of people became more affluent along with the economic development, and it also overcame every crisis and continued further growth. It may take more time to surmount the COVID-19 crisis compared to crises in the past, but I am confident that the aviation industry will surely be able to do so.
Even under the current situation with a significant decline in travel demand, the world is economically connected. For example, air cargo flights actively transport not only people's daily necessities and medical supplies such as vaccines and PPE, but also manufacturing equipment and components needed at production sites operated by companies globally. As staff members in the aviation industry, we should be proud that we work for an extremely important industry that is indispensable for supporting people's lives and global economic activities, and for ensuring safe and comfortable travel to meet people's natural desire to travel.
In the future, although epidemics, natural disasters, and other various crises may occur one after another, humans will eventually cope with such challenges and move on while accumulating experiences of both failure and success. Great progress has been made in international collaboration among airports, and if we can overcome this crisis, our experience will become a great strength of the aviation industry as a whole for the future.
CATEGORY
COUNTRY / AREA

Japan
AUTHOR

Samantha Solomon

Narita International Airport