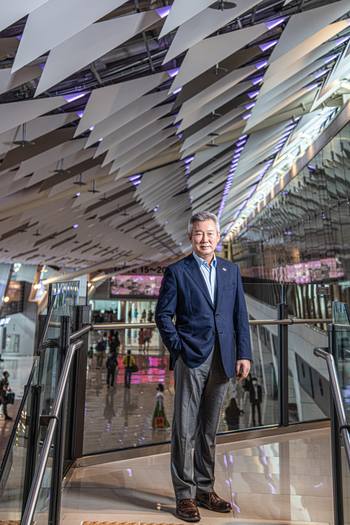 In the 'Meet the Board' series, we are featuring and introducing the members of the ACI Asia-Pacific Regional Board. We will get to know them better by learning about their leadership style, their thoughts on the next generation of leaders and, unavoidably, the impact of the pandemic.  Stay tuned for the introduction of more Board members, including those being elected at the upcoming Regional Assembly.
Following a thirty-year career in the Korean National Police Agency at provincial and metropolitan levels rising through the ranks to become Commissioner General, and spending time with the Korea Railroad Corporation, Mr. Chang-Wan Son made the transition to aviation in 2018. He was appointed President and CEO of Korea Airports Corporation (KAC) and Chair of the Korea Civil Aviation Association. Shortly after, in 2019, he joined the ACI Asia-Pacific Regional Board. With safety and security as the top priorities, Mr. Son has big ambitions for the development and growth of the aviation industry in Korea and beyond, with advanced technologies and services for airport passengers and users.
What are some breakthrough solutions for the aviation industry to overcome the COVID-19 crisis?
In order to overcome the COVID-19 crisis, we are working on recovering domestic traffic demand by promoting various safe tour packages. We are working in collaboration with tourism companies on developing air travel packages for off-season weekdays, to ensure safety in travelling. By using a diversity of media channel such as TV, radio broadcast, online advertisement and YouTube, we will promote safe travel through airports and introduce travel highlights near regional airports.
In terms of the international terminal, we are devising ways to recover traffic demand and prepare for the flight operation that will resume based on the availability and supply of the COVID-19 vaccines and treatments. First, we will identify and take necessary measures in line with the international route recovery and operational strategy of airlines. We will rework the facilities and services at our airports to fulfill passenger needs by understanding changes in user pattern.
KAC will also carry forward the government-led Korea Total Tourism Package business to encompass the areas around five regional airports including Gimhae, Daegu, Cheongju, Muan and Yangyang. In cooperation with local governments and tourism organization, we aim to secure tourists visiting Korea through our airport within those regions.
What are you most proud of about KAC?
K-Airport disinfection at global level. We have gathered all the efforts and capacity towards disinfection, so that passengers feel safe using our airports. As a result, we have had zero COVID-19 cases at our airports. We received ACI's Airport Health Accreditation for Gimpo Airport in October 2020, which once again proves successful disinfection of our K-airports. KAC will establish our own standards on Clean Airport to continue and advance disinfection activities, so as to win passenger confidence.
First in the world to develop SMART Technologies. KAC is the first in the world to have developed the openBIM in airport sector based on digital twin management of information, which enables intelligent control and automation for airport facility, construction and maintenance. We also developed a K-Anti-drone system to deal with illegal drone movements that threatens airport safety. Palm vein biometrics will be used as "One ID" not only for boarding procedure but also for payments within the airport commercial facilities. The automated AI X-ray security screening system is also available for commercialization. I am proud of KAC's hard work and devotion that aims to take the SMART Airport market overseas beyond domestic airports.
Successful overseas business. KAC landed a contract for the airport construction business of Chinchero Cusco International Airport in Peru, as the first in Korea to participate in International Project Management Office, usually dominated by major developed countries. This has allowed Korea to be globally recognized for the expertise in airport construction and operation. In addition, the final contract to take over operational right of Manta Airport in Ecuador will be completed this year, showing KAC's continued efforts to step up as a global airport operator.
Promote innovative aviation business for the future. To take the lead in Urban Air Mobility (UAM), which is the future transportation solution, KAC is leading 'UAM Team Korea' initiated by the government, to construct and operate a UAM airfield. We are working towards UAM commercialization in 2025 at Gimpo Airport, which will be the first in Korea. To this end, KAC is working in cooperation with companies identified for strong competencies in UAM, including Hanwha Systems and SK Telecom.
What have you had to do differently in terms of leading your team during the pandemic?
Since the outbreak of the COVID-19 pandemic, KAC initiated the Emergency Management System to secure the safety of our airports, workers and passengers, by monitoring the situation and managing the crisis.
Encouraged work-from-home system (50%) and physical distancing in the workplace. In order to protect staff members from the virus, we minimized office density by encouraging employees to make use of flexible working hours, vacations as well as the work-from-home system (up to 50% of the number of employees), which exceeds government guidelines. Meetings, education and training are carried out online as part of the preemptive measures in response to the spread of COIVD-19 virus infection.
Established an airport disinfection and monitoring system. In response to the COVID-19 situation, KAC set up a COVID-19 Countermeasure Department to address the new threat and protect passengers from the virus by establishing walk-in testing clinics to carry out PCR test, taking temperature of departing passengers and stationing automatic facilities such as UV-sanitizers and automated hand sanitizers. In the event a person confirmed with the virus used the airport, we immediately reported this to the health authorities for speedy epidemiological investigation to prevent any spread of the virus.
Supported airlines and airport tenants. KAC decided to defer and/or waive airport charges and rents for the airlines and airport tenants to help them overcome the management crisis and contribute to the recovery of the overall aviation industry. Additional incentives for airlines led to a revival in domestic air traffic demand growth up to 77% year on year.
R&D and commercialization on Non-Contact System. In preparation for the post-COVID-19 era, we are working in multiple areas to establish a data-based SMART Airport System using advanced technologies such as Artificial Intelligence (AI), Big Data, digital twin and Internet of Things sensors. Biometric authentication using palm vein recognition for "One ID" boarding procedure is one of the main non-contact services that we provide at domestic terminals at 14 airports. We expect to apply the system to international terminals to replace ID card check and boarding pass with palm vein biometrics.
CATEGORY
COUNTRY / AREA

Hong Kong
AUTHOR

Communications

ACI Asia-Pacific