Mrs. Sujata Suri, Hamad International Airports' Vice President Strategy and Commercial Development, describes how the aviation industry can benefit from looking farther afield for talent and the importance for women to have role models in an interview with our communications manager, Samantha Solomon.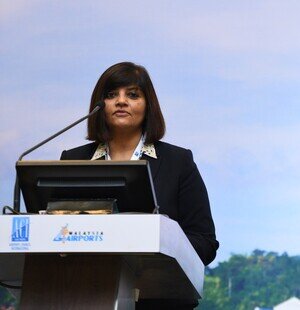 Q. What advice do you have for women entering the aviation industry?  
Aviation is an exciting industry and the aviation ecosystem offers limitless opportunities for women. Any individual entering this field should take the opportunity to learn as much as possible about the various aspects of the industry, as each area provides a unique perspective towards the overall operations of the aviation industry. This will also help those aspiring towards management roles to glean a well-rounded perspective of the industry. I encourage young women with varied work experiences and from different walks of life to enter this field, as each person's background equips them with a unique perspective that can add to the diversity of talents in our industry.
Q. What positive signs of gender equality are you seeing?   
When I entered the industry, my background was in banking, and at that time, it was atypical to come into the industry at the senior level from another field, as most people had spent their careers in aviation. However, in the past 13 years, that has begun to change and our industry is now benefiting from a diverse workforce with expertise from a variety of industries, and that diversity and outside experience is increasingly respected and celebrated.

Q. How have/can women contribute to the COVID-19 recovery in aviation?  
Women can contribute to the recovery in much the same way as any other individual, by working towards the resumption of our operations. Aviation benefits greatly from the contribution of women, who have juggled families and other new and unexpected responsibilities during the pandemic, to show up to work in a demanding, 24/7 environment. Despite lockdowns and other restrictions, women have proven to be as committed as their male counterparts, and this is critical as women make up about half the workforce in our industry.
Q. How can women support each other?   
Women should represent possibilities to each other, particularly in male-dominated industries. We owe it to ourselves and each other to showcase what we are capable of doing and to build on our strengths. By setting examples and being role models, we can show other women, especially younger women just starting off their careers, what is possible for them to achieve. It is also vital for women to support each other as we have the unique perspective of what it's like to be a woman in the workforce today, balancing professional and personal goals and expectations.
Mrs. Sujata Suri is responsible for providing strategic management of Hamad International Airport's capital investment programme and leads the commercial and financial management strategy for the airport.
Mrs. Suri joined the aviation industry in 2008 from the banking sector, previously holding positions as Vice President, Service Development with Dubai Airports and Vice President, Strategy and Customer Experience at Doha International Airport.
Mrs. Suri currently serves as the Vice Chair of ACI World Economics Committee.