How Are Airports Leveraging Data to Forecast Passenger Traffic for The Return of Air Travel?
Authors: Henk Ombelet, Head of Advisory Operations, Ascend by Cirium; Herman Tse, Aviation Analyst, Ascend by Cirium and Kanishka Chatterjee, Business Solutions Consultant at Cirium.
---
Airport demand forecasting plays an integral role in forming an airport's wider strategic plans for operations, infrastructure and facilities for passengers. As the aviation industry continues to recover, there is a need for greater collaboration between airports and airlines. Using data, airports can gain a deeper understanding of their airline customers and enhance the accuracy of their forecast and demand planning to make strategic decisions.
Cirium's latest projection for recovery is mid-2023

The biggest hurdle now facing the aviation industry is forecasting as models that were previously depended upon no longer work, particularly for near-term forecasting.
With this in mind, Ascend by Cirium developed several scenarios and signposts to enhance its forecast capability, helping both airports and airlines. The approach includes looking back at historical events, such as SARS or past financial crises, and monitoring developments in real-time.

Cirium's latest projection, Scenario 6 expects global recovery 12 months ahead of the previous baseline, Scenario 4.

Gaining insights on airlines is key to staying agile

Airline fleet planning, network development and operations are closely linked to airport development and traffic forecast. Hence, it is important to understand airline trends for airport strategic planning.
With the changing outbreak situations, airlines are now far more experienced to cope with demand fluctuations, to cancel flights at short notice to avoid high operating costs.

Airline insights:
Pre-pandemic in January 2020, the total number of active aircraft was around 5,000 and the storage was only at 9%. At present, Asia Pacific in-service fleet appears to have stabilized at around 3,600 aircraft despite recent declines. Aircraft are being returned to service gradually and the storage rate is now around 36% with still some time for recovery
Asia Pacific fleet utilization is showing signs of recovery. Twin-aisle aircraft is at the highest level since onset of the pandemic, while single-aisle aircraft is still well down but trending upwards again.
Tracking of airline bankruptcies and liquidations is crucial as any suspension of services will directly impact the airport and the network connectivity. Airports need to be constantly updated of market changes and work closely with airlines to maintain the connectivity, particularly city-pairs that may not be resumed after the pandemic.
Essential data for accurate airport demand forecasting

Airports can be more successful by understanding their airline customers. To achieve this, they must have access to comprehensive and reliable data addressing four key areas of operations.
Analyse existing routes, market share, operating airlines, load factors and competitors' routes for preliminary risk screening. Consider routes that airports could develop for commercial or connectivity purposes, ensuring they are financially viable.
Select potential routes and rank the priority.
Analyse the routes from a financial perspective including profit and loss, internal rate of return and payback period etc.
Identify target airlines and present a business case proposal to the air service marketing team.
The new and unpredictable patterns in passenger demand and capacity requirements have increased the need for both qualitative and quantitative data, together with expert insights to better understand the market and create a more accurate demand forecast.

With a top-down approach, we need to consider macro-economic conditions, industry developments before drilling it down to airports and stakeholders' level. Data collection and validation is integral to these processes. A comprehensive forecast model consists of in-house data and experts' judgment to generate scenarios for air traffic forecast.

Looking beyond the regular data sets to stay ahead

To get a full picture of your customer, we recommend looking at other data sets to get a greater understanding of airline (customer) perspectives, so as to increase the airports' success rate for route development cases.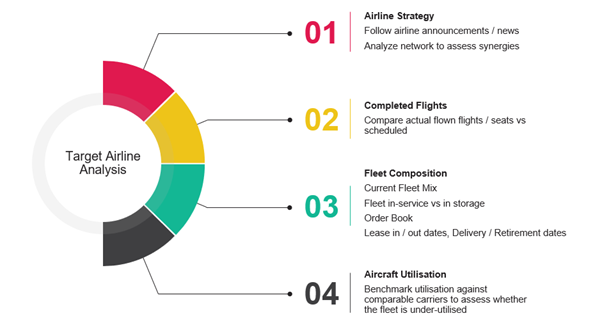 The above topics were discussed and shared in detail at a recent Cirium webinar. To watch the full presentation, click here to access the on-demand Cirium Live: Southeast Asia and South Asia Airports Webinar.
---
This article was provided by a third party. The views expressed in the article do not represent or reflect the views of ACI Asia-Pacific. Inclusion of any link to other external sites does not imply endorsement by ACI Asia-Pacific of those sites and ACI Asia-Pacific shall not be held responsible or liable for any content, advertising, products or other materials on or available from such external resources and sites.