Harris Orthogon Sees Airport Focus on Technology for Customer Experience, Collaboration
Almost one year after the start of the COVID-19 pandemic, the challenge is still latent. In a conversation with our communications manager, Samantha Solomon, Harris Orthogon´s Director of Products and Strategy, Mr. Gotthard Börger, discloses some insights of last years' experience and priorities for 2021.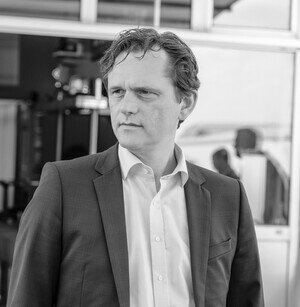 SS: What have been the biggest challenges for Harris Orthogon, given the impact of the pandemic?
Regular on-site presence at customer facilities and a collaborative mindset have always been key success factors for the trusted partnerships we have developed with our partners and clients.
Hence, a key challenge in 2020 was to "transfer" these relationships to an almost solely virtual environment. I am proud that our teams managed that very well, for example by executing workshops about complex operational challenges via video conferences and successfully performing Factory and Site Acceptance Tests remotely.
SS: Have you seen a difference in the impact between regions?
The impact of the crisis onto traffic volumes is obviously significant and dramatic everywhere. Especially in Europe, we see that priorities are changing towards an even stronger focus onto digitization rather than physical infrastructure expansion.
As a company, we experience this in various domains. In the Air Traffic Management domain, we support our customers with the so-called "Virtual Center" initiative. Airports are putting a strong focus on "Digital Twins" of their operations, to which we contribute with solutions in the domains of Total Airport Management and a rolling Airport Operations Plan.
SS: How will air travel change post-pandemic?
One of the challenges will be new capacity hotspots, which will need to be managed properly, for example in regards to the Air Transit View. For this purpose, airports will require more dynamic predictions of passenger flows, especially of aircraft´s on- and off-block times.
Collaboration with other stakeholders, such as airlines and Air Navigation Service Providers, certainly plays a key role here. The dedicated management of passengers arriving from the airside (i.e. arrival and transfer passengers) can obviously play a significant role to support airports meeting their performance targets.
SS: Are airports viewing technology differently now?
An even stronger focus is certainly on technologies for a next-generation passenger experience, enabled by touchless solutions. From the increasing deployment of such solutions, we will benefit both as the aviation industry as a whole and as passengers individually.
Another focus, as described above, is on technology that supports collaboration between all stakeholders. At many major airports, there was and remains a strong focus on the implementation of Airport Operations Centers (APOC) that bring together decision makers to create a proper plan how to operate the airport in the interest of all stakeholders.
Technologies, such as our Demand Capacity Balancer solution, successfully deployed together with NATS, the main air navigation service provider in the United Kingdom, for Heathrow Airport solution, can effectively support this decision process, be it in a physical or even virtual APOC environment.
SS: What are your 'new year's resolutions or priorities for 2021?
With the experiences made over the past months, I guess a major 'new year's resolution' for many of us is to spend more time with our families and friends (including those from the aviation business) once the pandemic situational permits. Since in many cases that requires to travel, this certainly provides some good perspective for our industry as well.

Harris Orthogon GmbH, one of ACI Asia-Pacific´s Affiliate World Business Partners, carries 30 years of aviation background and track record implementation on helping airports solve their airside constraints.
CATEGORY
COUNTRY / AREA

Hong Kong
AUTHOR

Samantha Solomon

ACI Asia-Pacific