Airport Retail Analytics Focus - Concessionaire Contract Management
The last few years have reinforced the importance of airport ancillary revenue in the industry. For many years, the primary focus has been on direct revenue from aircraft and passenger operations. However, the spotlight is now broadening to other ancillary services such as revenue from leases, parking fees, concessionaires, and more.
In fact, the Airports Council International (ACI) World launched a White Paper in May 2022 that discusses ancillary (commercial) business strategies to aid relevant retail stakeholders in leveraging the airports to boost growth and increase sales now that passengers have returned to the airport. It also addresses the legislative and regulatory policies that impact airport retail.
According to Technavio's report on the airport ancillary revenue market, the sector is anticipated to expand at a compounded annual growth rate (CAGR) of nearly 7%, increasing by USD 26.25 billion between 2021 and 2025. And concessionaires can play a significant role here. Concessionaires include retail shops, car rental agencies, bars, food service companies, coffee shops, and others located on the airport premises. They often generate huge revenues, making concession contract management an integral part of the airport revenue model.
There are many aspects to the management of a concessionaire contract. However, with the smart use of data, artificial intelligence, and machine learning, this seemingly tedious exercise can be turned into an easy task with accurate results.
Airports can benefit immensely by adopting digital AI-driven solutions that capture concessionaires' Point of Sale (POS) data in real-time, ensuring zero revenue leakage and hence no negative impact on income computation for the airports.
Role-based analytics of real estate management, retail stores, food & beverage, duty-free shops, car park utilization, and other ancillary units can provide meaningful insights into the entire ecosystem, powering airports to manage their concession contracts more proficiently. Thus, data plays a significant role in concessionaire revenue and contract management.

Significant Role of Data in Concessionaire Revenue Management
Implementing the Internet of Things (IoT) is central to operational efficiency and generating revenue. It primarily relies on three things -
Devices
Sensors or internet activity for connectivity
Analytics of the data generated.
When complemented with machine learning power, these analytics can help airports achieve the following.
Reduce queue time
Increase dwell time
Opportunity to enhance passenger experience
Increase airport revenue
Improve cash flow via a unified view of all retailers
Minimize audit costs via automated reporting, which is accurate and faster
Increase returns from concessionaires

So, how can IoT help elevate concessionaire revenue management?
IoT devices can help capture all transaction receipts and billing orders and share the information to a central server through the internet. They enable real-time automated sales data capture, aiding airports in analyzing, auditing, and monitoring sales of concessionaires.
Not just that, airports can also push promotional messages or coupons on the passenger's smartphones for up sales and cross sales. This holistic overview aids airports in managing their revenues without having to rely on monthly sales data of concessionaires, which by the way, can be erroneous.
Impact of Retail Analytics on Concessionaire Contract ManagementFosters Mutual Interest
1. Fosters Mutual Interest
Concessionaires often see limited returns due to a lack of collaboration across stakeholders to implement new solutions. Consequently, they cannot quantify the benefit that they can enjoy. Furthermore, concession contracts emphasize the interest of asset owners and concessionaires.
Real-time data and its analysis enable airports to track concessionaire progress and performance. This, in turn, helps to draft contracts that equally serve the interests of all stakeholders like customers, asset owners, and concessionaires.
2. Improve Transparency
With new technological advances, airports are becoming data-driven. The obtained data enhances transparency and fosters seamless information sharing between stakeholders. Consequently, the stakeholders are equipped to make strategic decisions and achieve operational excellence since everyone involved in the process is aware of all that's going on. In the long run, balanced concessionaire revenue positively impacts the ancillary revenue.

3. Helps to Align Stakeholder Interests
Stakeholders share a common interest arising from their interactions for payment, quality of service, product quality, and more. One of these common interests is in an effective airport ecosystem that paves the way for continual development. However, each stakeholder also has a personal motive that may adversely impact the ecosystem.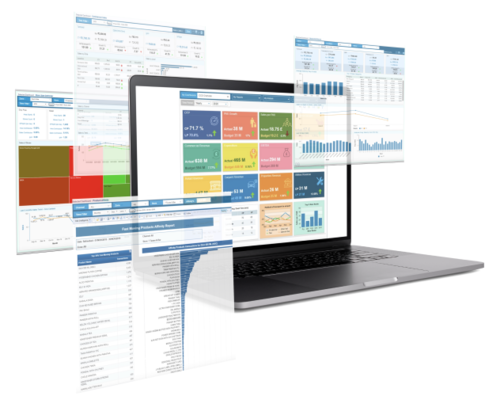 Retail revenue data analytics create a win-win situation for everyone. It brings objectivity and transparency to structuring the concession contract, aiding contract management.

4. Improves Collaboration
Concessionaires need assistance from others for planning, procuring items, and other activities. This requires seamless collaboration between everyone, which can only be achieved via transparency.
Another thing to remember is the adjustment stakeholders must make to meet the changing consumer needs to maintain the ecosystem and revenue model.
A profitable concessionaire results from customer-friendly prices, quality of goods, exceptional service, brand name, and more. Retail revenue data analytics help to create a fit-for-purpose solution, empowering relationships and collaborations. This, in turn, helps concessionaires successfully meet the customers' needs to retain them and enhance their travel experience.

5. Enhances Concessionaire Selection
Concessionaires must be reviewed objectively to see if they're generating enough revenue. With in-depth insights from retail revenue data analytics, the authorities can decide if they want to restructure the contract or replace the concessionaire itself with a new one.

Conclusion
Technology brings together all stakeholders, including concessionaires, to enhance customer experience. It is integral to concessionaire contract management because it brings objectivity and transparency to the process. This, in turn, helps to maintain a balanced airport ecosystem.
Additionally, it improves customer experience, increasing their chances of returning to your airport. Integrating airport retail analytics technology is a win-win for all - airport authorities, asset owners, customers, and concessionaires!

This article was provided by a third party. The views expressed in the article do not represent or reflect the views of ACI Asia-Pacific. Inclusion of any link to other external sites does not imply endorsement by ACI Asia-Pacific of those sites and ACI Asia-Pacific shall not be held responsible or liable for any content, advertising, products or other materials on or available from such external resources and sites.
CATEGORY
COUNTRY / AREA

India
AUTHOR

Sandeep Bhatt

AVP, Airport Analytics, Graymatter Software