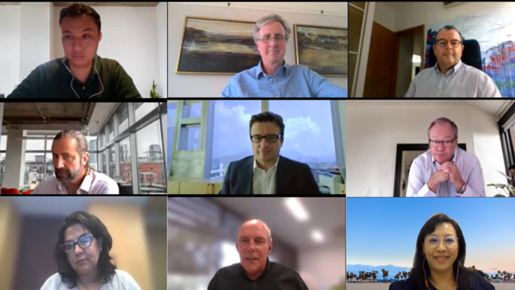 ACI Asia-Pacific's World Business Partners (WBP) Annual meeting normally coincides with the regional assembly, conference and exhibition event in the Spring. However, like most other events, the meeting could only be held virtually due to the pandemic and ensuing travel restrictions.

This past Tuesday, almost 40 participants representing 30+ companies from the region's World Business Partners dialled in and took part in a lively, engaging instant poll at the start. While most were dialling from Southeast Asia, the rest of the participants hailed from Asia, Australia, New Zealand, and the Middle East. We even had someone dialling in from Hawaii!

It was interesting to note that more than half of the members were still working from home with about some already back in the office regularly and the rest toggling between the two modes. The majority have not yet resumed business travel. Needless to say, the WBPs have missed interacting and networking with one another in person.

Besides some industry and association updates shared by Director General, Stefano Baronci and also our ACI WBP Advisory Board chairperson, Andrew Ford, the key highlight of the meeting was presentations by two exciting greenfield airports in the region.

Kiran Jain, Chief Operating Officer of Noida International Airport gave an update to members on the recent progress and developments in Jewar, India, since the government's recent approval of their master plan. Simon Hickey, Chief Executive Officer of Western Sydney Airport, also shared the significant progress they have made in gearing up for this major infrastructure project in Sydney, including plans to commence runway construction by next year. Despite the pandemic rendering it challenging to have meetings in person, it was heartening to hear how both airports persevered and were able to accomplish so much via virtual meetings and digital communications.

The meeting was closed out with remarks from Greg Fordham, Managing Director of Airbiz who also serves as the WBP representative director on the ACI Asia-Pacific Regional Board. He encouraged other WBPs to continue supporting and engaging in the endeavours of the association.