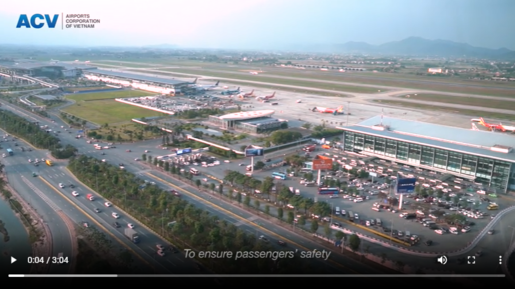 DaNang International Airport (DIA) has held a virtual awarding ceremony of the Airport Health Accreditation (AHA) evaluated and certified by Airports Council International. The important event reaffirms Danang International Airport is a safe destination meeting health standards and preventative measures during the epidemic period.
The awarding ceremony saw the participation of Mr. Luis Felipe de Oliviera - Director General of ACI World, Mr. Stefano Baronci - Director General of ACI Asia-Pacific, DaNang's Department of Health, DaNang's Department of Tourism, DaNang's Department of Information and Communication, Airports Authority of Central Vietnam, Danang Center for Disease Control, DaNang Immigration, DaNang Customs, Da Nang International Terminal Investment and Operation Joint Stock Company (AHT), media and representatives of DaNang International Airport.
The AHA program aims to introduce passengers, staff, competent authorities, government to the international airports that have met the international standards and established safe measures for pandemic prevention and given first and foremost priority to health safety of their passengers in the context of the COVID19 pandemic.
At the ceremony, Mr. Le Xuan Tung - Director of DIA extended his sincere appreciation to agencies and stakeholders at DaNang International Airport for working together in the efforts to prevent Covid-19 disease, and AHA evaluating team for prioritizing to review DIA's documentation, focusing on evaluating for the earliest results.
"The year of 2020 has been different and difficult for all of us but I am delighted that we are able to get together virtually to congratulate DaNang International Airport in successfully achieving accreditation through the Airports Council International (ACI) Airport Health Accreditation programme. This achievement demonstrates to passengers, staff, regulators, and governments that you are committed to providing high standards of health and hygiene that accord with globally-recognized standards, and that they are prioritizing the health and welfare of travellers, staff, and the public," Mr. Luis Felipe de Oliveira - Director General of ACI Word emphasized.
As the second international Airport in Vietnam after NoiBai International Airport to receive AHA, DIA has achieved worthy results in the fight against Covid-19. Accordingly, the domestic flights quantity is gradually recovering. DIA has been continuing to work well in the epidemic prevention, strictly comply with regulations, improve facilities, invest in infrastructure, creating a reliable destination for passengers, and contributing to flight routes recovery connecting Danang City and regions.
CATEGORY
COUNTRY / AREA

Vietnam
AUTHOR

DaNang International Airport

Airports Corporation of Vietnam