Many member airports in Asia-Pacific and the Middle East are situated in solar-resource-rich countries. ACI Asia-Pacific is eager to help members achieve the common goal of increasing the use and quality of solar energy and specifically the use of solar energy at airports.
In fact, ACI Asia-Pacific passed a resolution in 2018 that encouraged members to:
Consider using renewable energy including solar energy to save costs and strive to achieve carbon neutrality in a cost-effective manner
Include renewable energy in the design of future expansions of existing terminal buildings and the construction of new buildings
Share innovative best practices in the use of renewable energy at airports
Make use of relevant ACI and ICAO guidance materials on renewable energy.
International Solar Alliance
To shine a light on the association's efforts on solar, ACI Asia-Pacific addressed participants at a workshop on Solarization of International Airports organised by the International Solar Alliance (ISA) on 16 December 2020.
The International Solar Alliance (ISA) was conceived as a coalition of solar-resource-rich countries (which lie either completely or partly between the Tropic of Cancer and the Tropic of Capricorn), to address their special energy needs. The ISA provide a dedicated platform for cooperation among solar-resource-rich countries, through which the global community, including governments, bilateral and multilateral organizations, corporates, industry, and other stakeholders, can contribute to help achieve the common goal of increasing the use and quality of solar energy in meeting energy needs of prospective ISA member countries in a safe, convenient, affordable, equitable and sustainable manner.
Ken Lau, senior manager Environment and Information Technology, outlined ACI's response to the Paris Agreement, explained the new Airport Carbon Accreditation Level 4/4+ which aligns with Paris Agreement and described an ongoing Long Term Carbon Goal study aiming to provide recommendation of goals and pathways to net zero carbon.
Member resources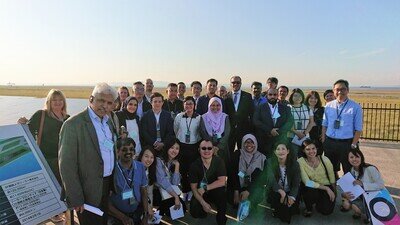 A number of resources already exist and more are in development to support ACI Asia-Pacific members explore this technology.
The Regional Environmental Committee is in the process of developing a Guidance Document on Solar PV.
In consultation with airports globally, World Business Partner Zurich Airport has developed a simple and free-to-download tool, called Airport Solar PV Analyzer, to determine the feasibility of solar PV at airports.