Shanghai Airport Authority is entering its second centennial of operations with a brand-new name and logo. Its new brand, AVINEX, was revealed on its 100th anniversary, 29 June 2021.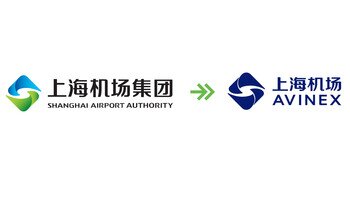 New brand
The new brand AVINEX, a combination of Aviation and Next, reflects that Shanghai Airport Authority, as a member of the aviation community, will keep its commitment to the mission and vision of best air service provider for a best life. Going forward, the previous Shanghai Airports Authority brand will no longer be in use.
Upgraded logo
The logo has been upgraded from the previous 3D design to the present 2D graphics while the gradient blue and green colors in former version is replaced and a new symbolic color of nebulas blue is applied, further highlighting the attribute of the airport industry and adding a sense of the future.
In the new design, the shape of S in the middle hollow part of the logo symbolizes the city of Shanghai. The upper and lower triangle-like parts consisting the logo resemble engines, providing unstoppable power for the service improvement and hub development of Shanghai airports.