Thousands of more seats available this holiday season
New routes about to launch for Easter
Interstate and overseas tourists set to provide boost to Queensland economy
Everyone's favourite Heelers Bluey & Bingo at BNE for smiles and a photo

Queenslanders have thousands of more opportunities to get away these Easter school holidays with airline capacity through Brisbane Airport significantly boosted over the same period last year.

Forecast Easter holiday capacity on domestic flights is up 2% on 2022 levels and capacity on international flights is up 77%.

"Easter is traditionally a very busy travel period and these holidays we'll see thousands more people travelling than last year. We do ask domestic travellers to continue arriving 90 minutes before domestic departures, and 3 hours prior for overseas travel, so that you build in a buffer to cope with busy roads, parking, terminals or delays to your Uber or taxi," according to Stephen Beckett, Head of Public Affairs at Brisbane Airport.

"If you're driving, make sure you book online as far in advance as possible, to save money and time. If you're picking up friends or family, there are dedicated waiting areas to park, and track the flight so you're a step ahead of any changes."

More travel tips can be found here.

The busiest days are forecast to be Easter Thursday (6 April), Easter Friday (7 April) and Easter Monday (10 April). Between 1-25 April, BNE is forecasting 1.4 million people to pass through the airport, an increase of 13% on last year, due to the partial recovery in international travel.

The major sources for inbound tourists this holiday period will be from New Zealand, UK and USA. The top three destinations for Queenslanders heading overseas are New Zealand, Bali and the UK.

"India is one market showing dramatic growth in two-way traffic. Before the pandemic it was our 8th biggest inbound market, now it is the 4th largest. And for Queenslanders travelling abroad, in 2019 India was 11th, now it is the 6th most popular destination."

Upcoming launches of new flights and routes to further connect Queenslanders to the world include:

23 March: Virgin Australia recommences Brisbane to Samoa
27 March: Jetstar commences Brisbane to Auckland
31 March: Virgin Australia recommences Brisbane to Vanuatu
23 April: Korean Air restarts Brisbane to Seoul
To help families get their holiday off to a great start, Brisbane Airport will run an Easter Lounge from 1 April to 14 April at the Domestic Terminal.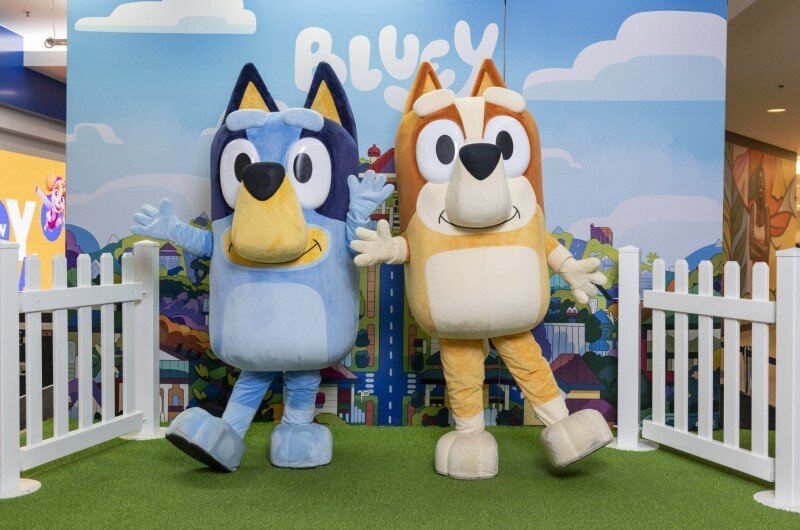 The Easter Lounge will have colouring stations and children's movies available before their flight and will be open from 7am – 12pm daily.

From Tuesday 11 April to Friday 14 April, travellers will also be in for a treat with everyone's favourite Heelers Bluey and Bingo in the Easter Lounge from 7am to 10am with the opportunity to book in for a photo. Did you know their Mum Chilli works in airport security, for real life?

The week before Easter, Bluey and Bingo will be appearing at the Skygate Centre from Monday 3 April to Thursday 6 April from 10am to 1pm daily, with bookings opening shortly for children to get plenty of smiles and a photo.

Brisbane Airport Easter Activity

Easter Lounge: 1 April – 14 April, Domestic Terminal 7am-noon

Bluey at Skygate: 3 April – 6 April. 10am-1pm. Photo bookings opening soon via bne.com.au/whatson
Bluey at Domestic Terminal: 11 April – 14 April, 7am-10am at Easter Lounge. Photo bookings opening soon via bne.com.au/whatson