Cyril Girot to speak at 18th ACI Asia-Pacific Regional Assembly, Exhibition and Conference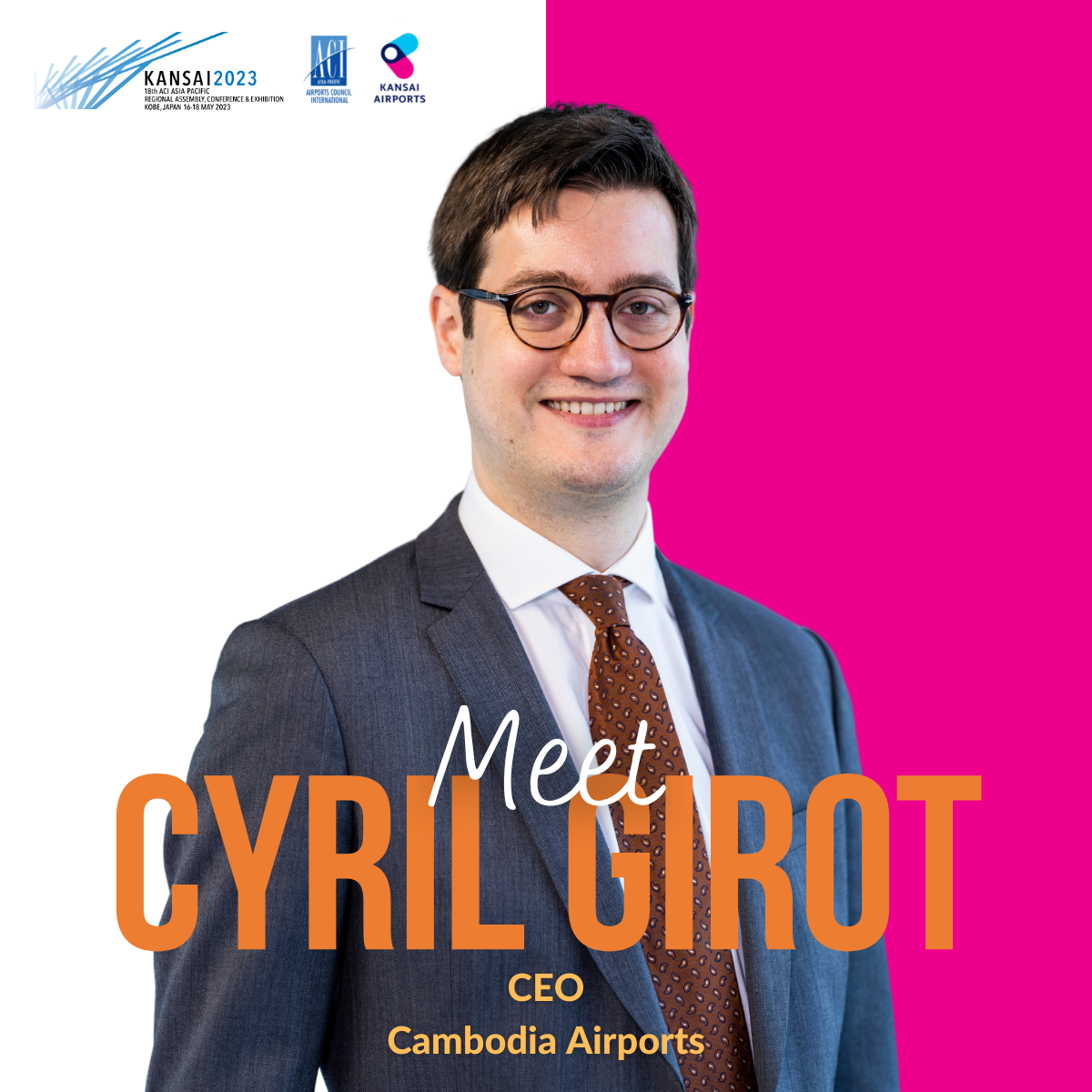 Cambodia Airports CEO Mr. Cyril Girot is the latest to join the powerful line-up of speakers for the 18th ACI Asia-Pacific Regional Assembly, Exhibition and Conference.

Mr. Girot will share his insights in the panel 'Can Small & Regional Airports Recover in an Economically Sustainable Manner?, moderated by Ms. Angela Gittens, one of the most-respected executives in the airports industry, having served as the CEO of Atlanta-Hartsfield International Airport and Miami International Airport followed by decade-long stint with ACI World as the Director General.

In this panel, you will hear executives from some of the small and regional airports sharing their views on how they have managed through the crisis over the past three years, and their recovery strategies in restoring air connectivity and competitiveness in an economically sustainable manner.

Over the years, the ACI Asia-Pacific Regional Assembly, Conference & Exhibition has attracted high-level representation from airports, business partners and from the aviation ecosystem, addressing the most pressing topics.

The conference, with the theme 'Asia Pacific and Middle East Take-off: From recovery to global leadership', aims to serve as a platform for exchanging knowledge about current developments and future trends in aviation.

Mr.Girot started his tenure on August 23, 2022. He made his first foray in the airport industry in 2017 when appointed CEO of Clermont-Ferrand Airport (France). There, he earned praise for establishing a quality social dialogue, developing constructive relations with local elected officials, and increasing traffic and non-aeronautical revenues.

Prior to joining VINCI Airports which manages Cambodia Airports, Mr. Girot oversaw two major international infrastructure projects: In Saint Petersburg (Russia), he headed the programme management of the construction of the 150-km Moscow- Saint-Petersburg highway; he also took part in the extension of the airport in Santiago, Chile's capital city.

He also held leading positions at two French ministries. First at the Ministry of Energy between 2010 and 2012, within the General Directorate for Energy and Climate, where he managed the State's strategy for nuclear waste and nuclear site dismantling. Later, from 2012 and 2015, at the Ministry of Transport, he was Director of national roads and motorways of two regions surrounding Paris.
Don't miss this chance to hear from experts.

ACI Asia-Pacific Regional Assembly, Conference & Exhibition
• Date: 16-18 May 2023
• Venue: Kobe Portopia Hotel, Kobe, Japan
• Registration: Early bird rate available until 17 March
Enquiry: events@aci-asiapac.aero
More details, please visit here.