BLR Airport's T2 Receives Prestigious IGBC Platinum Rating for Sustainability
Bangalore International Airport Limited (BIAL), the operator of Kempegowda International Airport, Bengaluru (BLR Airport), is thrilled to announce that Terminal 2 has received the prestigious IGBC Platinum certification by the Indian Green Building Council under the IGBC Green New Building rating system.

BLR Airport's steadfast commitment to sustainability is a fundamental principle ingrained in its business philosophy. This unwavering dedication is embodied by the Airport's new Terminal 2 (T2), which continuously strives to implement sustainable processes, showcasing BIAL's strong belief in responsible and environmentally conscious practices.

Hari Marar, MD and CEO of Bangalore International Airport Ltd remarked, "I am pleased to announce that Terminal 2 has achieved the coveted Platinum rating from the Indian Green Building Council (IGBC) under their newly launched IGBC Green New Buildings Rating System. This is a significant milestone for us and a testament to BIAL's unwavering commitment to sustainability. T2 exemplifies our dedication to implementing green concepts and techniques, showcasing our efforts to conserve natural resources, energy, and water."

The design and construction of T2 adhere to several key environmental categories outlined by the IGBC Green New Buildings rating system, including Sustainable Architecture and Design, Site Selection and Planning, Water Conservation, Energy Efficiency, Building Materials and Resources, Indoor Environmental Quality, and Innovation & Development. By incorporating these green concepts and techniques, T2 effectively addresses national priorities such as natural resource conservation, demand-side energy, water efficiency, the adoption of renewable energy sources, and the optimisation of consumer and occupant health and comfort.

BLR Airport's sustainability-centric practices enforce policies and design interventions that architects, designers, engineers, concessionaries, and developers adhere to, aligning with the company's holistic vision of sustainable development. T2 has several unique green features, some of which are:
Biophilic design philosophy - First-of-its-kind 'Terminal in a Garden'
Landscape area equivalent to 31% of the total site area (327,460 sq.m)
37,500 cum capacity of recharge pond to harvest rainwater
37% reduction in potable water due to water-efficient plumbing fixtures
6.5 MW Solar PV catering to 16.7% of the total annual energy consumption of the terminal building
Rapidly renewable wood accounting for more than 90% of the new wood-based materials
IOT-based Irrigation System
Speaking on the certification, K S Venkatagiri, Executive Director, Confederation of Indian Industry said "IGBC takes immense pride in recognising projects that exemplify the highest standards of green building practices. Terminal 2 at Kempegowda International Airport Bengaluru stands out as a pioneering landmark, embracing a biophilic design philosophy and becoming the first-of-its-kind "Terminal in a Garden" in India. This visionary approach seamlessly blends the terminal's architectural splendor with the surrounding natural environment, creating a harmonious and soothing ambiance for travellers. This commitment to preserving green spaces contributes to the overall well-being of the ecosystem while providing visitors with a refreshing and rejuvenating experience.

"The green measures implemented and recognised by the IGBC rating contribute to preserving natural resources, mitigating greenhouse gas emissions, and demonstrating BIAL's commitment to minimising its environmental impact.

"BIAL's dedication to environmental stewardship, resource conservation, and sustainable development embodies the core principles and objectives of IGBC. We congratulate BIAL and their achievement on IGBC Platinum certification which sets a new benchmark in sustainable airport infrastructure and serves as an inspiration for the aviation industry as a whole."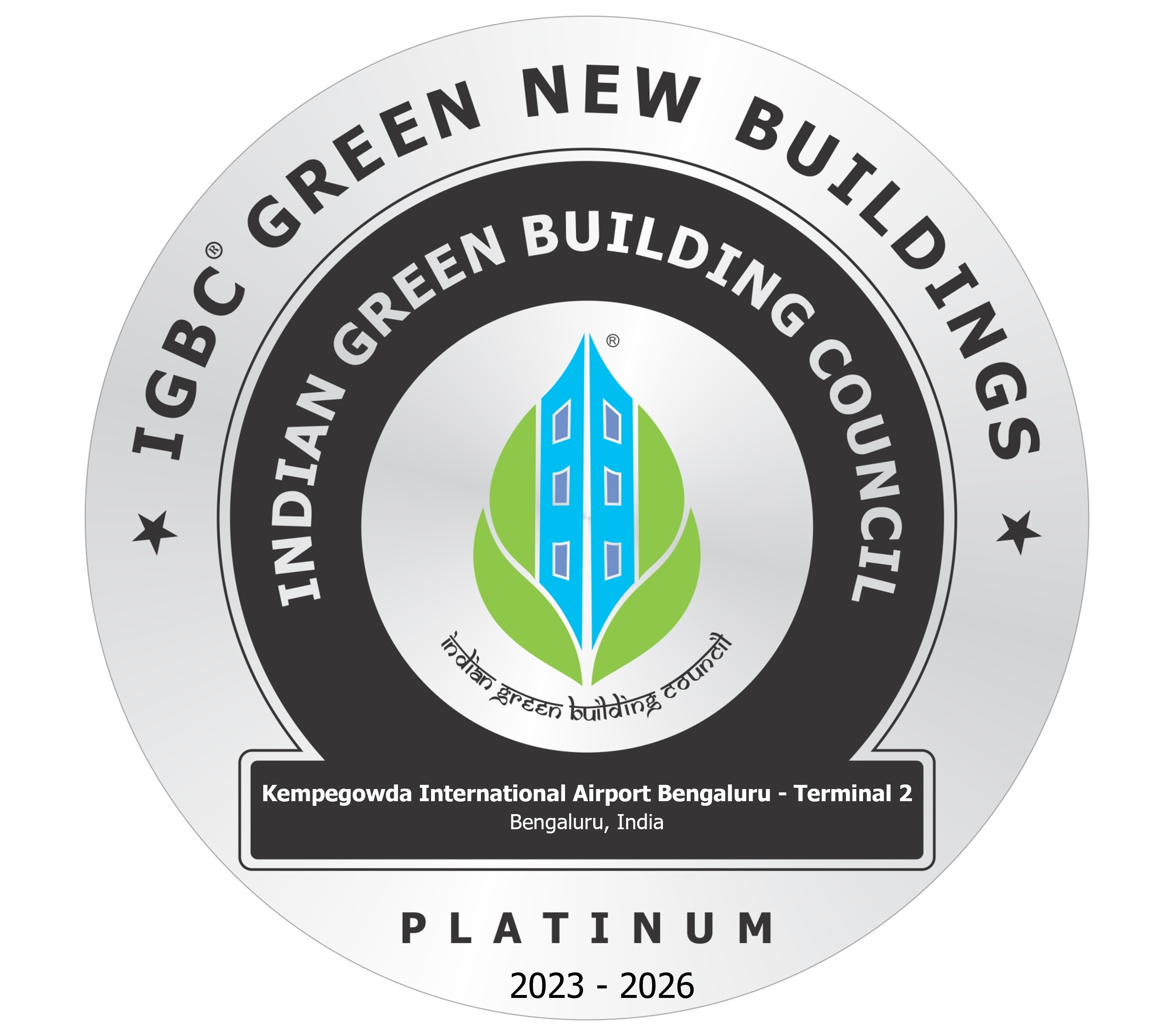 CATEGORY
COUNTRY / AREA

India
AUTHOR

Bangalore International Airport