Asia-Pacific and Middle East Airports Top ACI's Airport Service Quality Awards
Airports Council International (ACI) Asia-Pacific congratulates the winners of this year's Airport Service Quality (ASQ) Awards. The largest group of winning airports are from Asia-Pacific and the Middle East with a total of twenty-nine airports receiving recognition for their outstanding customer service excellence. This year, 84 individual airports from around the world won 140 awards which is the largest-ever number of recipients. The awards recognize airports around the world that deliver the best customer experience in the opinion of their own passengers.

Singapore Changi Airport remained consistent in achieving multiple awards, securing its position as a leading airport in customer experience in Asia-Pacific. Oman Airports Management Company dominated the Middle East's success with four 2019 ASQ Awards.

Other consistent winners include Beijing Capital International Airport, Delhi's Indira Gandhi International Airport, Mumbai's Chhatrapati Shivaji International Airport, and Shanghai Pudong International Airport.

First time recipients include Mangalore Airport (Mangalore, India) and Supadio Airport (Pontianak, Indonesia).

"Our region is proud to boast the largest group of winners in the Airport Service Quality Awards. It represents the region's dedication to consistently raise the bar in customer service excellence," said Stefano Baronci, Director General, ACI Asia-Pacific. "The awards this year have been won by a diverse group of airports, small and large, with enduring leaders and airports that are upping their game."

"We appreciate and applaud these airports for their commitment to providing customer service at high standards to passengers during these very trying times with the COVID-19 outbreak. We know airports across the region have also stepped up precautionary measures to ensure the safety and well-being of passengers," added Baronci.

The awards represent the highest possible recognition for airport operators around the world and is part of ACI's ASQ programme, which provides airports with objective measurement and benchmarking to help drive their performance and deliver a competitive edge.

The winning airports will come together at the ASQ Awards Ceremony to be held during the third ACI Customer Experience Global Summit, taking place in Krakow, Poland in September.

The Airport Service Quality programme is the world's leading airport customer experience measurement and benchmarking programme. The ASQ Departures programme measures passengers' satisfaction across 34 key performance indicators. In 2019, more than half of the world's 8.8 billion travellers passed through an ASQ airport.
The ASQ programme applies a three-level quality funnel process combining remote and on-site auditing to review more than 150 unique check points to ensure ASQ data collection requirements are achieved by all participating airports. The quality check points ensure the benchmarking and findings from the ASQ departure survey remain of the highest quality.

To be eligible for an ASQ Award, an airport must be compliant across all quality checks throughout the year. Any breach of the data collection requirements results in the exclusion from ASQ Awards. Through ACI's stringent approach to quality, airports can be assured of the validity of the data.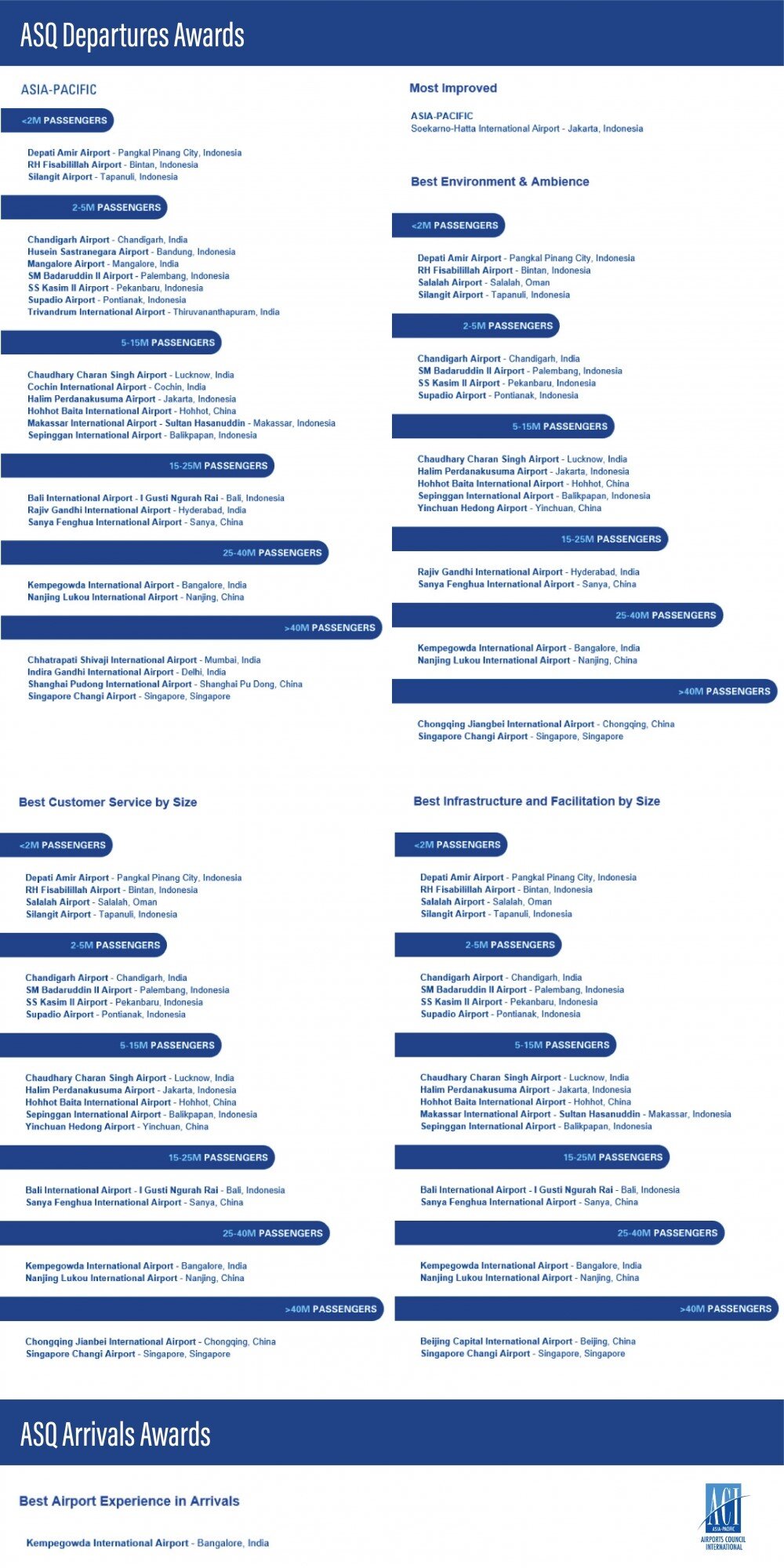 CATEGORY
COUNTRY / AREA

Asia-Pacific and the Middle East
AUTHOR

Communications Team

ACI Asia-Pacific