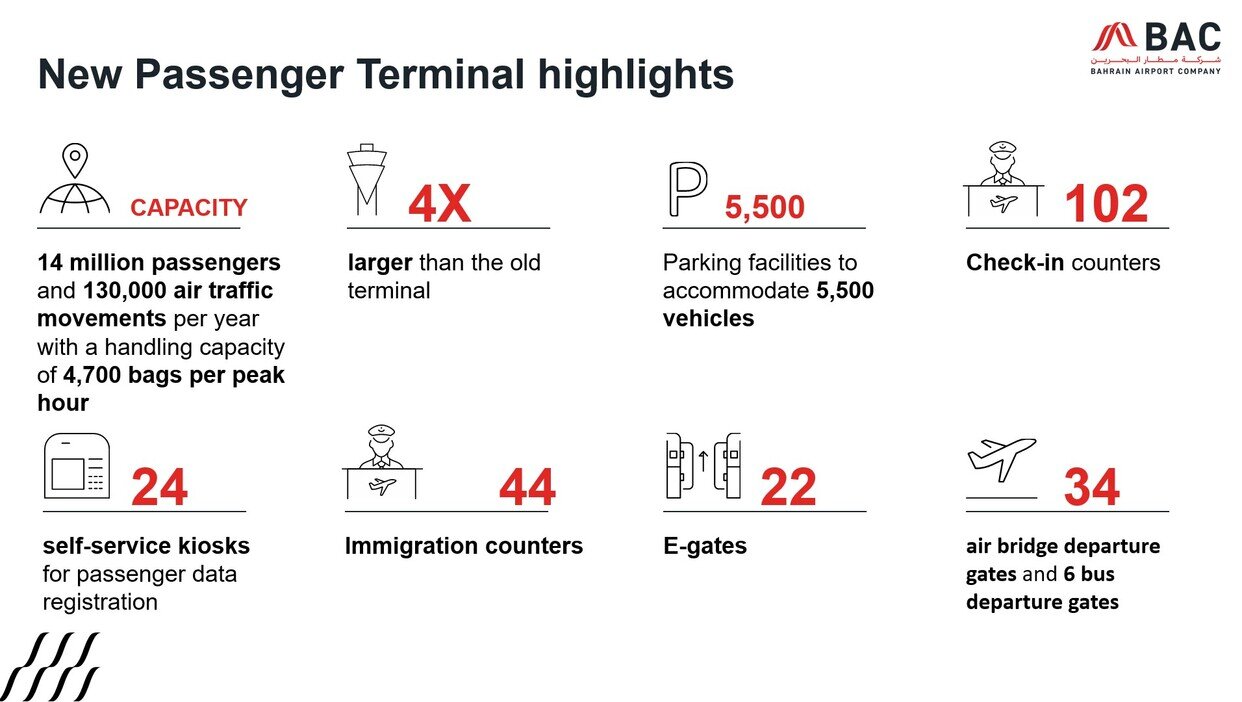 Bahrain International Airport (BIA) celebrated a major milestone on January 28 when its eagerly awaited new terminal opened for business. The new state-of-the-art facility is the crowning jewel of a massive and comprehensive Airport Modernization Program (AMP) designed to elevate BIA's infrastructure, facilities and services – effectively transforming it into a world-class boutique airport and a key driver of national economic growth.
The $1.1 billion project is in line with the Kingdom's Vision 2030 and aims to cement Bahrain's reputation as a leading financial, cultural and aviation hub in the region. Spanning 210,000sqm, the impressive new facility is four times larger than the airport's old terminal and will increase BIA's capacity to 14 million passengers a year.
Its facilities include a 6,600sqm Arrivals Hall and a 4,780sqm Departures Hall; 104 check-in desks; 36 passport control offices; 22 e-gates designed to ensure the rapid processing of passengers; eight baggage reclaim belts; and 10,002sqm of retail space which incorporates a duty free area that is three times larger than in the old terminal.
The terminal also has its own hotel and spa for transit passengers and an airport clinic where a dedicated team of healthcare professionals are on hand around-the-clock to provide medical services to visitors.
Fittingly, the first flight to operate out of the new facility was a Gulf Air flight to Abu Dhabi with His Excellency, the Minister of Transportation & Telecommunications and BAC chairman, Kamal bin Ahmed Mohamed, on board along with the company's CEO, Mohamed Yousif Al-Binfalah, and other dignitaries.
His Excellency, Kamal bin Ahmed Mohammed, noted at the time: "Through the provision of world-class facilities and services and backed by robust infrastructure, the new airport will sustain the growth of Bahrain's aviation sector for decades to come. "This, in turn, will help drive investment into the Kingdom and stimulate national economic growth in line with Bahrain's Vision 2030."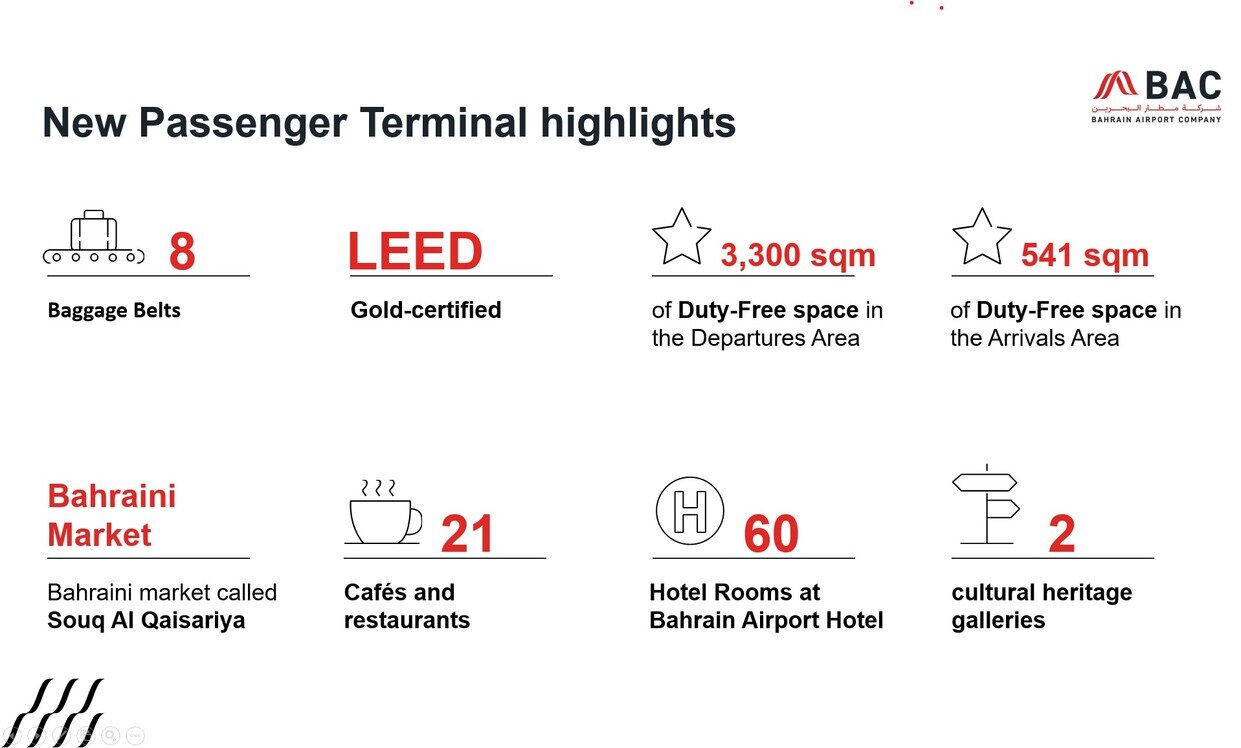 These sentiments are certainly shared by Al-Binfalah, who believes that the new terminal will allow BIA to take a giant step forward in terms of operational efficiency and customer service, helping reinforce Bahrain's position as a regional aviation hub.
"The first thing that I want to say is that our beautiful new terminal was built in a relatively short space of time and, most importantly, within a well-managed budget," he enthuses. "I am also happy to report that the opening went almost unnoticed, which meant that it happened without incident, and this pays testament to the success of our ORAT [Operational Readiness Activation and Transition] programme. As we all know, this hasn't necessarily been the case with terminal openings elsewhere.
"This was no vanity project – we really needed a new terminal. The old one served us well, but it was last upgraded in 1994, when its stated design capacity was four million passengers per annum. We handled around 9.6 million in 2019, so we simply didn't have the capacity or the facilities to provide the levels of quality and service we wanted to offer passengers and our airline customers.
"That has all changed now as the new terminal has provided us with quality infrastructure that will serve our needs for years to come. Its addition is in line with the Kingdom's vision to improve our key infrastructure, and it finally gives BIA the opportunity to excel and showcase the very best of Bahrain."
Al-Binfalah describes the new terminal as a "right-sized" building that, from day one, was designed with the passenger journey in mind.

Read the full article in Asia-Pacific Airports
©Aviation Media Ltd 2021