The restart and recovery phase for aviation is proving to be an uphill battle, a situation not helped by constantly changing travel restrictions and growing fears about a new wave of the pandemic that has already cost over 900,000 lives globally and virtually brought the world as we knew it to a standstill. Our ongoing response to the pandemic, of course, includes doing all we can to help and support our members through the crisis.
It has been more than three months since the ACI Asia-Pacific COVID-19 Task Force produced its initial guidance document for the recovery of the airport sector. This was shortly followed by the ICAO Council's Aviation Recovery Task Force (CART) Take-off guidance.

Yet, well into the latter half of the year, travel is still significantly down with few signs that governments are ready to change their positions on lifting travel restrictions or quarantine requirements.

In the face of this situation, our team has deployed a two-pronged approach to advocacy efforts with governmental agencies and consumer-confidence building activities.
We anticipate that the demand for new airport infrastructure will gather pace as passenger numbers begin to return, and that private investors will increasingly fund the development of new facilities.
TRAFFIC FORECAST
We are in uncharted territory, and with so many variables and no signs yet of a COVID-19 vaccine, it is almost impossible to know how long the current crisis will last. However, based on our latest analysis, ACI now forecasts that global passenger traffic volumes are not expected to recover to 2019 levels before 2023.
And our data indicates that the markets which rely on significant volumes of international traffic might not recover until 2024. Specifically, for our region, ACI's latest analysis predicts that passenger numbers in Asia-Pacific and the Middle East will decline by 55% and 60% respectively in 2020. This is all very different to our early year forecast made prior to the pandemic, when we expected that Asia-Pacific alone would handle close to 3.5 billion passengers in 2020.
The revised full year estimate for Asia- Pacific now predicts that just over 1.5 billion passengers will pass through its airports in 2020 – an unprecedented decline of around 1.9 billion travellers. Sadly, the Middle East will not fare much better, as we now expect it to handle just 170 million passengers in 2020 – a significant 250 million less than the 420 million passengers we predicted would be welcomed by its airports in our pre-COVID forecast.
When we look at airport revenues, a direct reflection of traffic, they are forecasted to decline by approximately $27 billion in the Asia-Pacific region and $8 billion in the Middle East by the end of 2020. Clearly the industry cannot sustain such heavy losses in the long-term. These are indeed challenging times, yet despite today's hardships, investment continues, albeit at a slower pace and in a measured manner.
Going forward, we anticipate that the demand for new airport infrastructure will gather pace as passenger numbers begin to return, and that private investors will increasingly fund the development of new facilities.
Our Regional Economic Committee is in the process of scoping a relevant industry study to support policy recommendation in these areas.
QUARANTINE AND TRAVEL RESTRICTIONS
This leads me to assure you that we are actively tackling the biggest barrier to recovery: quarantine measures. These unilateral measures are not only severely hampering the restart but also contributing to the worsening economic situation, as described above.
ACI Asia-Pacific is urging governments to replace quarantine requirements with testing and contact tracing protocols, at least between low-risk countries, where the virus situation is under control and the risk of importation is low.
Together with ICAO we are widening our consultation with the regional offices of the World Health Organization to ensure that countries know that there are alternative safeguarding measures that they can take that can revitalise the sector, ultimately boosting jobs and national economies. We recognise some states are taking steps in the right direction by easing quarantine requirements. However, they need to be accompanied by relaxing, and ultimately lifting, travel restrictions.
RESTORING PASSENGER CONFIDENCE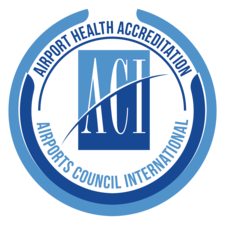 Another focus area for us has been on finding ways to support our members help restore the public's confidence in air travel. It is safe to say that COVID-19 has changed the world to such an extent that 'health' has now been added to the key priorities of 'safety' and 'security' for all airports, and ACI has responded to the new reality by launching its Airport Health Accreditation programme.
This fully-online process requires airports to document the health measures that they have implemented, which then get checked against the ICAO CART recommendations.
We worked closely with ICAO to ensure they fully supported our new programme, which I am delighted to say has been embraced by airports across our region.
Indeed, I am pleased to share that Incheon (South Korea), Velana (the Maldives) and Mumbai-Chhatrapati Shivaji Maharaj (India) have become our first accredited airports and they will soon be joined by another 50, including 25 which are currently finalising their accreditation processes. If your airport hasn't already engaged, I encourage you to do so as part of the recovery efforts.
YOUNG EXECUTIVE AWARD
To end on a brighter note, my team and I are proud to announce that the application process for the Young Executive Award for 2021 is now open. Our flagship programme is specifically designed to recognise and develop talent in our region. We believe that it is a great opportunity for young, upcoming and aspiring leaders to take a wider look at the industry and come up with solutions for today's issues. It perhaps won't surprise you to learn that the topic for this year's competition relate to the impact of the pandemic on airports. As usual, we have assembled a stellar panel of judges, which this time out include leaders from Sharjah Airport, GMR Hyderabad, Changi Airport International and an internationally-recognised medical scientist from ICAO.
In closing, I would like to thank you for your continued support for our association's activities as we continue to secure our sector's future.
Ciao!

Stefano
©Aviation Media Ltd 2020