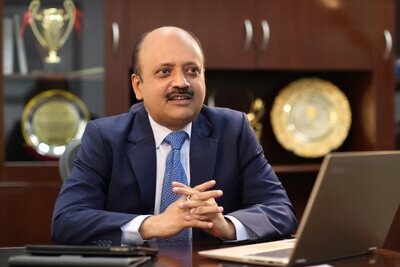 In the Meet the Regional Board series, we are featuring and introducing current and newly-elected members of the ACI Asia-Pacific Regional Board. We will get to know them better by learning about their leadership style, their thoughts on the next generation of leaders, how they are adapting to climate change and, unavoidably, the impact of the pandemic. 
This week, we learn more about Regional Board Director and CEO of Delhi International Airport, Videh Kumar Jaipuriar. In a career spanning thirty years in leadership roles in B2B, B2C and retail, Mr. Jaipuriar took the helm of the Delhi International Airport in 2017.
How did you start your career in aviation?
I started my aviation career with my current role. I have worked in different industries but what attracted me to aviation was the unique dimension of managing a large number of stakeholders to deliver a Delhi Airport Experience. It has been very satisfying to consistently meet the expectations of all stakeholders including passengers.
Which leadership skills have served you most in your career?
In an airport CEO role, I have to manage a large number of non-reporting relationships to provide the required passenger experience. Active listening, showing empathy and influencing are the skills that helped me throughout my career and these skills are of immense help in the current role.
What are you most proud of at your airport?
I am very proud of three key focal points that we have been able to achieve across all our stakeholders and service providers:
Passenger centricity
Operational excellence through collaboration
Commitment to environmental sustainability
Delhi Airport has consistently been ranked the top airport in ACI's Airport Service Quality. This has been possible only by getting every stakeholder at the airport to focus on one single entity, the passenger. This helps in aligning seemingly diverse viewpoints of different stakeholders.
Delhi Airport gets about 18% first time flyers. It is really heart-warming to see how all agencies combine to provide a good experience to these as well as frequent fliers.
Since Delhi is a slot-constrained airport, all agencies are forced to work towards optimizing capacity. Now, operational excellence is second nature. This was even more in evident during the COVID-19 crisis. The kind of flexibility, innovation and new technology adoption we saw during the pandemic time has become the norm.
What is your airport's response to climate change?
All stakeholders at Delhi Airport consider environmental sustainability as their key responsibility and not a choice. Any effort initiated towards reducing carbon footprint is implemented very enthusiastically by every agency. It is a matter of pride for all of us here that our airport is meeting and setting global benchmarks in environment protection.
Achieving sustainability through climate-related actions has always been a key priority for us at Delhi Airport. We have adopted the ACI Airport Carbon Accreditation programme and are working to become a "Net Zero Carbon Emission Airport" through:
Energy efficiency and conservation measures

Augmenting green building infrastructure
Enhanced use of renewable/ green energy

Application of operational excellence measures,

Implementation of low carbon transportation
Our concerted efforts over the years towards LEED and IGBC Certified Green Buildings, energy and water management programs, bridge mounted equipment, use of electric buses, operational efficiency improvement measures such as A-CDM, fuel hydrant system, and multi- modal connectivity have helped us to become the first airport in Asia Pacific to achieve the Level 4+, Transition Airport Carbon Accreditation.
Some of the key emission reduction initiatives implemented by us are unique and first of its kind globally. Once such example is the adoption of green taxiing using TaxiBots. We recently completed 1000 movement of TaxiBots and this helped us to reduce approximately 532 tonnes of CO2.
We are now working with our stakeholders to achieve the target of "Net Zero Carbon Emission Airport" by 2030".
CATEGORY
COUNTRY / AREA

India
AUTHOR

Videh Jaipuriar

Delhi International Airport Limited