Looking to The Future: An Interview with ACI Asia-Pacific President Emmanuel Menanteau
Newly appointed ACI Asia-Pacific president, Emmanuel Menanteau, is a well known face in the region, having gained substantial experience working across Asia over the last two decades. Indeed, his assignments to date have included positions in India, Japan, China, Singapore and Cambodia in the fields of aviation, defence and aerospace.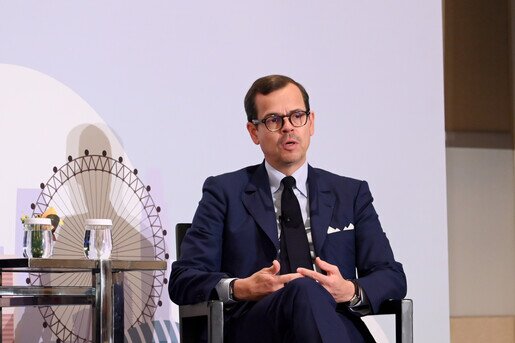 Menanteau, who represents Cambodia Airports as board director, was elected president of ACI Asia-Pacific in June this year.
He will initially serve a two-year term and, arguably, leads the association – ACI Asia-Pacific is the largest region with 617 airports spread over 46 countries – during one of its most challenging times as the industry begins its recovery from the COVID-19 pandemic.
In this interview, Menanteau outlines his plans and priorities for the association; tells us more about the ongoing efforts to stimulate the recovery of air traffic that has nosedived since the beginning of the pandemic; and provides his views on the industry's focus towards sustainability.
As President of ACI Asia-Pacific, what are your immediate priorities?
First of all, I wish to say that I am profoundly honoured to be appointed president of ACI Asia-Pacific for the next two years and lead the region's airports as we shape the future of the aviation industry globally. Our top priorities are to strengthen our focus on the Middle East region, speed up the sustainable transition of airports, and support the recovery of air traffic in the Asia-Pacific and Middle East region.

Focus on the Middle East
The Middle East is a vast region, and its aviation industry is one of the fastest growing in the world. It is strategically important for the recovery of aviation industry as well as the global economy due to its geographical location in the globe, with short flying time to most part of the world.

We count a total of 19 airport operators are members, between them operating 108 airports across the region. We also have an ever growing number of World Business Partners in the Middle East.

To cater to this large base of members from the Middle East, ACI Asia-Pacific needs to provide special attention to the region in order to strengthen our advocacy efforts and work towards excellence of standards. To achieve this, we are in the process of opening a sub-regional office in the Middle East.

The office will allow ACI Asia-Pacific to customise its programmes to serve members in the region more efficiently. It will also provide an opportunity to create an awareness around ACI Asia-Pacific and its activities, improve advocacy and representation in key local aviation events.

Sustainability
Aviation is in the spotlight for its impact on the environment, and so we need to work very hard on this issue. Given the recent Intergovernmental Panel on Climate Change's (IPCC) call for a net-zero economy by 2050, the aviation industry, at large, must develop more ambitious CO2 reduction goals to meet the objectives of the Paris Agreement.

(Image: Green Airport Recognition Programme 2022)

Airports in our region are taking concrete steps towards net zero CO2 emissions, with plans to further accelerate commitments. We have over 64 major airports actively participating in the ACI Airport Carbon Accreditation programme. We have two airports in the Level 4+ category, four at Level 4, five at Level 3+, and 26 at Level 3. The two airports in the highest level (4+) are Delhi's Indira Gandhi International Airport and Jordan's Queen Alia International Airport.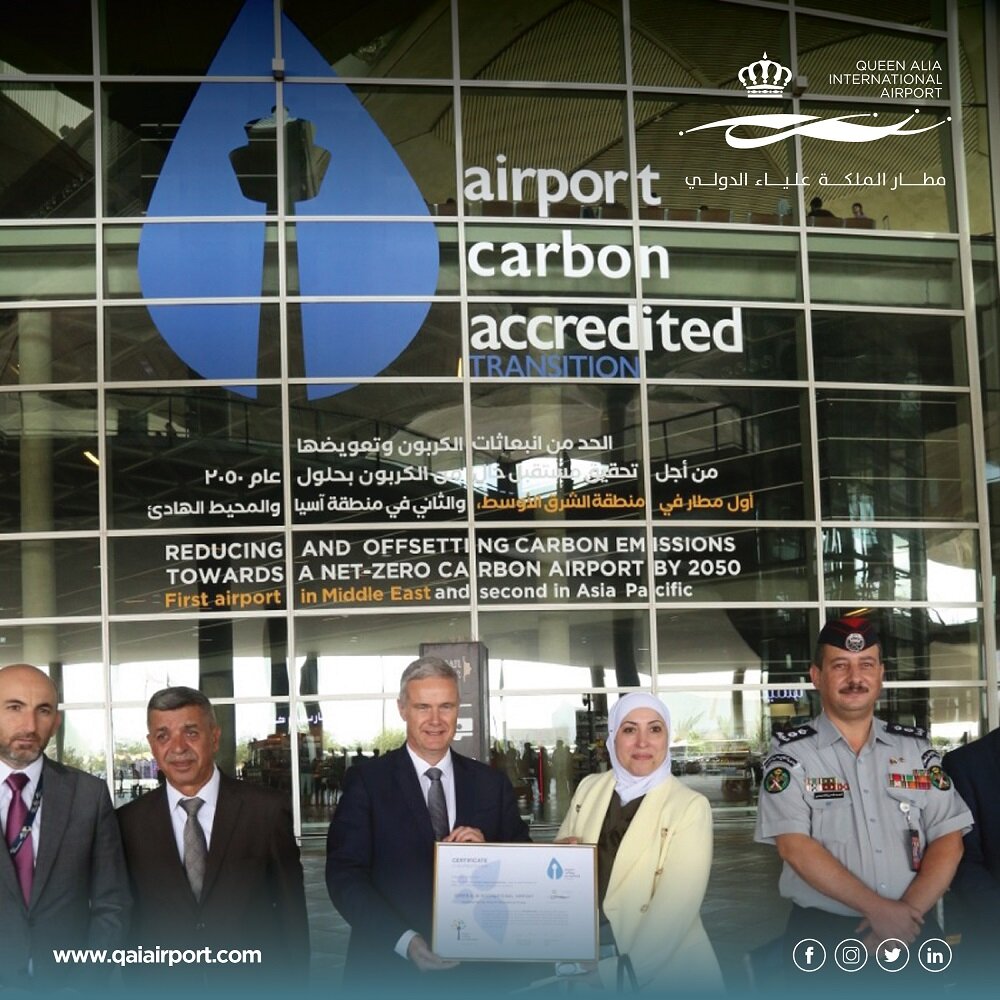 (Image: Queen Alia International Airport Becomes First in Middle East to Achieve Level 4+ 'Transition' of Airport Carbon Accreditation Programme)

Taking it to the next level, our airport members unanimously passed a resolution at our Regional Assembly to voluntarily commit to net zero carbon emissions and develop action plans to meet this commitment. This effectively means being proactive in reducing emissions by using low carbon technologies in airport operations and infrastructure management, and urging governments to decarbonise their respective electricity grids and facilitate the transition to renewable energy at airports.

Airports are also embracing technology and innovation in the aviation market through collaboration to tackle decarbonisation challenges in aviation's wider ecosystem.

Indeed, many airports in the Asia-Pacific and Middle East regions are already working towards exploring potential pathways. Airbus and Kansai Airports, for example, have signed an MoU to explore the use of hydrogen at three of the group's airports in Japan (Kansai International Airport, Osaka International Airport, and Kobe Airport). Through this partnership, Airbus and Kansai Airports will jointly prepare a roadmap to address the challenges and define an advocacy plan for hydrogen needs.

Elsewhere, Brisbane Airport in Australia has signed the ambition statement of the World Economic Forum's Clean Skies for Tomorrow 2030 Coalition, agreeing to accelerate the supply and use of sustainable aviation fuel (SAF) to 10% by 2030. In India, airport operators Groupe ADP and GMR Airports – together with Airbus, Axens and Safran – have signed an MoU to conduct a joint study on SAF and their potential in India. And in Singapore, Changi Airport Group (CAG) has announced that it is to conduct a feasibility study for establishing a hydrogen hub at Changi Airport.

Pioneering efforts such as these underline the commitment of our members to contribute towards the global cause.
As we move forward, we must explore innovative solutions to address environmental issues, and strengthen our co-operation with all aviation stakeholders to mitigate climate change.

Supporting the recovery of air traffic and connectivity
Air transport mobility is a key tool for economic growth – it helps generate trade, promote tourism, and create employment. It is therefore no exaggeration to say that the recovery of this industry is crucial for the global economy.

However, while other regions of the world are experiencing traffic closer to 2019's level, Asia-Pacific in particular is still far behind for international traffic. Prolonged travel restrictions, geopolitical conflict, and the subsequent impacts on macro-economic factors, have proved to be detrimental to the overall growth of aviation.

The COVID-19 pandemic, although somewhat easing in Q2 2022, some States in Asia-Pacific have been late to withdraw restrictions, affecting the recovery of the industry.

To enable the smooth recovery of aviation, ACI Asia-Pacific had earlier this year commissioned an independent study on travel restrictions.

The study, based on modelling different scenarios of COVID-19 variants of concern with similar or higher level of infectiousness than the current Omicron, revealed that travel restrictions such as quarantine and testing is ineffective in mitigating the spread of COVID-19.

In the last few months, many Asian countries have abolished travel restrictions on both business and leisure travel, following the practice already applied by other regions in the world. An increasing number of countries such as Cambodia, Singapore, India, Thailand, Malaysia and Australia have also ended restrictions on international air travel without negatively impacting the health care system at national level.

Preliminary statistics from Phnom Penh, Singapore, New Delhi, Bangkok (Suvarnabhumi), Kuala Lumpur and Brisbane show that, in aggregate, passenger traffic has increased substantially.

As part of its advocacy efforts, how do you think ACI Asia-Pacific can support the recovery of air traffic?
At ACI Asia-Pacific, our mission is to advocate for policies and provide services that strengthen our members' ability to serve their passengers, staff and stakeholders in a more efficient manner. We aim to advance the collective interests of airports in Asia-Pacific and the Middle East and promote professional excellence in airport management and operations.

The COVID-19 pandemic has adversely impacted aviation. After phenomenal growth in air travel over the last decade, the crisis has left airports bleeding. According to our forecast, Asia-Pacific is expected to have the slowest recovery in terms of passenger volumes, reaching only 55% of 2019 levels in 2022. This follows an already very challenging 2021 that ended at 43.5% of 2019's levels. Full year recovery to 2019 levels is expected by the end of 2024. In terms of revenues, Asia-Pacific airports are expected to lose a massive $41 billion in revenue in 2021 and 2022.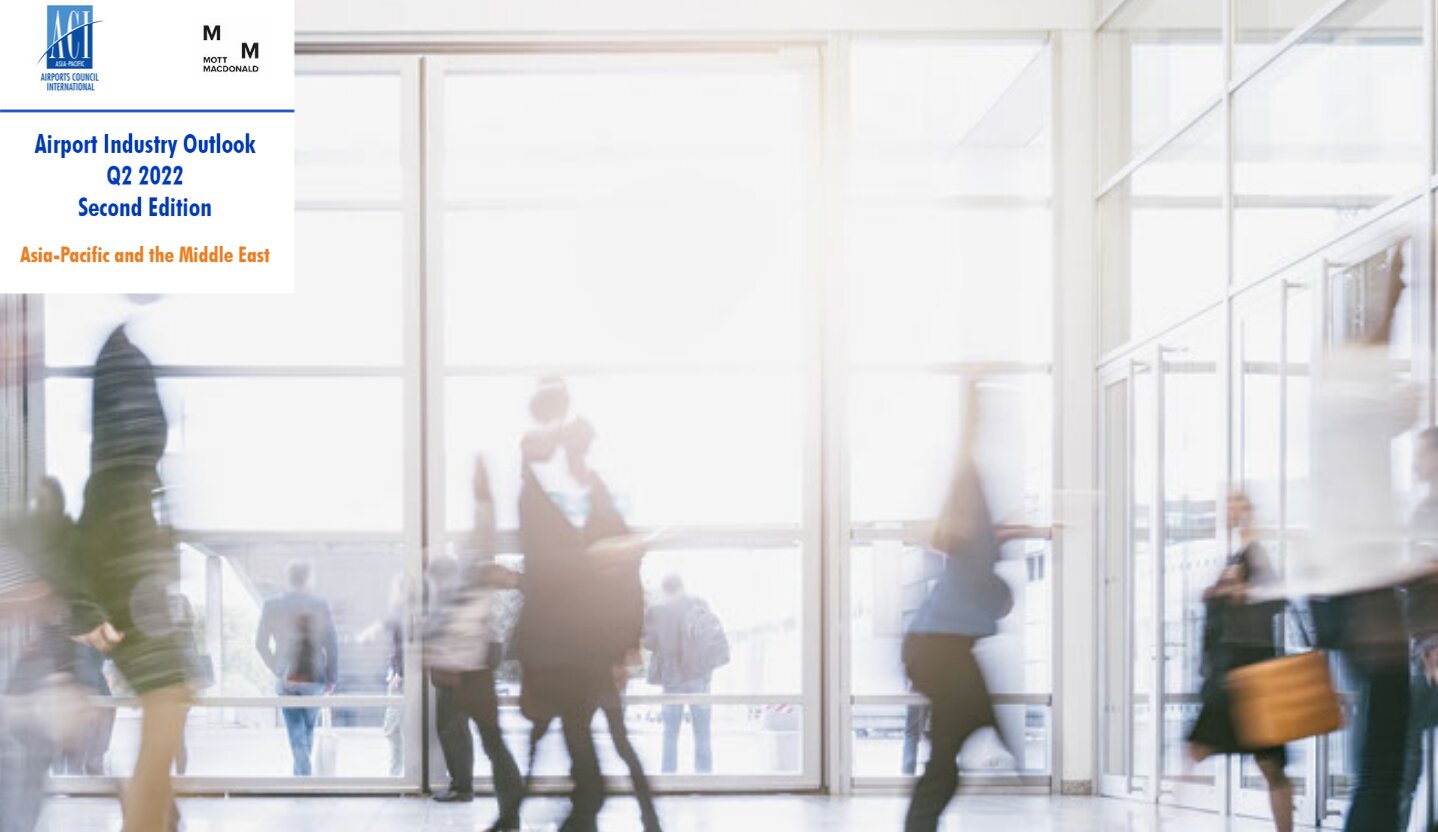 (Image: ACI Asia-Pacific released the second edition of the Industry Outlook for the second quarter of 2022)

We therefore continue to cater to our members' needs, providing valuable and relevant data and guidance to help airports survive and recover from the global crisis.

One of the first things ACI initiated during the pandemic was the launch of the Airport Health Accreditation programme that enabled airports to demonstrate to passengers, staff, regulators, and governments that they were prioritising health and safety in a measurable, established manner while also validating their own measures and processes. This was a vital first step towards rebuilding passenger confidence in air travel.

From a big picture perspective, there are a plethora of problems hampering the sustainable recovery of our industry. They currently include revenue shortfalls impacting on infrastructure expansion programmes, regulatory framework and manpower constraints.

Indeed, there is no disputing that the COVID-19 pandemic has led to a rapid deterioration in the financial health of the airport industry. As a result, the industry has witnessed a significant manpower crunch. Aviation jobs are no longer competitive for job seekers, while the sector as a whole is facing competition from several other industries in a tight labour market.

To address this critical challenge, ACI Asia-Pacific has called on governments to work closely with industry stakeholders to identify solutions aimed at alleviating workforce shortages at airports in the short and medium-term, as well as to develop a roadmap to make airport employment more attractive and competitive in the long-term.

The competitive and economic landscape of the airport industry and the aviation ecosystem has changed dramatically over the last three decades. The airport business therefore requires flexible policy measures capable of restoring the equilibrium and stimulating a sustainable recovery from the pandemic as well as ensuring that longer-term targets of sustainability, infrastructure development and service quality are duly met.

Keeping this as a base, we are pressing for an extensive review of ICAO's Policies on Airport Charges (Doc 9082). The last review was done in 2008, and so much has changed since then.

There is a strong focus on decarbonising airport operations. Do you think the aviation industry will be able to achieve net zero carbon emission by 2050?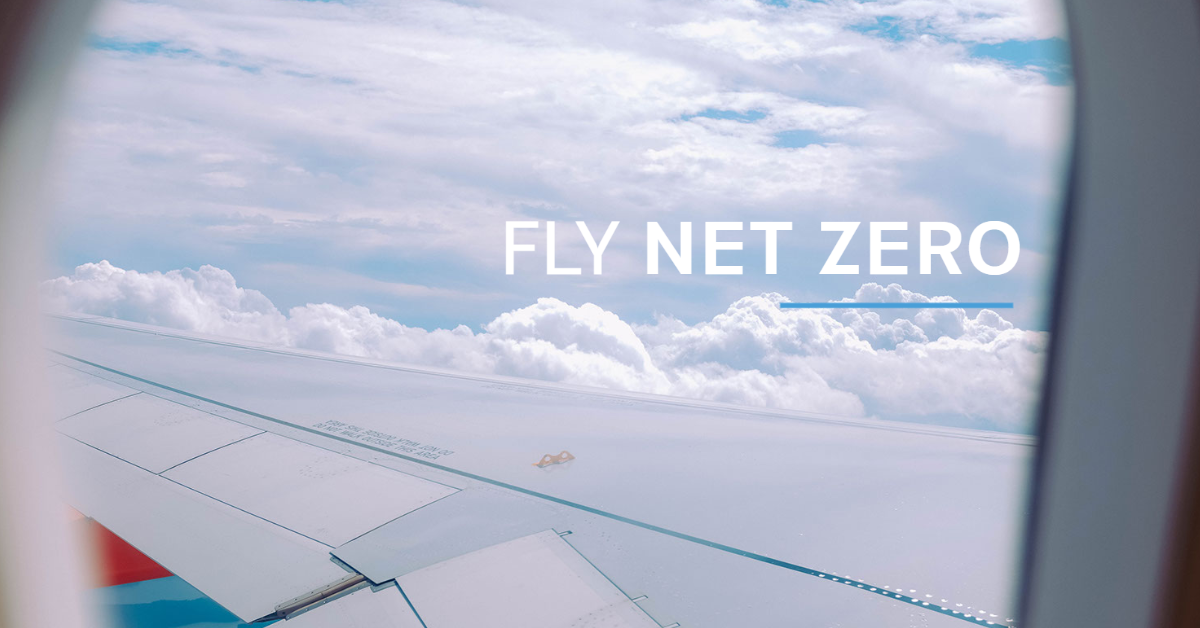 Aviation plays an important role in the global economy. It connects people and places, expands horizons and creates opportunities, it is therefore important for our industry to grow responsibly and play its part in a net-zero future. And the time for us to act is now.

Since 2019, many more forward-looking countries and airports have voluntarily pledged Net-Zero Carbon Emissions by 2050 in response to climate change challenges. In addition to our global programme Airports Carbon Accreditation, we have launched Green Airport Recognition 2022 with an objective to accentuate the importance in best practices sharing among airports along the decarbonisation journey, specifically in Scope 1 and Scope 2 carbon emission reduction.

Airports should assess, minimise and mitigate greenhouse gas emissions under their direct control, while guiding and influencing other aviation stakeholders at the airport. Ultimately, an airport operator should try to achieve zero emissions, or net or carbon neutrality as interim to zero emissions.

According to ACI World's Long Term Carbon Goal Study for Airports Report, 2021, the global goal of net zero carbon emissions by 2050 for airports is feasible. The new net zero carbon landscape, which shifts the reliance on offsetting to renewable energy, demonstrates a leap forward in emission cut.

Energy transition from fossil fuel-based sources to renewable energy sources is the key for the airport industry to achieve the unified goal. We are already witnessing a massive shift in this direction with many airports in the region adopting renewable mechanisms. Common practices include renewable energy power purchase agreements; in-house solar power generation and zero-emission vehicle programmes.

For airports in Asia-Pacific and the Middle East, due to the expected air passenger traffic growth and the shortfall in the projected abundance of renewable energy, more efforts are needed for the region to achieve this target. These efforts include close collaboration and partnership with governments and industry and carbon removal using negative emissions technologies.

Over the course of the last decade, ACI Asia-Pacific airport members have proactively undertaken significant actions to reduce emissions from their operations. These include voluntarily participating in the Airport Carbon Accreditation programme, the global industry carbon emission reduction standard for airports. As of March 2022, 64 out of the world's 393 accredited airports are from Asia-Pacific and the Middle East regions, which collectively handle 41.2% of the region's air passenger traffic.

Worthy of note is the fact that seven airports in the region have already reached carbon neutrality status while six airports have achieved level 4 or above. This means they have been accredited for having absolute long-term emissions reduction targets, aligned with the Paris Agreement (IPCC scenarios) of net zero carbon emission.

ACI Asia-Pacific has been doing what it does best in raising awareness, advocacy, best practices sharing and capacity building by providing periodic webinars on the topics such as Airports' Long Term Carbon Goals and renewable energy at airports.

According to the ACI Asia-Pacific Environmental Survey 2021, reducing energy consumption, using low global warming potential refrigerants and onsite solar energy generation are the top three GHG/carbon reduction measures implemented by airports.
There is an increasing trend of airports installing onsite solar energy (28 airports in 2021) and purchasing renewable energy (eight airports in 2021) over the last five years. We encourage airports to follow these best practices.

What are the aviation trends that one can expect over the next few years?
We have witnessed the rapid transformation of airports since the onset of the COVID-19 pandemic, and I think we can expect a lot more in the coming years as airports are determined to continuously improve the passenger experience and introduce innovative solutions.

Technology, particularly contactless and facial biometrics are going to drive digital transformation at airports. We can also expect to see increased robotics guiding passengers through the airports and autonomous vehicles plying within the airports. In addition, innovative concepts on sustainability are expected as airports are strongly committed to investing in technology that will help them reduce their carbon footprint and ensure a more sustainable future.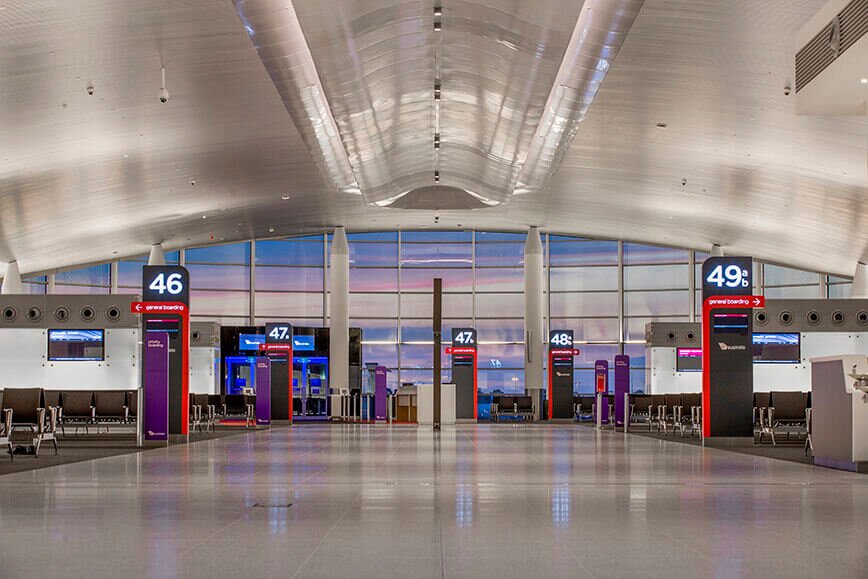 (Image: Perth Airport)

We are witnessing some momentum around hydrogen, notably with initiatives to accelerate the development of a more sustainable aviation. Several airports in the region are making significant investment to this effect.

They include Incheon International Airport, which has signed a MoU with Air Liquide, Airbus, and Korean Air to explore the use of hydrogen at the gateway. The collaboration will also study the development of the South Korean airport's infrastructure to support the deployment of hydrogen-powered commercial aircraft.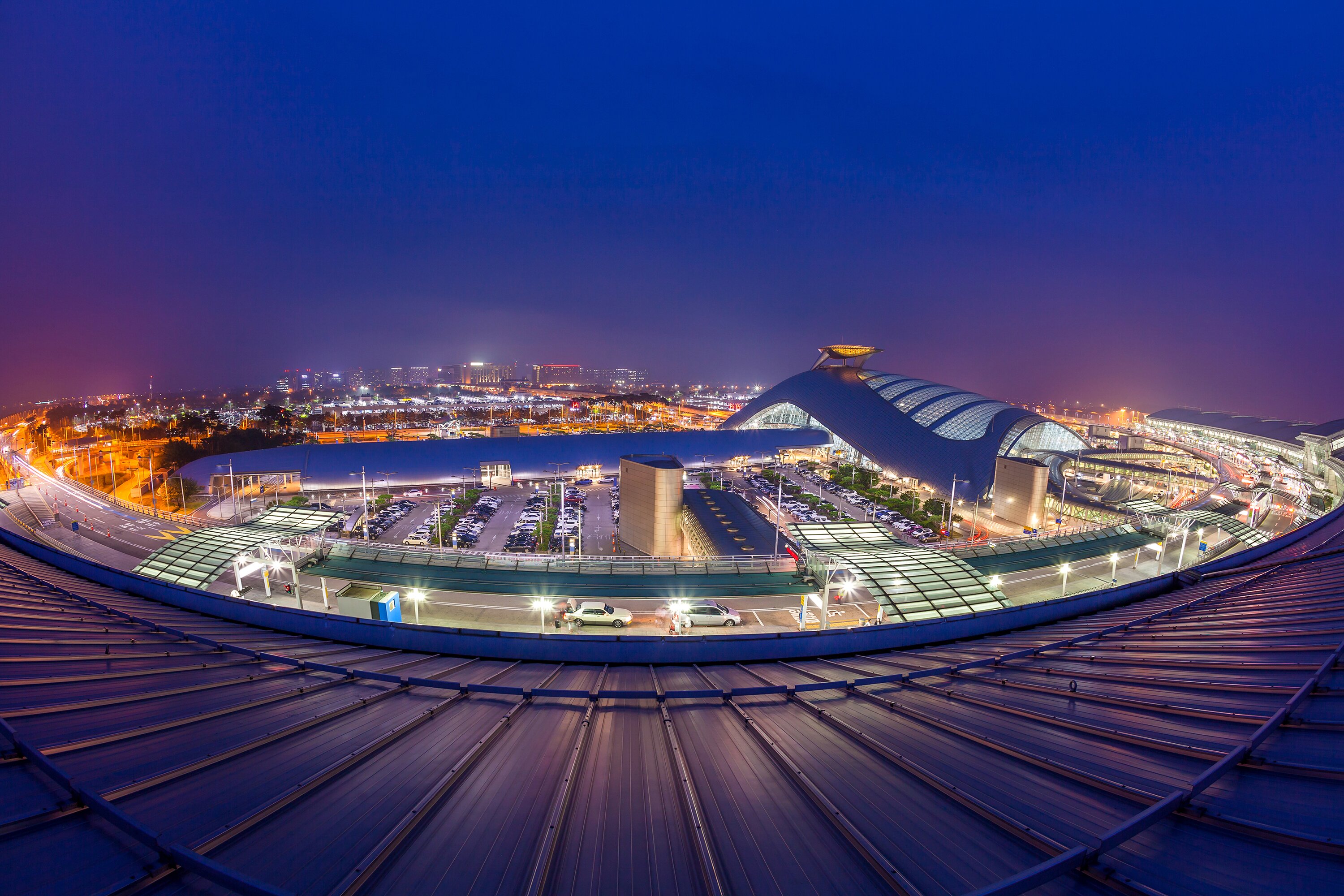 (Image: Incheon International Airport)

While at Changi Airport, CAG has signed a co-operation agreement with global industrial gases and engineering company, Linde, and the Civil Aviation Authority of Singapore to study the potential for a future hydrogen hub in the city state.

The use of hydrogen, preferably green hydrogen, is just one of many potential solutions being considered by Asia-Pacific's airports today as they, and the air transport industry, strives for a better, greener, decarbonised future.

What needs to happen to make sustainable aviation fuels commonplace?
Even as wind and solar power have become commonplace in recent years, Sustainable Aviation Fuel (SAF), too, is on the verge of becoming a possibility. The aviation industry has made a commitment to achieve net zero carbon by 2050. A transition to net zero flying is possible and sustainable aviation fuels are certainly the key for the aviation ecosystem to achieve its decarbonisation goals.

Aviation used some 300 million tonnes of conventional aviation fuel (CAF) in 2019, generating over 900 million tonnes of CO2 as tailpipe emissions, and close to 18 million tonnes of CO2 through the manufacture and transportation of that fuel.

Assuming the industry returns to its pre-COVID-19 growth trend, if no measures are taken, annual aviation fuel consumption will more than double between now and 2050. To drive a sustainable, long-term recovery in the aviation industry, facilitating the transition to SAF remains a priority across aviation's value chain.
CATEGORY
COUNTRY / AREA

Hong Kong SAR
AUTHOR

Sunil Subbaiah, Senior Manager, Media & Communications

ACI Asia-Pacific