In June 2021, ACI Asia-Pacific announced the recipients of the Green Airports Recognition 2021 programme. This year, the programme called for outstanding achievements in improving local air quality. To continue showcasing the environmental progress of our airport members, we take a closer look at the Silver-recognized projects. Next up in the less than 25 million passengers per annum category: Kaohsiung International Airport.

Kaohsiung International Airport (KHH) regards environmental management as one of the key sustainability topics, under which it initiated the Air Quality Management project. In the past three years, air pollution, which consists of NOx, SOx, and PMs*, has significantly decreased. Through the analysis of pollution inspection points, pollution concentration reductions from 2017 to 2019 are as follows:
SO2 49%
NOx 6.7%
NO2 11.7%
PM10 27.6%
PM2.5 26.3%.
Air quality has significantly improved.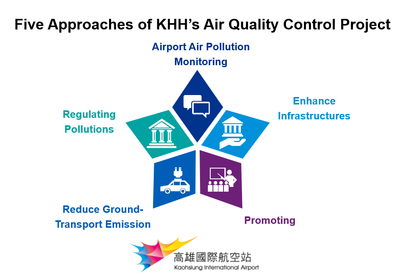 The project implementation included five approaches:
Airport Air Pollution Monitoring: English pollution inspection points near runway (monitoring pollutants such as SO2, NO2, PM25/PM10, NOx) to ensure the emissions are within standards.
Regulating Pollutions: Implement a No Open-Air Burning policy around the airport to ensure flight safely and emission control, which prohibit burning of plants and solid waste.
Enhance Infrastructure: Installed 4 self-power/ conditioning air bridge systems in 2017, which reduced annual NOx emission by 20.55 tons, CO emission by 3.45 tons and PM10 emissions by 0.43 tons. The CO2 emissions caused by Auxiliary Power Units in 2018 were 11,288 tons, reduced to 8,602 tons in 2019. Currently, the international terminal is installing eight more by 2024. It estimated to reduce annual NOx emission by 71.74 tons, CO emission by 12.07 tons and PM10 emission by 1.51 tons.
Reduce Ground Transport Emission: Supporting to admit 35 green transportation equipment, which reduce annual NOx emission by 331 kg, SOx emission by 104kg, PM10 emission by 393 kg and provide parking discounts for electric-vehicles and priorities to reduce fuel consumption and pollution emissions. In 2018, the CO2 emissions caused by ground transport equipment was 1,020 tons, reduced to 1,007 tons in 2019.
Promotion: Periodically air pollution management promotion, encourage to introduce low emission aircrafts and close 1-2 APU when gliding etc. Establish environmental achievements section on company websites and promote emission control actions through social media.
*CO: Carbon monoxide; NO2: Nitrogen Dioxide; NOx: Nitrogen Oxide; PM: Particulate Matter; SOx: Sulphur Dioxides;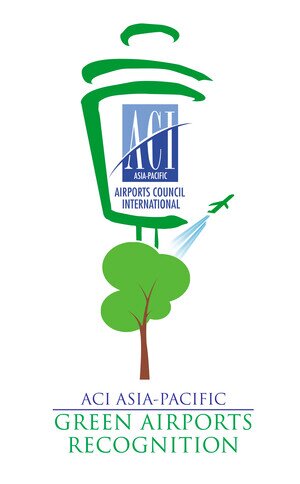 The case studies of all recognised airports are collated in the Green Airports Recognition 2021 publication.