GAR Case Study: Electric Bus Fleet and Charging Station at Brisbane Airport
In June 2021, ACI Asia-Pacific announced the recipients of the Green Airports Recognition 2021 programme. This year, the programme called for outstanding achievements in improving local air quality. To close out our June Environment month, we take a closer look at the Platinum-recognized projects. Next up in the less than 25 million passengers per annum category: Brisbane Airport, Australia.

At Brisbane Airport, dedicated bus services are required to convey passengers and staff to and from remote car parks; between the domestic and international terminals, and to and from the terminals and Skygate shopping precinct. Brisbane Airport's landside bussing contract was due for renewal in 2017 which was the trigger to upgrade the older, diesel bus fleet. The electric bus fleet operates landside servicing the whole airport precinct.
The tender panel included representatives from Brisbane Airport Corporation's (BAC) Parking and Transport, Customer Experience, Environment and Sustainability, and Finance teams. Each of the 12 electric buses were built new and funded through operational expenditure as part of the bus services contract, whereas the construction of the dedicated facility for bus charging, parking, and maintenance was funded through capital expenditure, all of which is privately funded by BAC.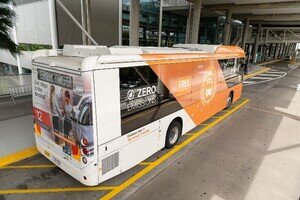 The BYD TORO is the world's most modern and technologically advanced electric bus. Developed jointly by Carbridge and electric vehicle manufacturer BYD, the TORO is helping to reduce carbon emissions, improve local air quality, lower noise levels, and reduce waste fluids.
Real time data is generated for each electric bus and monitored via the ViriCiti dashboard, an all-in-one platform for electric fleet management. The dashboard provides a vast array of information to optimize the fleet's operations including temporal metrics (e.g. time charging/time driving), performance metrics (e.g. C02/pollutants, mileage driven), energy metrics (e.g. energy consumed/regenerated driving) and state of charge metrics.
ViriCiti has recorded the following data for the bus fleet's operation to date (February 2018 to 18 November 2020):
1,049,922 km have been driven
1,223,000 L of diesel fuel has been saved
1,952,561 kwh of energy has been consumed in charging
Grid electricity emissions are offset by a 1.8MWp solar PV array located in the same precinct as the bus charging station (Brisbane International Terminal rooftop array). However, without including the emissions offset by renewable energy, ViriCiti calculates the following emission savings have occurred from using the electric bus fleet since operations commenced:
Other assumptions:
Emissions produced from the grid (0% renewable energy) – not including 1.8MWp solar

Non-electric (diesel) bus consumption = 35 L/ 100 km
Per year savings divide 3 full years of operation by the emission types and are conservative due to a reduction in service due to COVID-19 from April – November 2020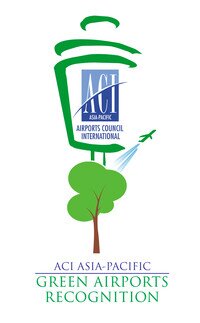 The case studies of all recognised airports are collated in the Green Airports Recognition publication.