Queen Alia International Airport Becomes First Airport in Middle East to Achieve Level 3 of Airport Customer Experience Accreditation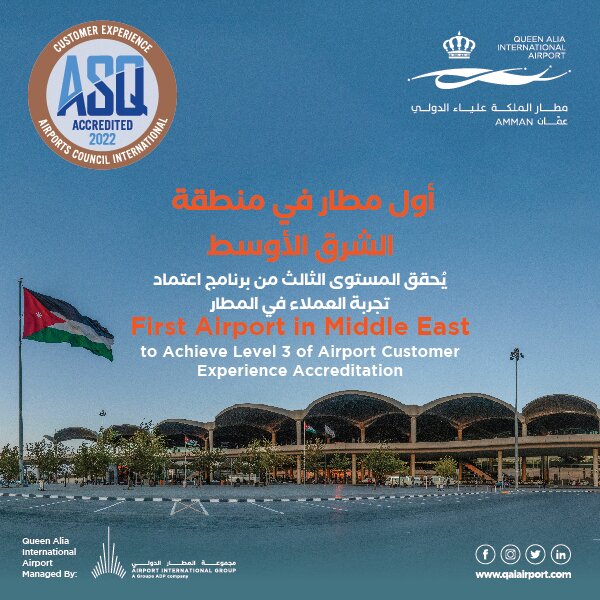 In acknowledgment of its focus on continuous improvement in customer experience and services, Airport International Group announced that Queen Alia International Airport (QAIA) has recently become the first airport in the Middle East to achieve Level 3 of the Airport Customer Experience Accreditation (ACEA) issued by Airports Council International World (ACI World), valid until December 2023. To this end, QAIA also became one of eight airports in the Middle East and 61 globally to have received an ACEA.
Following a thorough review and verification process, QAIA exhibited excellence in customer experience management, in line with recommended practices and industry standards. To obtain Level 3, QAIA implemented an advanced customer experience strategy through multifaceted engagement with customers, employees and customer experience professionals, as well as applied forward-thinking practices regarding seven out of eight domains: Customer Understanding, Strategy, Measurement, Operation Improvement, Governance, Airport Culture and Service Design/Innovation.
The five-level program is the only accreditation program in the airport industry to provide a 360-degree view of customer experience management and offer participating airports numerous advantages, such as identifying new practices and developing an action plan; accessing expertise, tools and training opportunities; and engaging stakeholders in improving the customer experience at the airport.
"Within the airport industry, customer experience is a critical driver of success. For this reason, QAIA is delighted to be the first airport in the Middle East to have progressed to Level 3 of the Airport Customer Experience Accreditation, which emphasizes our unwavering commitment to adopting global best practices that place passengers at the forefront of our priorities. We sincerely thank our partners and stakeholders for assuming ownership of our customer experience transformation, improving overall processes and services and reflecting Jordanian hospitality – all of which ultimately shape positive change at Jordan's prime gateway to the world and make Queen Alia International Airport feel more like home for our passengers," commented Airport International Group CEO, Nicolas Claude.
CATEGORY
COUNTRY / AREA

Jodan
AUTHOR

Queen Alia International Airport