Otherside Brewing Partners With Delaware North on Unique Brewlounge Concept for Perth Airport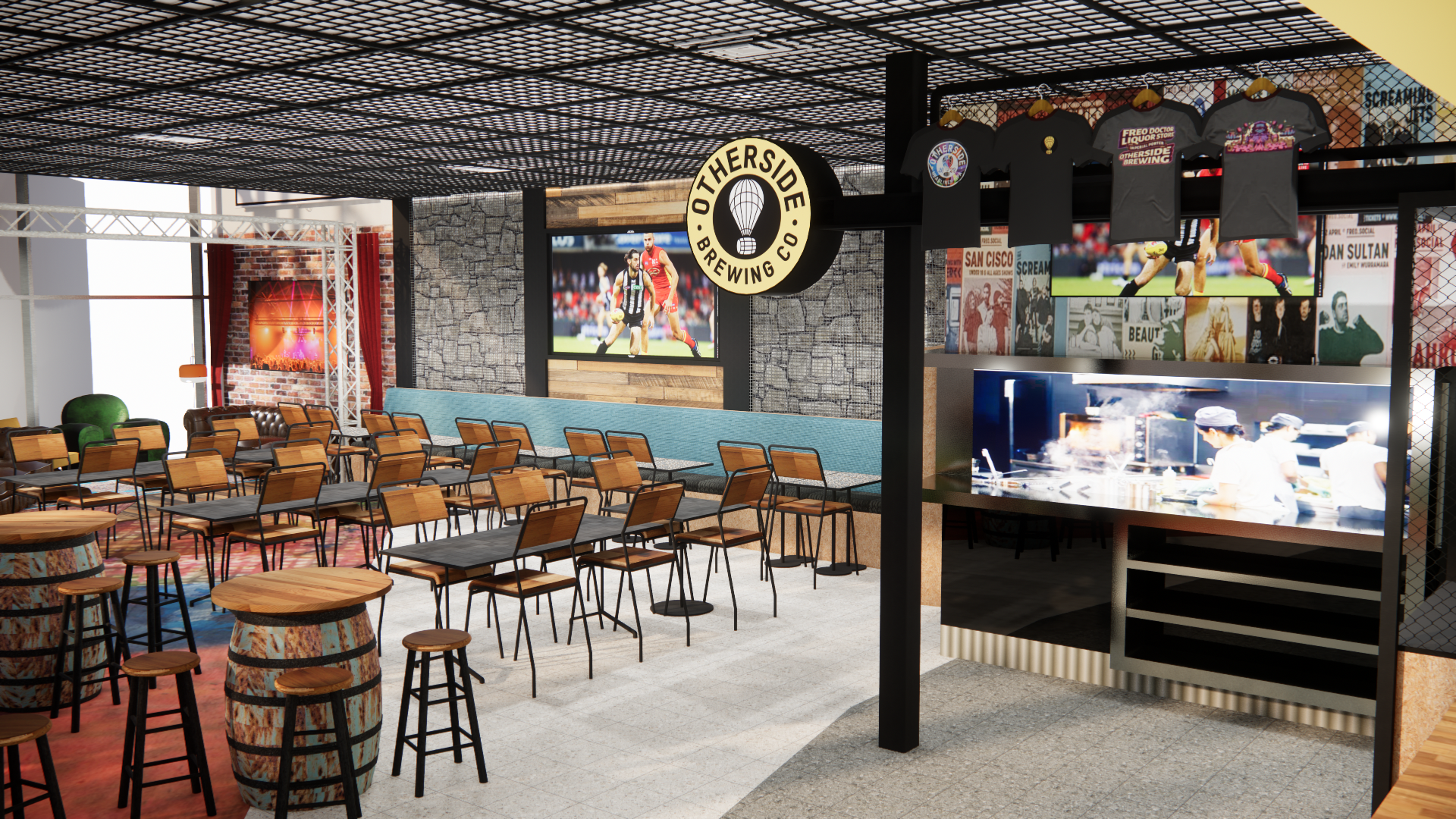 Set to open mid 2023 in the former Four Alls lounge, the 'Otherside Brewlounge' is set to be something never before seen in an airport hospitality experience.
Inspired by Otherside's Myaree-based Otherside Brewhouse, the Brewlounge will provide the opportunity for locals to 'own a bit of the brewery' via their highly popular Otherside Tycoons program. Alongside Otherside's award-winning core range of beers, it will also feature a rolling program of Otherside's experimental releases and even the option to order and have Otherside brews home delivered.
Otherside's Managing Director, James Legge said "We wanted to challenge the norm and create something really special for Perth Airport. The T2 opportunity is unique in that it has regular FIFO travellers. So, for them, we want to create a place that really is theirs, that becomes their local on the way to their destination, while also offering other regional travellers something truly unique and memorable.
"For a while now we have set our sites on an Airport presence for Otherside and have been working hard to make it happen. An opportunity arose to partner with Delaware North, and naturally, we leapt at it and its so great to see it come to fruition and to see the Perth Airport team embrace the concept so enthusiatistically. And, not forgetting the opportunities that come from partnering with the likes of Delaware North. All-in all it's fantastic and we are all very excited."
Like the Otherside Brewhouse and the other venues in the Triple-1-Three portfolio, the Brewlounge will celebrate and showcase WA music and arts. A rolling program of local live music will be a feature as well as it providing a space to showcase local visual artists. Via the 'Tapped by Otherside' funding program, local artists will be invited to submit works for consideration to feature at the location.
The addition of state-of-the-art audio/visual elements in the venue will also deliver best in class live sports viewing, complimenting the experience for travellers and frequenting FIFO workers.
Perth Airport's Chief Commercial Officer, Rebecca Cook said that Otherside Brewing Co. will provide an innovative and contemporary food and beverage hub in T2.
"Our FIFO passengers spend a great deal of time at the airport and we are pleased to offer them a distinctive and fun way to spend their time before their flight, which includes the ability to watch live sports and music in a great venue while waiting for their flight.
"The Otherside Brewlounge concept proposes a unique take on a pre-flight venue offering, with a dynamic personality and quality craft beers that will provide regional travellers in T2 a fantastic F&B experience.
"We love to promote and endorse local businesses at Perth Airport by bringing in the best of Perth." said Ms. Cook.
Gary Brown, Managing Director at Delaware North added "Delaware North is excited to be part of this development in Perth Airport's Terminal 2. We are thrilled to be opening the Otherside Brewlounge in partnership with award-winning Western Australia craft brewer, Otherside Brewing Co. "
Otherside Brewlounge promises to be a dynamic and highly engaging venue which will give travellers at Perth Airport a genuine taste of Western Australia's incredible food and beer. We are immensely proud of our 30+ year partnership with Perth Airport and look forward to continued success working together."

For local artists wishing to be considered visit http://www.tappedbyotherside.com.au/ to download an information and submission pack,