Macau International Airport Renewed Indoor Environmental Air Quality (IEAQ) Certification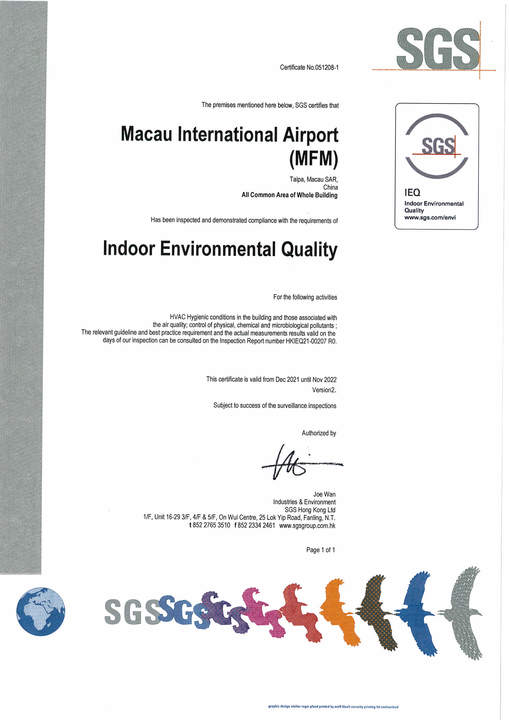 The COVID-19 pandemic is still impacting people all over the world, the situation remains unstable despite two years have already passed. The COVID-19 virus has mutated and many variants have appeared and spread all over the world. Macau International Airport (MIA) as one of the international transportation hub in Macau, it shoulders the responsibility to protect Macau from any possibility of the virus to enter Macau society. Therefore, maintaining the hygiene standard of Passenger Terminal Building (PTB) and preventing the airborne bacteria and virus spreading is vital for anti-pandemic measures and control. MIA conducted the regular indoor environmental air quality testing again in accordance with the standard of "Macao General Public Area Indoor Air Quality Guidelines". Air samples, air movement and exchange rate measurement were collected in each major area in PTB by 3rd party accredited company, SGS Hong Kong Limited, and followed by analyzing against different air parameters. With analysis and evaluation conducted, all parameters are complying with the standard requirements stated in the guidelines and renewed the certification with validation to November 2022.
MIA has closely monitored the indoor environmental air quality of PTB since 2005, as having good air quality in the airport not only safeguards the health of passengers, public and airport staff, but also ensures the general hygiene standards of PTB. Therefore, the testing of indoor environmental air quality of PTB was arranged every year as part of routine work of airport operation, hoping to maintain the IEAQ Certification through regular quality tests to ensure the hygiene safety of passenger and airport staff, while trying the best to provide the public with peace of mind.
CATEGORY
COUNTRY / AREA

Macau SAR
AUTHOR

Macau International Airport Co., Ltd. (CAM)