Macau International Airport Awarded ACI "The Voice of the Customer" Recognition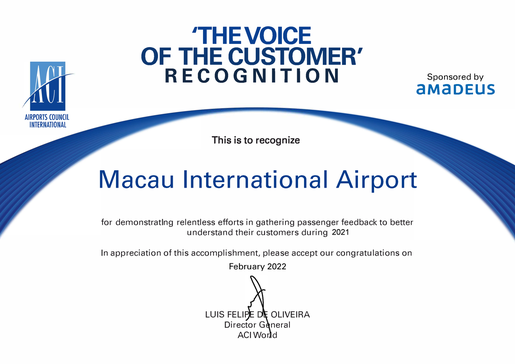 Airport Council International (ACI) announced on 10th February 2022 that Macau International Airport (MIA) earned "The Voice of the Customer" recognition. This recognition is for demonstrating relentless efforts in gathering passenger feedback to better understand their customers during 2021.
Over the past ten years, MIA has always been an active participant in ACI's Airport Service Quality (ASQ) programme, which serves as an important tool, objective measurement and benchmarking for airports, not only for gathering information but also helps improving operation efficiency and performance. Due to the pandemic, aviation industry has shrinked rapidly, MIA suspended the related participation from 2020. Along with slow recovery, MIA resumed participating in ASQ programme from the second quarter of 2021. In dealing with the uncertainty brought by the pandemic, the airport has to respond to the market trends and shall listen to the new needs and expectations of passengers, in order to boost the recovery of all related business steadily.
MIA would like to convey the sincere appreciation to ACI for having this honour of earning "The Voice of the Customer" recognition, which affirms MIA and its teams' continuous efforts, especially to meet the changing expectations of customer experience in response to COVID-19. Macau International Airport will not rest on the laurels, indeed the Airport will continue to address the customers' needs in anticipation that these challenging times are hurdled.
CATEGORY
COUNTRY / AREA

Macau SAR
AUTHOR

Macau International Airport Co., Ltd. (CAM)